Lebron James Develops New Starz Sitcom — Wait, What!?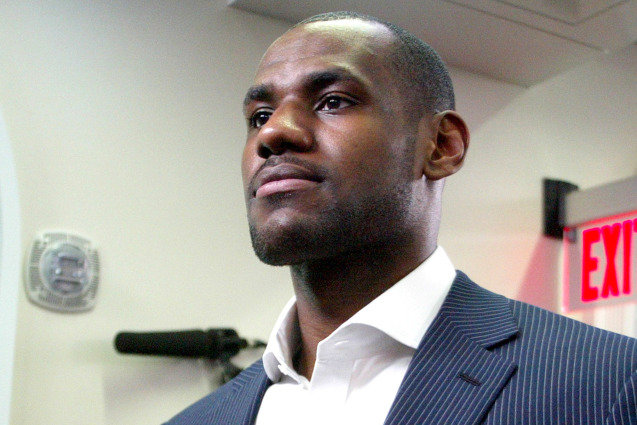 Credit : Carrie Devorah/WENN
His Jerseyed greatness, LeBron James, is taking his talents to South Beach your TV sets, and not in a sneaker ad or an NBA game or anything else that actually makes sense. The NBA star, who has just racked up his second NBA championship in a row with the Miami Heat, will be developing a new television show with Starz called Survivor's Remorse. 
Yes, you read that right. King James, having no more worlds to conquer in basketball, will serve as executive producer for a television show. According to an interview with USA Today, Survivor's Remorse will explore the struggles of two men, one who is a successful NBA star, and one who is not. I wonder which one James is supposed to be… When discussing the themes in his upcoming show, James said, "I think the main thing for me is, first of all, making it out of a place where you're not supposed to. You're supposed to be a statistic and end up like the rest of the people in the inner city — (and) being one of the few to make it out and everyone looking at you to be the savior." The show will clearly take inspiration from James' own success story and subsequent media scrutiny, but James and his business partner, Maverick Carter, stress that it is not supposed to be a biographical story: "It's definitely not an autobiographical series about my life or LeBron's life; it's fictional characters living in a fictional world," says Carter.
While the show's actual premise sounds interesting enough, we can't help but guess as to what some of LeBron's original ideas for the show could have been. Maybe he wanted it to be about the entire city of Cleveland suddenly sinking into a sarlacc pit, or maybe Cleveland being consumed by fire and brimstone Sodom and Gomorrah style. You know, something LeBron would really like to see happen.
More:
Lamar Odom was Arrested for a DUI
Fall TV Comedy Picks
'Homeland' Season 3 Premiere Leaks Online
---
From Our Partners
From Our Partners:


A Complete History Of Twerking (1993-2013) (Vh1)


20 Grisliest TV Deaths of 2012-2013 (Vulture)