Lena Dunham Would Never Score with Patrick Wilson, But She Deserves Him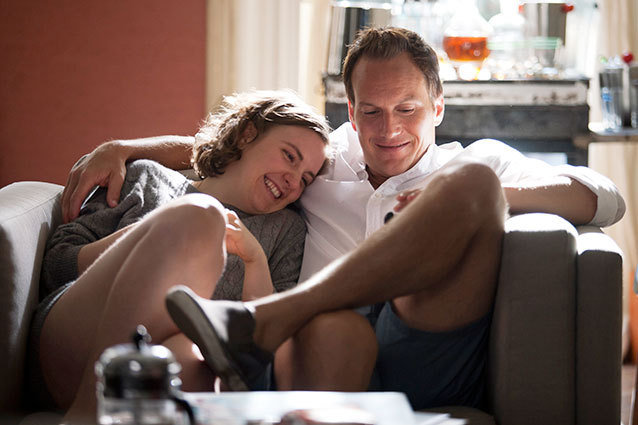 Last night when Lena Dunham – the writer, director, star, and all-around powerhouse behind HBO's buzzy show Girls – leaned in and kissed the dreamy Patrick Wilson and he kissed her back, the snarkier parts of the audience (myself included) immediately thought, "Oh please, there is no way that he would get with her!" The rest of the episode, in which Dunham's Hannah spends two days in the loving arms of Wilson's Joshua, was a suspension of disbelief, as we're supposed to imagine that this romantic coupling is accepted by today's society. Their discrepancy was only made more apparent in a scene where Hannah and Joshua play half-naked ping pong and Wilson looks like a bronzed statue of Hercules and Dunham looks, well, not quite like an Aphrodite. But, by doing this, is Dunham actually genius? Yeah, I think so.
As much as we hate to admit it (strict codes of beauty be damned), Dunham is not what we consider conventionally attractive in Hollywood. And she'll tell you this as soon as anyone else. She even has said she makes her sex scenes as uncomfortable as possible to play up her non-conformist body type. She even uses her physicality as part of her comedy. Just look at her when she is standing at Joshua's stoop in her too-tight jumper with a massive wedgie. This is not a girl who is overly concerned with being a pretty pinup and knows that everyone will guffaw at a non-size-2 woman making a fool of herself.
But that is one of the brilliant, subversive things about Girls. We have suffered through years of sitcoms in which schlubby guys have courted voluptous ladies and it's become a sad TV cliché. And we've consistently found ourselves wondering how we're supposed to believe these lopsided relationships existed in the first place. It goes as far back as fat Ralph Kramden on The Honeymooners and his shapely wife Alice. Even if Kevin James was royalty, there's no way his King of Queens deserved a hottie like Leah Remini. Same goes for schlubby Jim Belushi and gorgeous Courtney Thorne-Smith on According to Jim. On Modern Family it's hard to say that Ed O'Neill wouldn't land a bombshell like Sofia Vergara because, well, how many fat old rich guys have gorgeous trophy wives, but twink Jesse Tyler Ferguson's pairing with bear Eric Stonestreet is a little less believable.
Lena Dunham is finally getting revenge for all those tight-bodied women stuck with jelly-bellied husbands. She is regularly casting guys as her romantic interest that are consistently more traditionally beautiful as she is. Adam Driver's character Adam (while not necessarily a looker) is as obsessed with keeping his body tight as Hannah is at keeping hers frumpy. Donald Glover is hiding a set of six-pack abs under his shirt instead of a muffin top. And Wilson, well, he's just in a class all of his own, and most mere mortals aren't nearly attractive enough to deign to make out with him. But here is Dunham, conquering them all.
She is doing what all those men before her have done, saying that she is worthy of sex and attention not for what she looks like, but for who she is. While it may sound harsh to say she's not any of these men's ideal, in terms of sitcom history, this is the first time that a woman has fought for this kind of equality: to not be the one who is slumming, but the one who is slummed. Just as male actors and writers have lived out their fantasies of bedding beauties on screen, now Dunham is doing the same, and making a shrewd point while doing it. 
What's even doubly subversive about Hannah is that she isn't even really worthy of being loved. What we're supposed to think about all the schlubby men above — each one a before picture in a Weight Watchers ad — is that they are so wonderful and funny and such great providers that it's worth overlooking that roll that obscures their belt buckle to see the heart inside. Last night, Hannah was just the opposite. She and Joshua fell into each other's arms because they were such lonely messes, seeking out any sort of human connection, and Joshua wallowed in her flesh, a figure that isn't exactly exalted outside of Reuben. But when he got to actually know her, when she revealed herself to him and he saw who she really was, that is when he rejected her. He didn't dismiss her for what she looked like, but for who she really was.
The same thing happened with Glover's Sandy, who kicks Hannah to the curb for her unsympathetic political beliefs, not because of any junk she may or may not have in her trunk. Dunham is telling us what all of our mothers told us so long ago: It's what is on the inside that matters. While you don't need to be beautiful on the outside to get laid, you do need to be beautiful on the inside to be loved. That's not such a crazy lesson at all.
---
From Our Partners:

40 Hottest Celeb Twitpics of the Month (Vh1)

'Sports Illustrated' Swimsuit Issue: A Visual History (Celebuzz)