Lifetime's 40 Years of Santa, Baby: Inside the Network's Holiday Movie Machine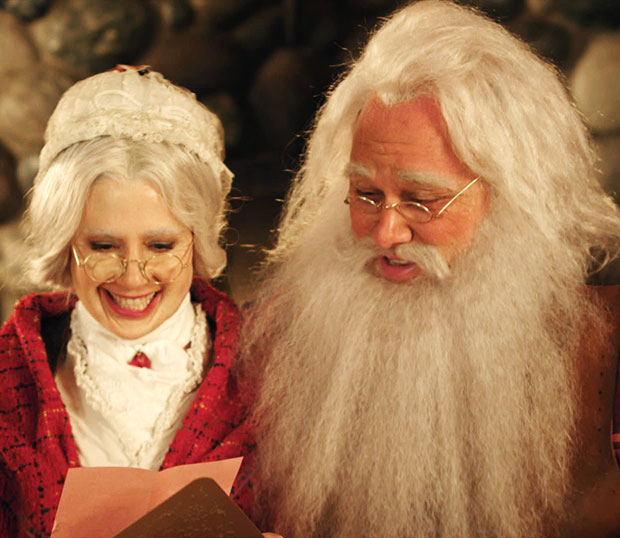 It's safe to say that many adults watch Christmas movies for nostalgia's sake. Since the holiday season is typically never as magical as it was when we were children, we gravitate toward the movies that used to make us feel warm, safe, and happy in our youth. (A Christmas Story, It's A Wonderful Life, etc.) We watch the same ones year after year — due to some eggnog-fueled tradition, the desire to pass down our own special childhood memories to our children, or as a legitimate quest to experience those feelings again. But for many Christmas enthusiasts, the same old repeats aren't good enough — and that's where, for roughly 40 years, Lifetime has come in. And with 10 star-studded original films on the roster for 2012, they're showing no signs of stopping.
"Holidays are a big deal for our viewers," says the SVP of Original Lifetime Movies, Tanya Lopez. "[Because] the themes are sort of this wish fulfillment… the movies that seem to do really well for us are movies that end in a couple's love story. [Movies] that have romance in them, really seem to rate."
That's why Lifetime produces material like Finding Mrs. Claus and The Merry In-Laws — two stories that combine the mythology of Christmas with a classic Lifetime romance. "People put aside other issues in their lives during this time —  they just want to feel good," says Bruce Johnson, an executive producer on Finding Mrs. Claus. "They want to feel like these fantasies of romance could happen to them — that something magical could be happening during the holidays. These types of movies play year after year for a reason."
Indeed, they do — the holiday season is one of the biggest highlights of the year for the folks at Lifetime. With a core female demographic and countless dedicated viewers, the network knows it has to deliver the goods, while somehow avoiding total repetition. It's a process. "Actually, it is [a team of elves]," Lopez says with a laugh, when asked how so many movies get made each year. "They look at the movies and themes that are out there — we have a huge library of Christmas movies, so we look at which titles seem to be perennial. Then what we do is we look at how we supplement — what is it that we don't seem to have in our library? We do some strategic thinking about these movies. Last year, this all happened in, say, February or March."
Lopez acknowledges that the material in these films can often be less-than-fresh, and that avoiding duplication is also a huge part of the process. "We try not to duplicate," she says. "It's hard. This year we were so strategic about [planning] — we really took some time. I think if you look closer you'll see some that some [movies] sort of fall into the grey area."
Like, for example, The March Sisters at Christmas — a modern retelling of Louisa May Alcott's Little Women, that finds all four March sisters searching for love. According to Lopez, the film wasn't even supposed to be a Christmas tale. "There are some movies that we can turn into Christmas movies," she says. "[The March Sisters at Christmas] was just about the sisters, and in a rewrite, we turned it towards Christmas."
But this infamous repetition (and, come on, cheesiness) doesn't keep the talent away — this year alone, Lifetime snagged Mira Sorvino, Will Sasso (The Three Stooges), Ralph Macchio, Shelley Long, Harry Hamlin, David Hasselhoff, and more — basically, all actors who definitely have other things to do (err, except for maybe Hasselhoff). "Mira really created this character, Mrs. Claus," says Johnson, who produced Sorvino in Finding Mrs. Claus. "She had a real clear vision when we began the conversation with her of who the character would be. She pitched some revisions to the script, and an expansion of that character in terms of who she was and how she would be perceived. Mira has young children, and I think she even said that she just wanted to do a movie that she could show her kids, and that they would have fun and watch it year after year, because that's their mom — Mrs. Claus." Lopez agrees. "I think that [for] Ralph Macchio, or Lea Thompson — [doing a Lifetime movie] is not necessarily stretching their acting chops," she says. "It's just [about] having that nice film they've done in their library."
George Wendt (Cheers) — who plays Santa alongside Long in The Merry In-Laws — confirmed that the decision to star in the film wasn't exactly a brain-buster, even though he has played Santa Claus before. "It's usually a lot of fun, and usually very sweet," Wendt says of the filming experience. "They usually shoot [the films] in a nice, cold climate so there's lots of snow in the background, so it gets you out of town. That's about it. It's a nice, beloved character."
And that's enough to lure in the stars (not to mention the viewers) — Lifetime's holiday fare is good for the kids, fun for the grown-ups, and it makes viewers happy. But to make the rare, special film that shows up on the Lifetime calendar year after year (like 2003's Comfort and Joy, and 2005's Recipe For a Perfect Christmas) Johnson swears that there is actually a formula. "The movies that work the best have heart," Johnson says. "Rule number one, if you're dealing with the mythology that is around Christmas, you have to take the mythology seriously. When that happens, then the rest of the magic can happen. The second thing, because we are in that mythological realm, is you truly have to suspend disbelief. [Enjoying the movie] has to do with the relationships — everyone wants to have that perfect relationship with somebody else, somebody special. This kind of movie reinforces that you can have that. These types of movies, if they reinforce [that you can find love] — people will enjoy viewing it."
Now, if you'll excuse me, I'm off to find my own perfect "Mr. Claus!"
Follow Shaunna on Twitter @HWShaunna
[PHOTO CREDIT: Ed Araquel/Lifetime]
MORE:
Your Complete Guide to Lifetime's Cheesy New Christmas Movies
What Your Favorite Christmas Movie Says About You
What Your Favorite James Bond Says About You
You Might Also Like:

20 Hottest Bikini Bodies of 2012: Megan Fox and More!