Look Forward to a Very Personal New Sitcom From 'Scrubs' Creator Bill Lawrence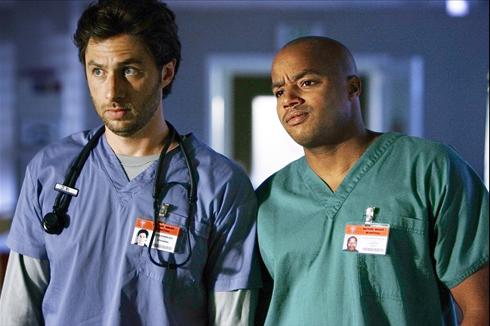 When you hear a recognizeable name attached to a new show, you can often muster up some kind of idea of what that show will be like. For instance, when you hear "a new Aaron Sorkin show," you can assume there'll be a lot of fast-talking intellectuals who never break stride. When you hear "a new J.J. Abramss show," you prepare for a confusing addiction. And, now that CBS ordered a new sitcom created by Bill Lawrence, plenty of thoughts come to mind.
His new series, which we still don't have many details about, will be a traditional four-camera series, unlike Scrubs and Cougar Town, and will be a workplace comedy. Producing the series is Greg Malins (Friends and How I Met Your Mother).
As far as sitcoms go, those developed by Lawrence (including Scrubs, Spin City, and Cougar Town) have a remarkably distinct voice. On the most superficial level, these series are dissimilar. Scrubs was an often dramatic, often surrealistic comedy about life as a young doctor. Spin City was a more realistic, but heavily silly, depiction of local government. Cougar Town is essentially just about a bunch of seemingly unemployed middle-aged neighbors getting wine-drunk all day. But each of Lawrence's sitcoms displays an intensely personal connection between its characters. They talk to each other on a profoundly familiar level. Scrubs' longtime best friends JD and Turk (Zach Braff and Donald Faison) speak almost exclusively in (highly effeminate) inside jokes. Spin City's apartment-mates Carter and Stuart (Michael Boatman and Alan Ruck) bicker dryly, but very intimately. And, without even the backdrop of a workplace or palpable theme, Cougar Town is practically a voluminious expression of people being very, very attached to each other. And these are all very good things.
The series are celebrations of friendship and human relationships. They are in no way overly saccharine or disingenuinely "nice." The characters do give each other a hard time, but in the way that only people who really (and I mean really) know each other can. A good deal of comedies keep their characters at an arm's length; even friends. Perhaps they'll tease, or support, each other regarding superficial character traits that viewers are meant to pick up on seconds into the pilot. But Lawrence's shows delve much deeper into their characters' nuances, eccentricities, insecurities, fears, flaws and they tear them right out and serve them up for what they are: the best things that people have to offer. Lawrence understands that flaws are definitively human, and as such, are definitively interesting. And lovable. Friends love and cherish one another not in spite of their flaws, but because of them. And this is something you rarely see on TV. Watch any episode of any of Lawrence's sitcoms (especially Scrubs or Cougar Town), and you will learn that he embraces this ideal to an exemplary level.
And it's no far reach to assume that his new series will continue in this philosophy.
Source: Deadline