11 Love Triangles We All Seriously Got Tired Of
Maybe it's because we've been struggling to find one man to love us, let alone two, or maybe it's because it reduces pretty awesome female characters to a girl who can't decide which boy she loves, but we've grown a pretty tired of the love triangle trope saturating so many TV shows and movies. It seems like vampires are only ever happy if they're competing for a girl (and, of course, they simply must be vampires). Are there really no other ways to complicate a love story?
1. Sookie/Eric/Bill (True Blood)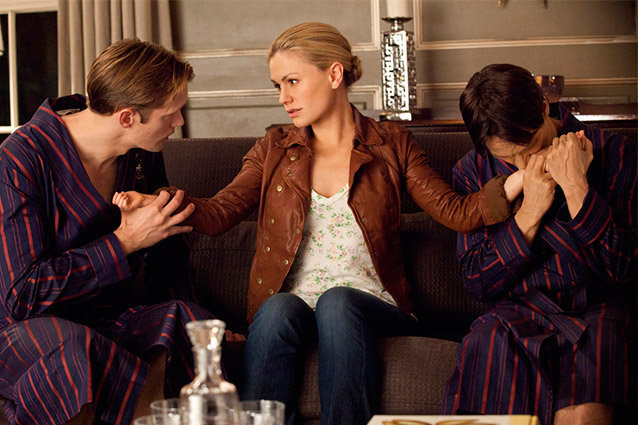 HBO
Sookie, waitress (who spends shockingly little time actually waiting tables) and faerie, loves vampire Bill Compton. She is "his," which is some pseudo-romantic vampire way of possessing a woman like an object, and along comes douchey bad-haired vampire Eric. She hates Eric at first, but then he cuts his hair and gets amnesia, forgetting he's actually a jerk, and they fall in love. And then the two vampires compete over her for, like, ever. After this whole love triangle (a square, if you consider her relationship with werewolf Alcide) ordeal fades, she ends the series with a rando who we don't meet. Umm, cool? At least we had some steamy moments of threesome fantasies.
2. Olivia/Jake/Fitz (Scandal)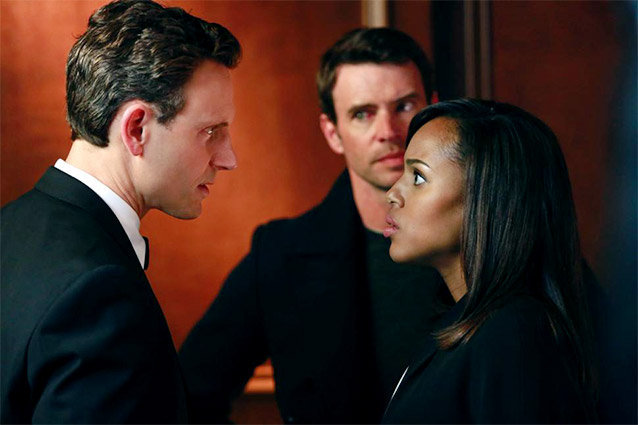 ABC
Is anyone into Olivia and Fitz anymore? We're not really sure there would be a show without this love triangle though, because Pope & Prez need to be lovers torn apart, and, what with the First Lady generally approving of their relationship (and engaging in extramarital affairs of her own), something needs to keep them apart. Enter Jake, secret agent man. We like Olivia Pope best when she's wearing Burberry trenches and "handling" situations like nobody else can. We tolerate her love life (although we do cherish the non-booty calls and her standing up for herself). 

3. Jack/Kate/Sawyer (Lost)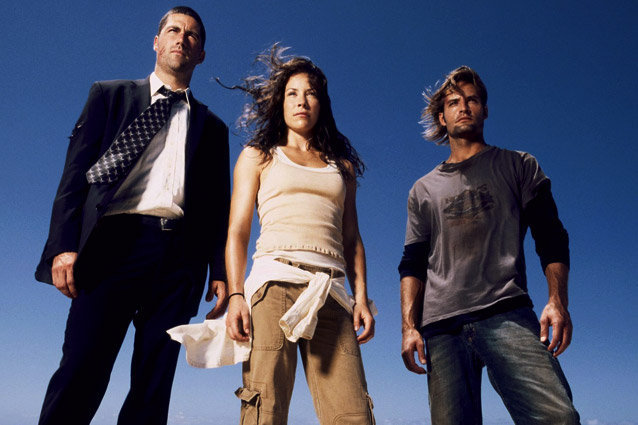 ABC
We're not sure if we'll ever fully understand what happened on Lost, but we do know that the episodes weren't nearly as entertaining when they focused on this love triangle. Wasn't there enough going on here without this overplayed scenario? 
4. Bella/Jacob/Edward (The Twilight Saga)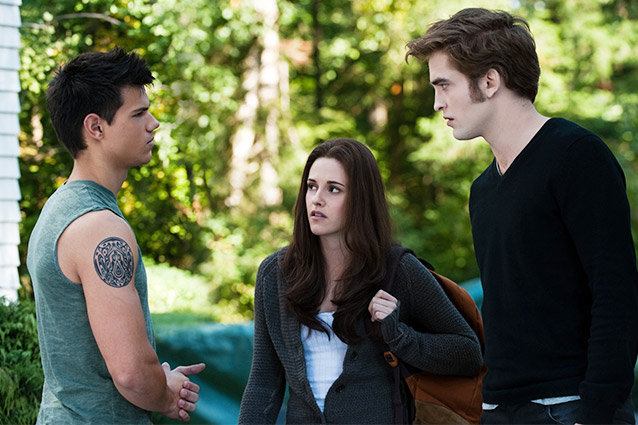 Summit Entertainment
As much as we tried to bury our head in the sand and avoid this book/film series, the cursed Team Edward/Team Jacob drama found a way to perpetually enter our lives. Its ubiquity alone is enough to grow tired of. As far as we're concerned, if we didn't like the vampire-werewolf-human triangle on True Blood (okay, Sookie isn't human, but you get it), we're certainly not going to enjoy one where the vampire sparkles. 
5. Rory/Dean/Jess (Gilmore Girls)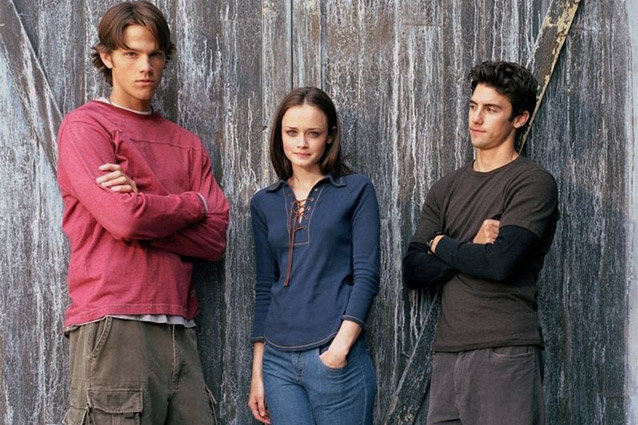 The WB
This is the love triangle we understand the most of all of these. No, not just because both Dean and Jess are irresistible and pretty unconditional in their affection for the perfect Rory Gilmore, but because Dean was sort of the first boy she had ever noticed. She started dating him, things were going smoothly, and then Jess came along. Understandably, when a bad boy who loves reading comes along, swooning is inevitable. Dean was a good first boyfriend, a bit too needy for our taste, and Jess made a huge mistake by, you know, leaving town while still dating Rory and not even saying anything, but we understood where she was coming from, at least. That still didn't make it enjoyable to watch Dean peacock and proclaim Stars Hollow as "his town." 
6. Jack/Elizabeth/Will (Pirates of the Caribbean)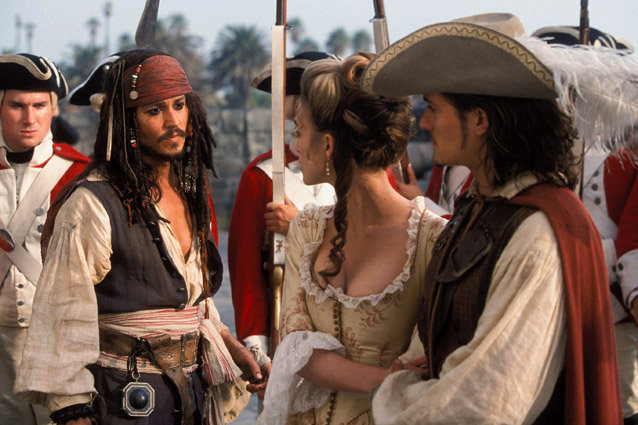 Walt Disney Pictures
Come on, Elizabeth! You can't just throw away your relationship every time Johnny Depp looks damn cute in a costume. You will never have a healthy love life that way. 
7. Meredith/Derek/Addison (Grey's Anatomy)
ABC
It's always a grey area when a TV show makes you ship a relationship between a married man and his mistress, and that's exactly what happened here. We liked Derek and Meredith with the complications they already faced – a one night stand that turned into the pair working at the same hospital (and the accusations that she was sleeping her way to the top). When Addison came back into the picture, it just annoyingly kept apart two characters we knew should be together. 
8. Serena/Nate/Dan (Gossip Girl)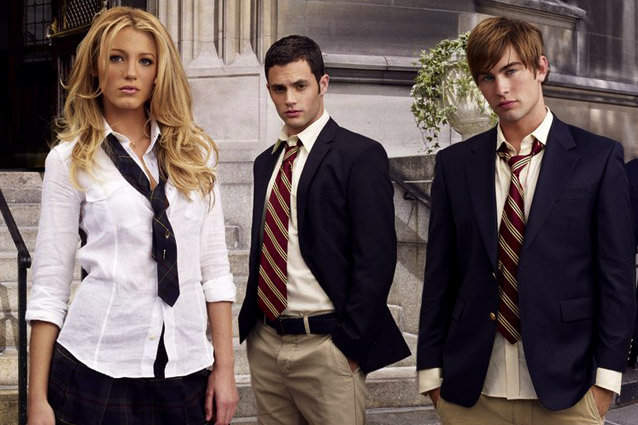 The CW
The relationships on Gossip Girl mostly played like a square dance's exchange of partners, and we never liked Nate and Serena together (even though, goodness gracious, they were a gorgeous-looking couple) because he was her BFF's boyfriend. What happened to girl code, S? (To be fair, Blair then went for Lonely Boy despite his former relationship with Serena). Eventually, this show's only relationship we rooted for was strangely Chuck and Blair. 
9. Katniss/Peeta/Gale (The Hunger Games)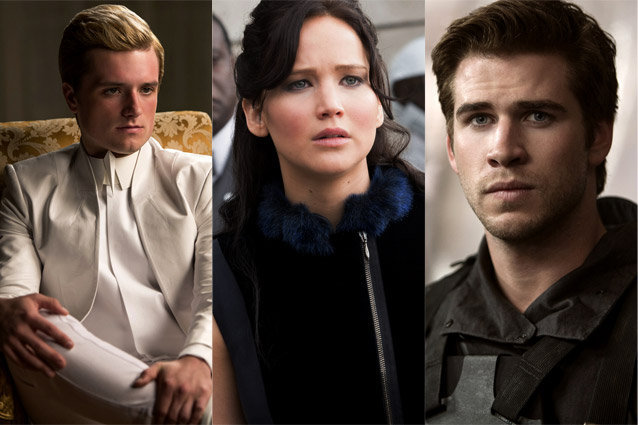 Lionsgate via Everett Collection
This one never seemed like much of a love triangle to us. As we read the book, and even in the first movie, we sort of felt like, "Gale who?" It was always Peeta. Katniss and Gale's relationship was strictly platonic, despite Hemsworth's hunkiness. His attractiveness is all he has going for him, and it's squandered by his jealousy. Peeta, on the other hand, is cute, caring, maybe a little needy, but we dig it. The real attraction to the movies/books lies in the revolution though (which is greatly motivated by Katniss' desire to rescue Peeta, further proof of his superiority).
10. Buffy/Angel/Spike (Buffy the Vampire Slayer)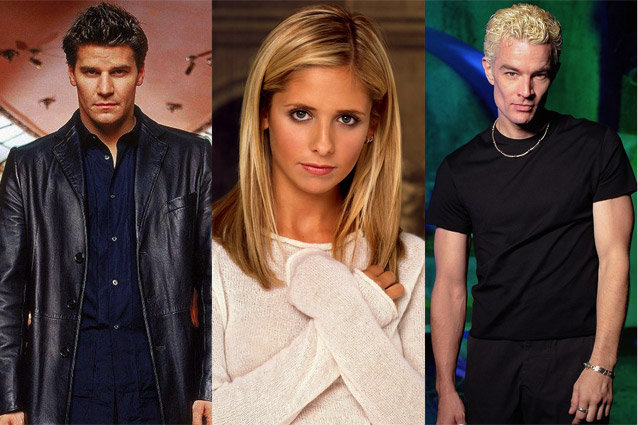 The WB
Seriously, what is it about vampire relationships that leads to love triangles? This is a little ridiculous. Buffy and Angel are perfect beyond words, a modern supernatural Romeo and Juliet plagued not by sparring families, but by an ancient curse, and Spike had vampire impotence and made a Buffy-bot. Really? We liked Buffy and Spike's banter, but the romance between the two always felt a bit wrong to us (and even Spike didn't believe her when she said she loved him). 
11. Ross/Rachel/Joey (Friends)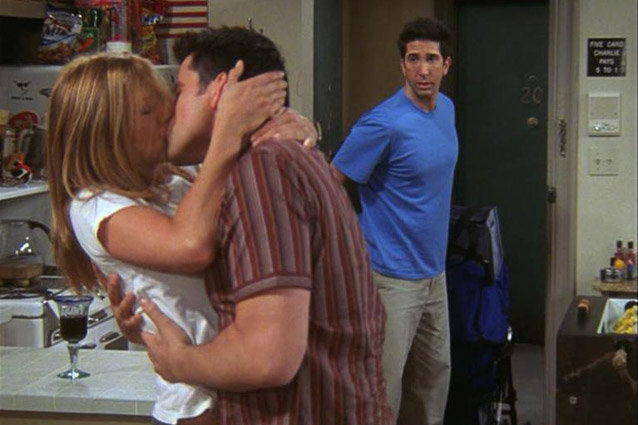 NBC
Why. Did. This. Happen. Ross and Rachel, the annoyingly on-again, off-again, "we-were-on-a-break" couple everyone shipped throughout the 90s, were each other's lobsters. Joey, the show's resident Casanova, suddenly falls in love with her, even though she has Ross' baby? Whose decision was that?