Everyone Is Tripping Out in 'Mad Men' and 7 Other Drug-Filled TV Episodes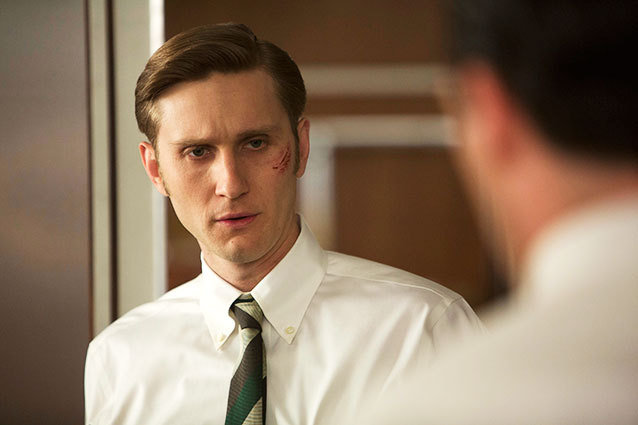 If your health teacher didn't drill the notion into your head, then a tap dancing Ken Cosgrove will: drugs are a bad idea. This week's episode of Mad Men takes the Sterling Cooper Draper Pryce Ted Peggy Harry Hamlin office (new name TBD) on a wild ride to the peak of the human psyche, injecting the lot of them with an energy-boosting, mood-enhancing stimulant… one that sends the creative team down a rabbit hole of scattered thought, sexual promiscuity, and (eventually) complete exhaustion.
The hour of rambling writers and people getting stabbed in the arm during William Tell reenactments reminds us not only of the lunacy that overtook one Roger Sterling on Mad Men's previous season, during his "life-changing" turn with LSD, but of many other drug-addled episodes in television history (and, of course, our own freshman years at liberal arts college). A handful of TV series, comedy and drama alike, have dusted their characters with uppers, downers, hallucinogens, and even the odd trippy magic potion. Here's a round-up of some memorable television episodes that'd put a pep in your step… though not to the degree of Mr. Cosgrove. No amount of drugs can make that magic, people. That's pure Dave Algonquin.
BREAKING BAD
Lesson: Don't do heroin. It'll get your girlfriend in trouble.
BEVERLY HILLS 90210
Lesson: Don't do "euphoria." Your friends will get mad at you for making out on a car.
ROSEANNE
Lesson: Don't do marijuana. Things will be fine for a while, but then your show will take a strange, horrible turn in the final season.
ENTOURAGE
Lesson: Don't do shrooms. You'll look like a douche.
TAXI
Lesson: Don't do cocaine. Tony Danza might join you.
TRUE BLOOD
Lesson: Don't do "V." For one, it's not real. For another… well, the below should dissuade you. 
CLONE HIGH
Lesson: Don't do hallucinogenic raisins. Um… just… just don't.
Follow Michael Arbeiter on Twitter @MichaelArbeiter | Follow Hollywood.com on Twitter @Hollywood_com
More:
'Mad Men' Recap: What the Hell Just Happened?
Christina Hendricks Gets More Air Time in Ads Than 'Mad Men'
'Mad Men' Recap: Don Draper Gets Super Kinky
---
From Our Partners:


Zoe Saldana Strips Down For Magazine (Celebuzz)


33 Child Stars: Where Are They Now? (Celebuzz)