'Mad Men' Preview Predictor: There's a Shirtless Roger Sterling In Our Future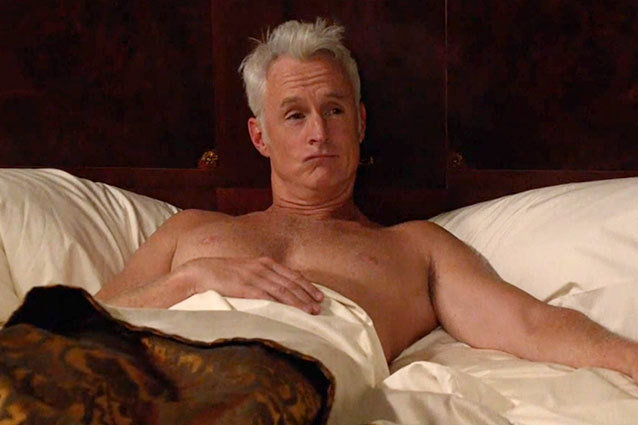 Alright, so last week's Mad Men preview predictor was all for naught. Who could have possibly guessed from those snippets that the characters would be dealing with the emotional heft of the assassination of Dr. Martin Luther King, Jr.? Or that Pete Campbell would actually prove capable of being a decent guy? Or that Harry Crane is an accidental racist? 
So it's with great trepidation that I even take a stab at what's to come in Episode 6 of the AMC series' sixth season. Based on the 30-second clip, there seems to be a prominent theme of unwanted guests. At one point, Peggy cries, "I want her out!" … which, I'm guessing, either means her mother is staying with her or she's waiting for a tenant to move out of her new apartment (there's something oddly comforting in knowing New York City real estate has been a nightmare passed on from generation to generation).
Next Don asks, "How long is he staying?" — presumably about a male friend or relative of Megan's in town for a visit. Still, knowing Matthew Weiner, this could all be a ruse to confuse us. 
But here are some things I can say with the utmost certainty based on this week's preview: Pete will take a drink of something (scratch that, everyone will take a drink of something), Don will smolder (oh, will he smolder), and Roger will be lying in bed shirtless (thanks for evening out the playing field, John Slattery!) Check out the preview below and check out more of my wild guesses right after. 
Pete: "So you want something?" – A work-related, issue no doubt, as he's surrounded by Bert and Joan. 
Don: "Why can't you handle it?" – This has to be directed towards someone at work, too, presumably for a meeting he is too drunk or lazy to deal with. 
Bert: "You've already done all you can do." – Ah, Bert. The unofficial peacekeeper for Sterling Cooper Draper Pryce, putting out fires week after week. 
Ted: "Could you give us a moment? We'll continue this later." – Directed at one of Peggy's employees, so that he can actually talk to Peggy about something. 
Joan: "Pete, no." – No. No. No. No. Pete. No. Whatever it is you're saying to Joan that is making her say, "No," let me clear this up for you: No. 
Bonus moments: An exasperated sigh by Roger (don't worry, you'll be shirtless in bed with someone — not Joan though, sorry — soon enough) and Pete packing up his suitcase for the day to go home to his drab bachelor pad in the city. 
What are your predictions for next week's episode of Mad Men? Share your blind faith guesses and theories in the comments section below! I mean, honestly, should we really care about anything other than a shirtless Roger? 
Follow Aly on Twitter @AlySemigran
More: 
'Mad Men' Preview Predictor: Shh, Someone Has Something Vague to Say  
'Mad Men' Preview Predictor: Dying To Hear What They Say Next
'Mad Men' Preview Predictor: 'What Are You Talking About?' Exactly. 
---
From Our Partners:


Miley Goes Braless for Magazine Cover (Celebuzz)


33 Child Stars: Where Are They Now? (Celebuzz)