'Mad Men' Recap: Don Draper Gets Super Kinky (Season 6, Episode 7)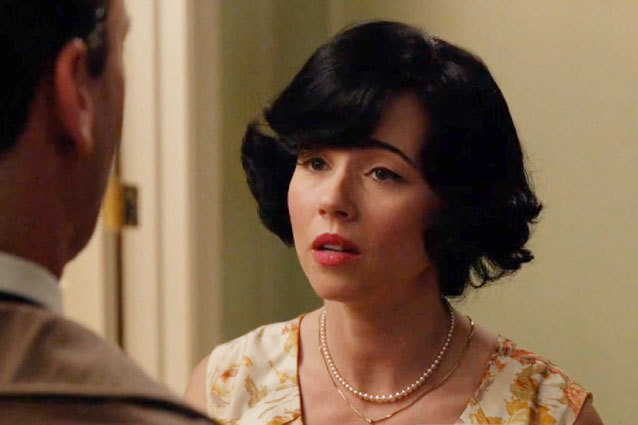 While this season of Mad Men seems to be improving, it still wasn't very subtle with the theme of this episode. As soon as Don told his mistress Sylvia to crawl across the floor and pick up his shoes, we all knew that this hour was going to be about dominance and submission. While it played out — quite literally — in Sylvia's hotel room, it played out figuratively at work. This is a natural theme given that SCDP and CGC are merging and everyone is worried about their jobs and which agency will end up on top when they finally blend.
Mad Men has always been about Don's dominance. When we started the show, he was a man entirely in control of his job, his wife, and everything around him. He was ascendant. Even when he went out of control with the philandering and the divorce and the booze he was still so good at his job that it seemed like life was his gimp. This whole season has been about Don being passed over by time. It's about him going from dominance to submission. He is being set up to be someone whose power is robbed from him, someone like Bert Cooper, a figure head doddering at a meeting rather than a man in his prime.
This entire life cycle plays out over the course of an episode. After Sylvia confesses to needing him, he tells her to crawl across the floor and pick up his shoes. First of all, Megan crawled on the floor for him in the Season 5 premiere (the same episode as that song that will get stuck in your head just by thinking about its title) so there is some precedence for this groveling turning him on. Secondly, after this and Girls, if another show has a woman crawling around for a man, it will officially be a trend. Don sits like a king in his throne as she puts his shoes on, but his power lessens with each interaction. She does as she's told, stays put, and doesn't answer the phone. At first, it excites her but eventually it levels off and her Catholic shame gets the best of her. He says it's easy to leave something when you're satisfied, she says it's easy to leave when they're ashamed. Sylvia also knows that they will both go back to their lives and nothing will really change. This was nothing but a distraction.
Cue long parenthetical. When I eventually go back to school and get my PhD in American Studies, I will write about the use of elevators in Mad Men. Last night we started with Don descending alone and he hears Sylvia fighting with Arnold (we never hear him) and she says, "Tell them how you don't listen to anyone because you have it all figured out," which is the theme from last week's episode: Don acting on his own. She directs that at Arnold, who quit his job and is moving to Minnesota presumably to work at the Mayo Clinic. Don sees Arnold as a role model, but they now appear to be the same man. Don's transformation into Arnold is complete and he doesn't want to share the elevator with him again, closing the door before he can rush out and join Don, who always held the elevator for him in the past. Later in the elevator, Sylvia and Don are ascending and Sylvia is staring down and Don is staring up. This is their fundamental difference. As a Catholic, Sylvia is thinking about hell and how she is doomed for her adultery. Don, on the other hand, is always thinking about transcendence, about headed toward heaven and how he can change his life to be a happy person. I have a feeling neither is going to get where they're headed. End long parenthetical.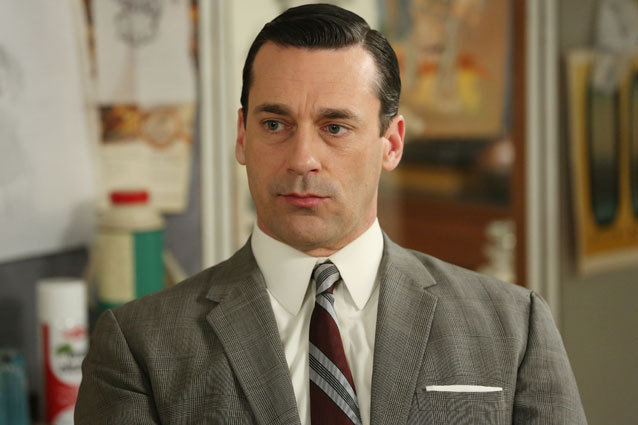 The other S & M relationship here is between Don and Ted, both of whom are vying for creative control of their new merged agency. Don pulls a classic power play by blowing off and then showing up late for a meeting. When Ted holds the meeting anyway, Don holds a meeting after the meeting to show Ted who is really in charge. He then gets Ted so drunk that he can't think and can barely talk. Don, loosened up, comes up with a brilliant campaign right off the cuff, showing Ted he is boss. Ted then embarrasses himself by passing out in front of the staff. He then has a conversation with his old partner about Don (he even dominates a dying man's last breaths) and he tells Ted to march in there like he owns half the place.
Later, Ted gets his chance to show Don when he literally takes Don's life into his own hands piloting their aircraft. They both use their special talents to prove dominance, Don with booze and Ted with plane. Seriously, this episode should have been called "The Pissing Contest" or "The Ruler." After a bumpy start, they break through to the clear skies above the rain clouds, Ted puts on his shades like a boss and steers them toward a successful meeting. Maybe this is going to be a metaphor for their entire relationship going forward.
Interestingly, the lynch pin for Don's control is Peggy. She comes in right at the crux when he goes from control to submission. She is the first one to stand up to him and tells him to "move forward." The problem is that Don doesn't seem capable of moving forward. He seems to be living his life on repeat and making the same mistakes repeatedly. Before that was fine, because he had so much control that he could always wrench things back under his grasp. But now that he's losing it and the world is moving on without him, the people who used to be subservient to him (Peggy) are now standing up to him and showing him who is really calling the shots.
The idea of Don living in a really long version of Groundhog's Day is reinforced at the end when he goes home and tunes Megan out, just the way he used to with Betty. If that didn't reinforce his idea that he's living in a marriage he doesn't want, then Megan's reaction to Kennedy's assassination should do it. She reacts exactly the same way Betty did in Season 3, sobbing uncontrollably at the TV set. Just like Pete's senile mom conflates him and his brother, Don conflates the two Kennedys. Both of their assassinations were the same through his eyes and in all the time that passed between them, he hasn't been able to make one substantive change in his life. He doesn't have the power he thought he did and the world is completely unmanageable. I would like to think that this ending points toward an impending divorce (much like the ending of Season 5 did) but what Don said earlier still rings in my mind, "It's easy to leave when you're satisfied." Does that mean it's hard to leave when he's unsatisfied? Is that why he's stuck with Megan?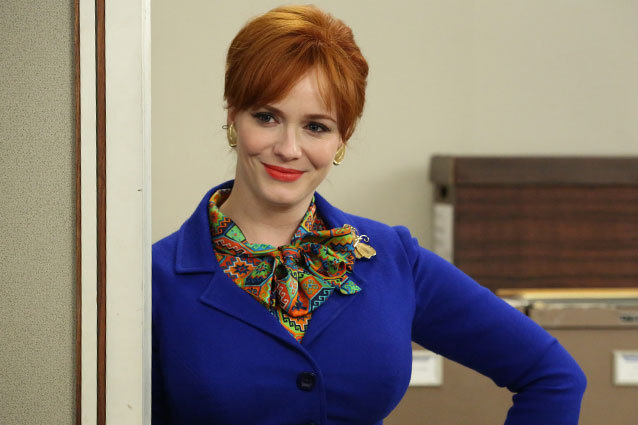 Joan's story didn't seem to fit in with the overall theme of the episode. There was a nice moment between her and Peggy. Their relationship has always been fraught, but they seemed genuinely pleased to be around each other again, Joan showing Peggy to her place in the office, just like she did in the pilot, but now Joan is a partner with her own office and Peggy isn't a secretary but a coffee, oh, I'm sorry, copy chief. Just as Don is stagnating, these two are still on the rise. That reminds me, when did Joan stop wearing her gold pen necklace?
Anyway, Joan had a cyst on her ovary and it made her so sick that she had to go to the emergency room under the guidance of everyone's favorite meddlesome red herring Bob Benson. I'm still not sure exactly what purpose this guy is serving, but his charm offensive seems to be working quite well. Taking Joan to the hospital and checking up on her got her to stick up for him at the meeting where they decide who was getting fired. That football with a bow on it sure was a sound investment.
Roger only had one great scene this week (the actor John Slattery was too busy directing the episode, his fourth), but it was a hilarious doozy, where he got to fire Bert (who I don't even remember from past seasons) for the second time. I would like to think that it was genuine kindness that prompted Bob to take Joan to get some help, but it might have just been that he was really worried about his paycheck.
Pete, on the other hand, got quite a story and it didn't really seem to fit in either. His mother clearly has Alzheimer's and now he has to take care of her. I'll be interested to see how this plays out, but as of right now, it wasn't that surprising. Pete has always been Don's opposite though, and he is fighting for a dominance that Don only assumes. Maybe this was the contrast, he's fighting for control just as his mother is completely losing it.
Follow Brian Moylan on Facebook and Twitter @BrianJMoylan
More:
'Mad Men' Recap: The Great Merger
'Mad Men' Recap: Fathers, Sons, and Martin Luther King
'Mad Men' Recap: Finally Some Time Alone with Joan
---
From Our Partners:


Watch Justin Bieber Attacked in Dubai (Celebuzz)


33 Child Stars: Where Are They Now? (Celebuzz)