'Mad Men': Everyone Tries to Have Sex with Everyone (Season 6 Episode 11)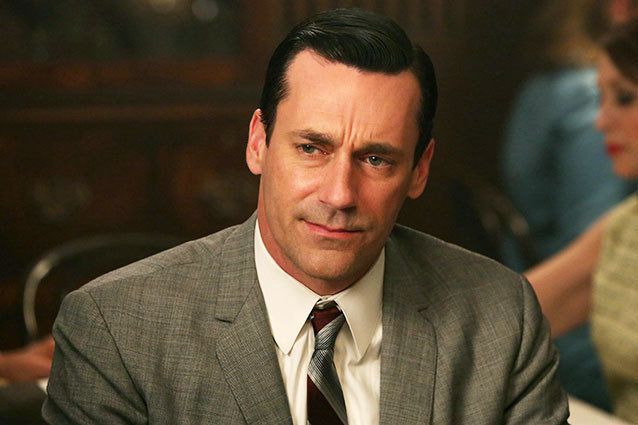 On this week's episode of Three's Company, one character leaves the room just in time for another character to reveal something provocative to a third character, which eventuates in a wacky, sexually-themed misunderstanding. Later on, somebody walks in on two people making love, and a really gregarious dude uncomfortably hits on his heterosexual coworker. Hilarity ensues.
Oh, no, that was all on Mad Men, but you coulda fooled me.
Even more off the wall than this season's recent drug-addled ep is the sexually pervasive "Favors," which has just about everyone trying to sleep with just about everyone. Peggy tries to sleep with Stan. Ted, subtly, tries to sleep with Peggy. Ted's wife tries to sleep with Ted. Sally Draper's problematic friend Julie tries to convince Sally to sleep with Arnold and Sylvia Rosen's son Mitchell, who, in turn, looks pretty keen on sleeping with either of them (despite the fact that he's a good five years their senior). Pete's mother, who thinks that Pete is sleeping with Peggy, tries in her own right to sleep with her burly Latin nurse. And of course, the kicker of the lot: Bob Benson tries to sleep with Pete.
Let's back the hell up. First, the Don / Sylvia / Sally / Mitchell / Julie (that gal's trouble) Debacle:
When Don walks in on Megan tending to the sunken eyes of a long-haired, free-wheelin' hippie type, he learns that this young man is actually the son of Arnold and Sylvia Rosen, and that he's been assigned 1A (which, for the lot of us who have very fortunately grown up in an era past the draft, is apparently quite bad) for the Vietnam War. So Don, claiming to be channeling the father inside of him (that same father who admitted just a few weeks back to never feeling any love for his children), calls in a few favors to get Mitchell absolved from service. He attempts this with a client during a big pitch meeting, much to everyone's chagrin, but eventually lands the help of the noble Ted, who enlists the help of an Air National Guard buddy to ensure that Mitchell will never see combat.
And of course, it's all so that he can sleep with Sylvia again. And he does. And a visiting Sally, prompted into the Rosen's apartment to retrieve a compromising note left there by her nuisance of a pal Julie (seriously, Sally, just go hang out with Glenn again), walks in on the romantic union of her father and the lady from Freaks and Geeks. If Sally's image of Don hasn't yet deteriorated beyond repair, it does here. The young lass is shattered. And Don's malfeasances have finally stepped beyond his containment.
The only issue with the dramatism of this twist is just how little Don does indeed value Sally or her image of him. I can't imagine that Sally losing her sense of her father as a god should mean all that much to Don. Thinking of another AMC drama about crumbling father figures, Breaking Bad, we find a corrupt and criminal man who still needs his son to love and admire him. But has Don ever really needed that from Sally, or do his cold sweats here just come from the threat of her revealing the incident to Megan?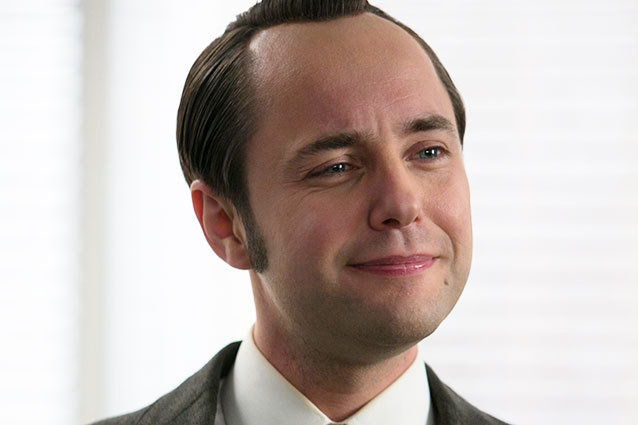 Now, the far more interesting Pete / Pete's Mom / Pete's Mom's Nurse / Bob / Peggy / Ted / Ted's wife / Stan / Whoever that Girl in Stan's Bed Was Calamity:
If you'll recall, a few weeks back, the ever generous Bon Benson took it upon himself to suggest to Pete the services of a military nurse named Manolo for his dementia-stricken mother. When Manolo and Mrs. Campbell pay a visit to SC&P this week, we learn a few things, via a covert conversation between the delusional woman and whom she believes to be Trudy (but is actually Peggy): the two are sleeping together.
Okay, we don't know if they're actually sleeping together. But we know that Mrs. Campbell thinks they're sleeping together. And that's enough to rile Pete up to give Manolo the axe, after he finds out during a liquor-fueled dinner with Peggy and Ted. A dinner with sexual tensions flying every which way: Ted still likes Peggy, right? Even though he has a loving wife and family, suffering from his lack of attention at home? And now there are hints that Pete harbors some affection Peggy's way, too? And maybe not entirely unrequited? Except for the fact that she's also totally willing to sleep with Stan, as she offers to "make it worth his while" if he high tails it over to her apartment in the middle of the night to kill a rat? But he can't, because he's actually in the middle of sleeping with someone else? And all this is made all the more complicated by the fact that Peggy shared kisses with both Stan and Ted a few weeks back?
And, oh yeah, she had a baby with Pete?
Remember that?! Because until Pete's mom, all out of sorts, made reference to the child that Peggy/Trudy and Pete/Pete have together, I had all but forgotten. Those two have a kid.
But we can shelf that in favor of the Bob Benson reveal for which everyone has been waiting. Pete brings his outrage over the Manolo situation to the attention of Bob, who, in his sensitive, philosophical manner, identifies Mrs. Campbell's feelings as natural and understandable. Manolo cares for her, makes her his top priority, shows her nothing but kindness. As such, she can't help but fall for him. This message, delivered with a gentle nudging of Pete's knee with his own, cements a new bit of information about Bob Benson.
At surface value, we could take this to mean that the rosey-cheeked do-gooder is simply gay. And maybe he is. But that's not a deep enough cut for the most bizarre character to grace Mad Men since Kinsey went all loony. Bob has tossed his unparalleled kindness toward just about everyone at SC&P: Pete, Joan, Ginsberg, Harry Hamlin. I don't think that homosexuality was meant to be the big reveal here, but a dark, pressing, all-consuming need to be loved. Really loved. By anyone.
And so, as he is rejected by Mr. Campbell, Bob retreats back into the pitch black cavern of his psyche, extending his golden heart to everyone at his company until someone finally returns his affections. Or until something… bad happens.
And since it's Mad Men, we're going to bet on the latter.
Follow Michael Arbeiter on Twitter @MichaelArbeiter | Follow hollywood.com on Twitter @hollywood_com
More:
'Mad Men' Recap: A Tale of Two Cities
'Mad Men' Recap: Don and Peggy Go to Camp
'Mad Men' Recap: What Just Happened?
---
From Our Partners:


Zoe Saldana Strips Down For Magazine (Celebuzz)


33 Child Stars: Where Are They Now? (Celebuzz)