Major Differences Between 'Sex & the City' and 'The Carrie Diaries'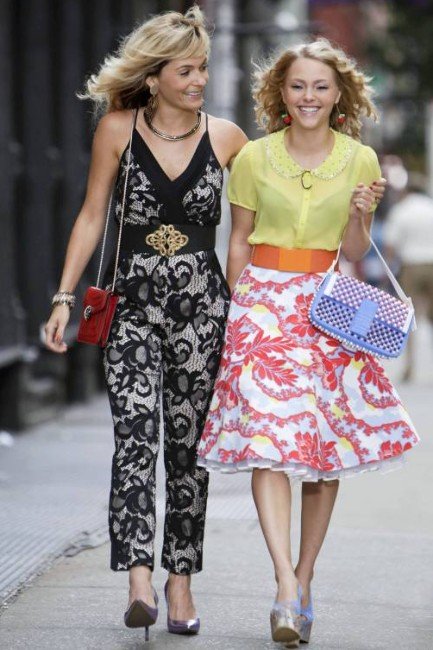 The CW
The Carrie Diaries  is a fun retro series about a young girl finding her footing in big city Manhattan in the 1980s. The girl in question … Carrie Bradshaw of Sex and the City fame. The only issue with the series is that it's a new take on wildly popular characters we have come to know in six seasons and two films. Since we've known these characters for more than 10 years, can a series really justify making changes?
The series follows Candace Bushnell's Carrie Bradshaw's life more closely than the version we know from television and films. However, this Carrie does call into question our perspective about the unlucky in love fashionista. Can a girl with such fabulous teen years be so relatable?
1. Carrie's Daddy Issues
Carrie (Sarah Jessica Parker) didn't have a dad in the HBO series. In the episode "A 'Vogue' Idea" she confesses that her dad abandoned her family. This explains why she was consistently drawn to older men like Mr. Big (Chris Noth) and Aleksandr Petrovsky (Mikhail Baryshnikov). However, in the CW teen series, Carrie (AnnaSophia Robb) has lost her mother. Her father Tom Bradshaw (Matt Letscher) is doting, attentive, and pretty respectful. The shift does work to change the way we'd analyze the behavior of adult Carrie, just a bit.
2. How They Met
In the Sex and the City 2, Carrie describes how she met all of her friends: first Charlotte (Kristen Davis), then Miranda (Cynthia Nixon), then finally Samantha (Kim Cattrall). However, on the Carrie Diaries, young Carrie meets a young Samantha (Lindsey Gort), who is cousins with Carrie's sex-obsessed school rival Donna LeDonna (Chloe Bridges). From a narrative perspective, it makes sense. Young Carrie has a friend like Charlotte in overachieving Mouse (Ellen Wong) and snarky Maggie Landers (Katie Findlay). Also, Samantha is a fan favorite. But it calls into question why the show would alter the canon if it would so readily pander to fans of the HBO series.
3. Carrie's Lost Virginity
Older Carrie confesses she lost her virginity in a Sean Bateman's rec room on a ping pong table (something more or less… relatable). In The Carrie Diaries, rather than losing her virginity to her boyfriend Sebastian Kydd (Austin Butler) she loses it to a young playwright Adam Weaver (Chris Wood). This is symptomatic of the need to paint a young Carrie Bradshaw of having fabulous teenage years. If she grows up to be a "the last single girl" at 40 years old who makes poor choices with men, money, and her life the series seems more like a tragedy.
4. The Escapades of Samantha
Gort's portrayal of Samantha is the right blend of a wink and a nod to Catrall's unique cadence and over the top behavior with a fresh take on the character. Catrall's Samantha represented successful women with more traditionally "masculine" attitudes on sex. Echoing adult Samantha's business savvy, Gort's Samantha can scam her way into something fabulous. She isn't as sex-obsessed as Catrall's Samantha, but she does have sex pretty indiscriminately in the 1980s with AIDS on the rise. The prospect of Samantha having a ton of sex for 30 years is a little excessive if you stop to think about it.
5. Carrie Doesn't Struggle at All
Adult Carrie is always struggling but handles it with grace. She can't pay her bills but can use her cache in Manhattan nightlife to still live fabulously. However, young Carrie has no real problems. She's upper-middle class, is able to accept an internship at Interview magazine during with her school schedule, and she has rich boy after rich boy interested in her. The series is lighthearted and doesn't really offer Bradshaw any character building struggles. So why is the woman we meet in her adult years so harried?
Here's a video that shows all the similarities of the two series.