Can Mark Burnett's Mexican Wrestling Show Work in the U.S.?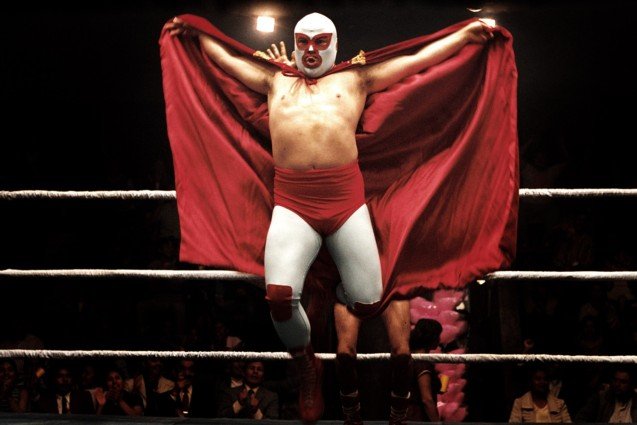 Can Mark Burnett, the man that created a television sensation with Survivor and earned ratings gold with The Bible, do the same thing with Mexican wrestling? That's what writer-director-producer Robert Rodriguez is hoping after his fledging El Rey Network cable channel announced plans to launch a U.S. based lucha libre show in conjunction with Burnett's One Three Media and Lucha Libre AAA, the top wrestling league in Mexico. The hour-long show will begin airing during the second half of 2014.
This isn't the first time that Hollywood has tried to make U.S. audiences care about the Mexican wrestling sensation. Jack Black donned a mask as a would-be wrestler in Nacho Libre and an animated show called ¡Mucha Lucha! aired on Kids' WB from 2002-'05. Those weren't the real thing, however, with wrestlers in stylized masks flying off the top rope and doing moves like tornillos and planchas.
"Wrestling is a billion-dollar business in the U.S.," Burnett said in the press release announcing the partnership. "Our new lucha libre will make that market even bigger."
The last time that U.S. professional wrestlers wore masks on a regular basis, Vince McMahon was still wearing ugly plaid sports jackets as an announcer, the broadcasts aired on WTBS (when there was still a 'W'), and it was called Georgia Championship Wrestling. By the time that Hulk Hogan, 'Captain' Lou Albano and Cyndi Lauper were taking wrestling mainstream on MTV in the mid-'80s, the masked wrestlers were a thing of the past.
So, can an upstart lucha libre league cut into McMahon's WWE dominated market? Crossing over into the non-Latino market might still be a tough sell. The style of wrestling — athletic and high-flying —is exciting and entertaining. The issue, as it's been in the past, will be the masks. Whether it's Hogan or John Cena or The Rock, U.S. audiences are accustomed to seeing faces.
The key for Burnett and company will be to highlight the acrobatic style, while quickly luring viewers into storylines of the Técnicos versus the Rudos: the good versus the bad. 'Heroes against villains' in wrestling is a storyline template that WWE audiences are well acquainted with.
If Burnett could get 100-plus million people to watch a History Channel miniseries about The Bible, who's to say that he can't get English-speaking audiences to sample the sizzle of lucha libre? At the very least, his track record lends credibility to El Rey's effort, which just might give the network a pierna (leg) up.