Meredith Vieira Pulls a Katie Couric With New Talk Show: Who's The Better Host?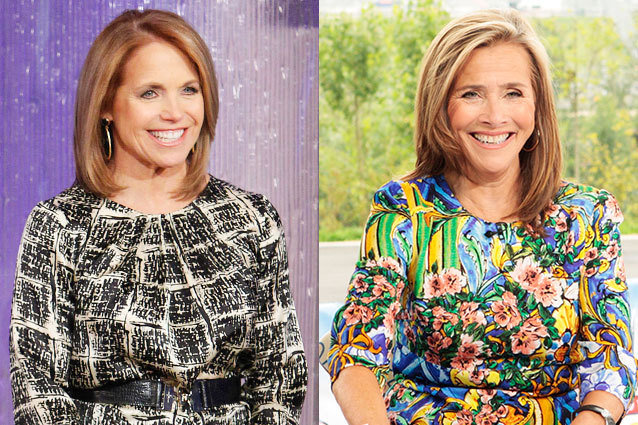 Watch out, Katie Couric: you've got yourself a copycat. Meredith Vieira, the woman who replaced Couric on The Today Show, is now following in her footsteps with plans to start a new daytime talk show, according to Deadline. There's just one small thing: that's exactly what Couric did after she left the NBC morning staple (and after she spent a bit of time as CBS' nightly news anchor, but we're going for an effect here). 
With Katie holding daytime television court on Katie, is there room for Vieira in the late afternoon game? We pit Vieira's morning show antics to the test against Couric's morning show and daytime skills and find out which host has the most. 
Who's got better (dating) game?
A staple of the daytime talkshow circuit is doling out dating advice on occasion. A quick survey of Vieira's past Today segments shows she may be lacking in this area, but Couric's got it down to an art.
Visit NBCNews.com for breaking news, world news, and news about the economy
It's always better to feel like the host understands the plight of the person she's advising, especially when it comes to dating, and Couric has certainly done that by adding her own personal spin to the conversation. This round, the victory goes to Couric.
Who's better at handling Hamm?
It's no easy task to interview Mad Men star Jon Hamm, the impossibly handsome man behind Don Draper (on account of all the  handsomeness), but both Vieira and Couric have had a turn with the hunk. Who handled it better?
Visit NBCNews.com for breaking news, world news, and news about the economy
Sure, it's probably the more professional answer to say that an interviewer shouldn't cavort with her subject, but let's be honest… even Jay Leno had to spoof Vieira because she was so straight forward with Hamm. Couric, however, was flipping her hair and giggling, basically allowing us to live vicariously through her, which is perfect. Couric takes it again.
Who's better at talking to adorable, talented kids?
It's an essential part of daytime TV: palling around with impossibly adorable kids. The daytime audience needs it. They crave it. They want to squee and say "awwwwww" until they just can't stand it anymore.
Unfortunately, for Vieira, she has a hard time changing her interview style from the way she talks to a politician to the way most people talk to kids. Her question to the Darth Vader kid was so complicated, the poor thing got lost. Couric knows all you have to do is tell a kid they're awesome and compliment their hair and they're right at ease. Couric is the victor. (Sensing a pattern?) 
And of course, who's better at asking the tough questions?
While the talk show biz is a lot about glitz and fun segments, it comes with its fair share of tough interviews if you're doing it right. Who's better prepared to get to the bottom of a sensitive story?
Sorry, Vieira, but even if we weren't counting the time Couric eviscerated Sarah Palin when she was running for Vice President and were only focusing on her Manti Te'o interview, that Donald Trump incident in which you failed to question his outrageous claims stands out as journalism school mistake number one. Couric wins this thing, hands down.
 
Of course, that doesn't mean Vieira can't learn enough to make her own version of daytime talk work. One thing's for sure though, she's going to have to learn that it's always okay to make eyes at Jon Hamm. 
Follow Kelsea on Twitter @KelseaStahler
More:
Anderson Cooper vs. Matt Lauer: Who's the Better Host?
Katie Couric Hosts 'Mary Tyler Moore' Reunion
Barbara Walters: Why TV Journalism Will Never Find Her Replacement
---
From Our Partners:


Nina Dobrev, Julianne Hough Bikini in Miami (Celebuzz)


33 Child Stars: Where Are They Now? (Celebuzz)