'Modern Family' Recap: Little Bo Bleep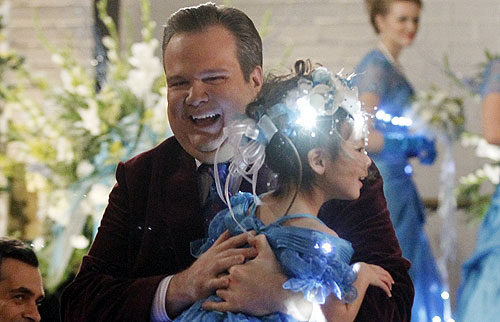 S3E13: Modern Family isn't really the sort of show with a lot of hype or controversy surrounding any of its storylines. This week's "Little Bo Bleep" is the exception, as its plotline of three year-old Lily uttering a (bleeped out) F-word stirred up some trouble with the network, and a few fans. But watching the episode reinstates to me why Modern Family demands antagonism so infrequently, and why, presumably, ABC realized it could trust the show in the handling of this sort of story: even when an episode revolves around a toddler spouting profanities, Modern Family is just about the least profane, most warm and family-friendly show on television today.
"I saw the need for a stopsign—" – Claire
"LIAAAR!" – Phil
"Phil…?" – Claire
"I just think you should be ready for anything." – Phil
That is not to say that we're dealing with nonstop hugging and Bradyesque sweetness. In fact, the Dunphy household displays a good deal of intra-family antagonism this week, although not for entirely malicious reasons. Claire is still running for town council, and enlists her wacky family to help her prepare for a debate (I suddenly realize that Claire Dunphy and Leslie Knope are in very similar boats this season…) against Duane Bailey, played again by David Cross. When a local paper reports that townspeople find Claire to be "unlikable," Alex sets up a mock debate while Phil, Haley and Luke all toss in their suggestions of how she can patch up her attitude. The remarks revolve around Claire's excessive use of sarcasm, hostility, rigid body movements, and the apparently unattractive left side of her face.
"I'm afraid that doggy suicide is all too real. It's just that the mainstream media doesn't report on it because it's not as sexy as feline AIDS." – Duane Bailey
Meanwhile, Modern Family sets up another story about the love triangle between Jay, Gloria and Stella. In case you're forgetting, Stella is their dog. Gloria resents Stella because of how much Jay adores her, and Jay worries that when Stella, who cannot swim, begins jumping in the backyard swimming pool repeatedly, that she is trying to kill herself due to Gloria's animosity. Now, I might very well be swayed by my dog-loving nature, but I want to commend Modern Family for presenting another episode with a practically identical theme that does not seem to be a complete rehashing. Last time this well was visited, Jay was the one who ended up paying the sacrifice, forcing Stella to sleep in the hallway to show Gloria that he cherishes her more than his dog. This time, we see Gloria coming around and warming up to her husband's pet when she dives into the pool, all dolled up in a fancy dress, in order to save the "drowning" pup. It turns out that Stella was only after a chew toy that was caught in the pool's vent all along, but Gloria's willingness to put Stella's safety—or, at least, Jay's happiness—before herself works to enhance a character who is sometimes a bit of a one-trick pony. I understand why the show uses Gloria for quick laughs sometimes—it's a comedy. And that's no crime. But I enjoy Gloria more when her warmth and spirit are serving a story, rather than her inability to pronounce things.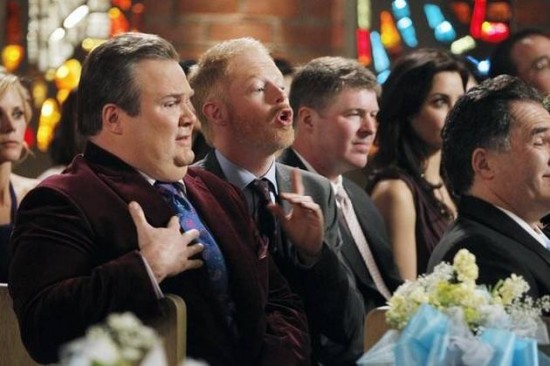 "You know I have two weaknesses: children cursing and old people rapping!" – Cam
And the notorious plotline: Mitchell and Cam receive a flower girl dress that Lily is to wear during the wedding of an upcoming family friend. After Mitchell takes advantage of Lily's curiosity as a means to bolster her vocabulary, getting her excited about what the package "contains" (a word she quickly learns). However, we find out that Lily is also privy to another unexpected word: the F-word. She utters it almost out of nowhere, inciting horror in Mitchell and hysterical laughter in Cam, who admits he has a weakness for children saying curse words. A surprisingly small amount of time is devoted to this story, especially given the amount of infamy it garnered. And what I am even more surprised about—although not necessarily displeased—is a lack of blame placing between Mitchell and Cam over which of them is the responsible party for inadvertently teaching her the word. I suppose it would be a natural discussion to have, but I am certainly glad the episode doesn't force us through yet another Mitchell-Cam thirty-minute argument. Instead, the duo discusses trying to prevent her from saying the word again—especially at the upcoming wedding whereat she is to play flower girl. Cam can't help but laugh every time Lily utters the word—which turns out to be her motivation for cursing in the first place (which is kind of sweet), but the more serious-by-nature Mitchell is dead sent on cleaning up Lily's language. We see hardly any of this procedure transpire; by the wedding scene, Lily has been apparently prohibited from speaking at all. You know, just in case.
"How did you get so smart?" – Claire
"I've always assumed adoption or a baby-switch." – Alex
Claire's big debate has her a nervous wreck, especially thanks to her family's relentless criticisms. Just before she takes to the stage, however, Claire gets some encouraging words from Alex, the Pritchett-est of her three children. Alex tells Claire that she is a strong woman, and that by embracing her natural strength, she will defeat Bailey. What Alex doesn't account for is Bailey's citation of a particularly humiliating piece of character defamation from the Season 2 episode "Bixby's Back," when Claire's husband Phil found himself naked in a strange woman's hotel room on Valentine's Day (he thought it was a room Claire checked into for the occasion). Up until this point, Claire handles the debate rather well. But this makes her break just a bit. Nothing catastrophic, though. No—what's catastrophic is Phil's interlude from the audience. He starts off on a rambling explanation of the event which provokes an embarrassing viral video. What I don't entirely understand about this conclusion is how it actually serves the story at all. The episode for the Dunphys was about Claire's likability and her support from her family. Although a following second conversation with Alex wraps it up very sweetly, with Claire's daughter telling her how proud of and impressed by her she is for getting involved in something nerdy ("Nerdy is kind of [her] thing"), the Phil scene, while funny, sort of comes out of left field and doesn't really contribute anything to Claire's story.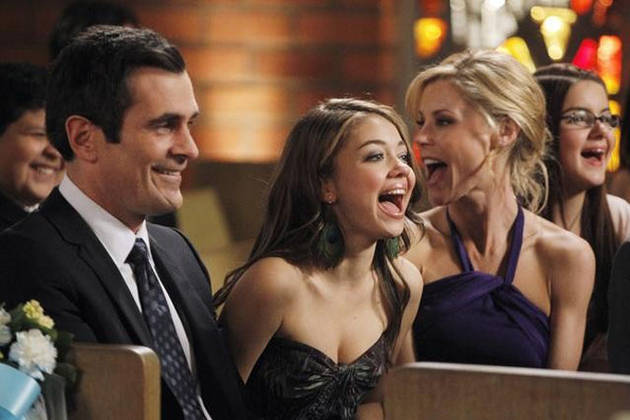 The wedding scene has the family all together—Alex picks up Claire with her loving words, Jay admits appreciation to Gloria for saving Stella, and Mitchell and Cam fawn over their daughter sprinkling flowers down the aisle. And then, of course, Cam breaks out in tears, as he tends to do at weddings…and in an effort to cheer her sobbing father up, Lily shouts one last string of F-words, provoking laughter from everyone in the family (and most of the ceremony). And although it probably doesn't speak well to my character to get on the "pro-toddler-cursing" train, it is just about the sweetest, warmest and most innocent way the storyline could be delivered. That's Modern Family for you.
Do you think Modern Family crossed the line having Lily curse? Do you think the show handled the storyline well? Where do you think they'll go with Claire's plight for public office? Let us know in the comments section or on Twitter (@MichaelArbeiter).