The 11 Most Memorable TV Crossovers
TV crossovers are (sometimes) great. They serve as cross-promotional tools for networks to boost ratings for shows, but more importantly, they allow fans to imagine a universe inhabited by all of their favorite characters. There exists, we're certain, a place that has seen every fictional New Yorker at once. As if you've never imagined a brunch with Carrie Bradshaw, Rachel Green, Elaine Benes, and Karen Walker? 
1. Mad About You on Friends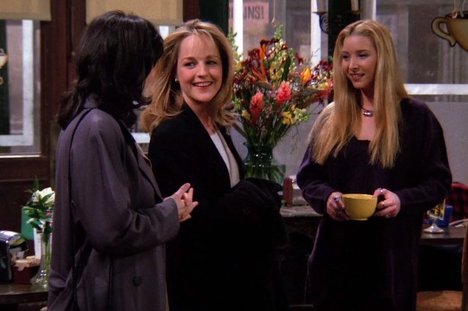 NBC/Netflix
Lisa Kudrow's first recurring television role was Ursula, the eccentric and flaky waitress on the NBC comedy Mad About You. When she landed the role of Phoebe Buffay, the network showrunners had to figure out a way to explain the actress' presence on two shows back to back (Mad About You aired immediately before Friends). The explanation was provided by Ursula becoming Phoebe's twin sister, thus giving us the guest stars Helen Hunt and Leila Kenzle on Friends. The crossovers between these shows also extend to Mad About You's Jamie causing a city-wide power outage, the effects of which can be seen in the Friends episode, "The One With The Blackout."

2. Cosmo Kramer on Mad About You
With tons of hilarious New York-based sitcoms on NBC's line-up, it only made sense that they could all inhabit the same fictional universe. So, while Friends' Phoebe is Mad About You's Ursula's twin, Seinfeld's Kramer is Mad About You's Paul's sublet. Seinfeld later ruined the continuity by having George Costanza make fun of his fiancee's appreciation for Mad About You, but Kramer's memorable guest appearance is what we choose to remember. While he was Jerry's annoying-yet-somehow-lovable neighbor, we could only imagine the nuisance he would be to those outside the Seinfeld world. This crossover proved just how annoying Cosmo could be. 
3. Steve Urkel on Full House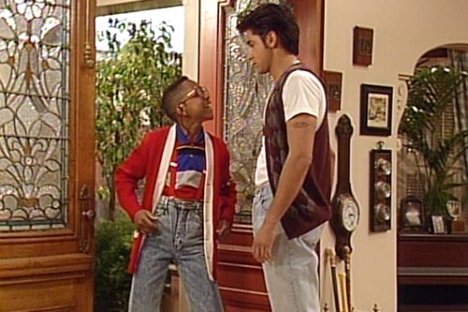 ABC
"How annoying can one kid be?" asks Uncle Jesse before opening the door for Steve Urkel and finding out for himself. Family Matters' Urkel is in San Francisco for a science fair and pops by the Tanner house for some shenanigans. He teaches Michelle how to handle her money and then gives very valuable advice to Stephanie (who doesn't want to wear her nerdy Urkel-esque glasses, which she then never wears again). Perhaps the best moment in this unforgettable episode is when Uncle Jesse tries to teach Urkel how to walk with some cool boy swag.
4. The Jeffersons and Diff'rent Strokes on The Fresh Prince of Bel-Air
In the final episode of The Fresh Prince of Bel-Air, the Banks family puts their house up for sale and some very familiar faces appear as the potential buyers. After over 10 years off the air, the stars of Diff'rent Strokes reappear for the glorious line, "Whatchu talkin' bout….Will?" In the end though, the Banks mansion goes to The Jeffersons, who seem ready to move on up, once and for all. 
5. Sabrina, the Teenage Witch reverses Boy Meets World time
Sabrina's cat, Salem, swallows a time ball that sent ABC's entire Friday night line-up into a time warp. ABC wanted the success of Sabrina, the Teenage Witch and Boy Meets World to rub off on its new TGIF shows, You Wish and Teen Angel, and thus this crossover was born. Sabrina and company ended up in the 1960s, Cory and co went to World War II, You Wish hit up the 50s, and Teen Angel danced disco, all with Salem running through. While we may not remember a single moment of You Wish or Teen Angel, we've never forgotten this Boy Meets World episode; it's also kind of nice to imagine two of our favorite shows in the same universe, isn't it?
6. Everybody Loves Raymond on The Nanny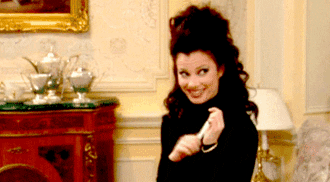 GIPHY
When The Nanny's Fran Fine shows up at her high school reunion, she finds that Everybody Loves Raymond's Ray Barone is also there. This crossover makes perfect sense though. Both Fran Drescher and Ray Romano went to the same high school and actually were classmates in real life. Why not have some fun with their TV shows then?
7. Teenage Mutant Ninja Turtles joins Power Rangers in Space
Say whatever you want, but this crossover, while perhaps intended to entertain 8 year olds, is still the greatest thing, possibly ever. Two of our absolute favorite heroes of the 90s (if we're being honest, not much else existed outside of these two franchises) joining forces to save the world as per usual? We're in. It's a kowabunga kick-ass good time. 
8. The Simpsons Guy
It's pretty hard to believe that this crossover hadn't happened sooner, but now that it exists, we're sooo glad it does. While the hype may have led some to criticize the episode, it's actually an instant classic. From Homer and Peter's chicken fight to Lisa trying to convince Meg that she matters, this episode combines so many of the things viewers love about both shows. 
9. Roseanne is Absolutely Fabulous
Roseanne Barr originally wanted to produce an American version of the British sitcom starring Carrie Fisher and Barbara Carrera. When that failed, she settled for the next best thing: the show's stars making an appearance on her show. Though the episode turns out to be a dream sequence, and Roseanne didn't actually meet Edina and Patsy, this crossover is still, well, absolutely fabulous. Ugh, sorry. 
10. The X-Files meets Cops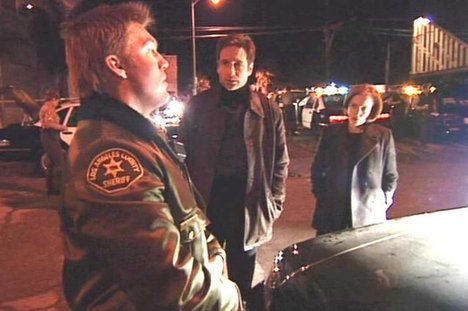 Fox/Netflix
Vince Gilligan wanted to write this episode simply because he liked watching Cops, yet series creator Chris Carter was unsure of its potential; he was eventually given the green light to write it as an experiment. The episode features Mulder and Scully being interviewed for the Fox reality show, Cops, in the midst of an X-Files investigation. It's considered one of the best episodes of the series, lauded for its presentation, humor, and postmodernism. 
11. The Jetsons meet The Flintstones
Two of pop culture's most iconic families, the prehistoric Flintstones and the ultra futuristic Jetsons, come together for the greatest. crossover. ever. While NBC's crossovers made sense since the characters all lived in the same city, this one posed problems, considering one family lives in the past and the other lives in the future, but the episode worked perfectly. To be honest, we've yet to see a crossover that's better.