Most People Trusted NBC, CNN for Election Night News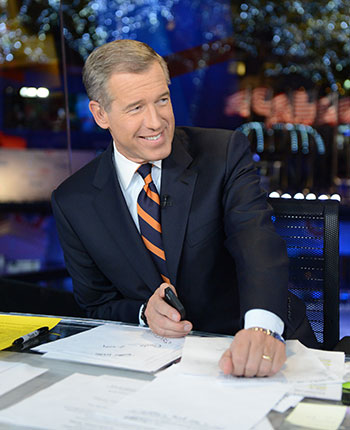 Maybe it was Brian Williams ranting against Donald Trump, or their takeover of the Rockefeller Center ice rink with an election map, or maybe people actually do like Savannah Guthrie after all, but NBC conquered network news' biggest night and scored the highest ratings on election night.
The Peacock(-cock-cock-cock, the Peacock-cock) Network had 12.6 million voters, up slightly from four years ago, even though the collective audience watching was down a bit from President Obama's first victory in 2008. ABC had 11.1 million and CBS clocked 8.5 million people who still were unsure what happened to NCIS and tuned in to hope it would come back sometime later in the night.
Cable didn't fare much worse than the broadcast channels with CNN drawing 8.8 million viewers, with Anderson Cooper's steely blue eyes just narrowly defeating Karl Rove's meltdown on Fox News which attracted 8.7 million rubberneckers. MSNBC pulled up in a distant third with a mere 4.6 million viewers. Don't people know that Rev. Al Sharpton is on MSNBC? Isn't that worth watching? Apparently as long as Brian Williams has an ice rink with a red, white, and blue Zamboni, everyone else is chopped liver.
Follow Brian Moylan on Twitter @BrianJMoylan
[Photo Credit: NBC]
More:
Which Channel Had the Best Election Coverage?
Barack Obama Wins the 2012 Election: Happy With the Results?
Presidential Predictions From Poll Analyst Nate Silver To Tuxedo Cat Mr. Nuts