'Nashville' Recap: Messy Love From New York to Nashville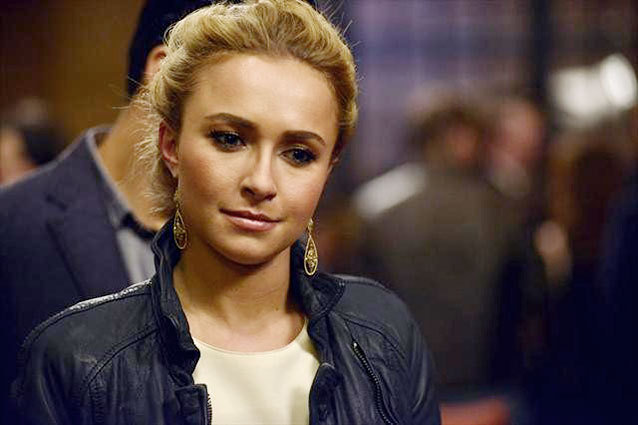 Nashville is finally giving the people what they want: absurdity. The songs and hair are all sweet and nice, but what we need, what the show was lacking, is some pure, ridiculous lunacy. And now, we are getting closer. Last week, everyone got their hearts broken. There were tears and slaughtered dreams and so much white lace. Deacon got a dog, and then a girlfriend, Rayna got a sh*t ton of family drama, Juliette realized she's all alone and Teddy, well he was probably the happiest of all. This week, half of the crew heads to New York for the tour, while the other half stays back in the land of beer and nonsense. In any case, there were no lack of surprises. And even one unexpected (possible) death.
The Deacon and Vet Lady Story
For more than 10 years, Deacon and Rayna haven't been able to admit their feelings to one another. But in a half a day, he's found himself a new girlfriend: the vet. She's will remain nameless, because Lord knows Deacon can't keep a new girl around for long. He's obsessessed with her cute freckles and strawberry blonde hair (sound familiar?) and the fact that she loves his dog, Sue. Deacon is so smitten, he asks her to come to New York with him, where he'll be performing with Juliette. Vet agrees to go, but also takes this invitation as a sign that she is now his girlfriend. Which is exactly how she introduces herself to Rayna when they meet at the hotel in New York for the first time. She follows him around, examining his interactions with Rayna and Juliette, when suddenly she cracks the code! He's slept with both of them! And he's kind of sleazy! Wait, he's a musician?! It all comes together for the vet, and she gets super emotional and curls herself into a ball in the hotel room while he's performing and waits for him to return. When he finally gets in bed with her, he tells her he's ready to give up touring and wants to settle down in Nashville. It's hard to trust the guy, since he's constantly changing his mind and he can't say no to a good gig, but she does. She's young. She'll learn.
RELATED: 'Arrow' Recap: Vertigo and the Count Return
The Rayna Story
Rayna finally gets to spend some quality time with her children, Maddie and Daphne, who up until this point served no real purpose. They both tell her they want to be famous singing superstars like their mom, but Rayna naturally doesn't want to hear any of it. She doesn't want her kids going down the same road she went down — saving a hot, bearded guitarist from alcoholism. She enjoys her sister's company for once, without their dad around, and does what she does best: lets her hair fly freely. No one can keep their eyes off of Rayna during her performance, even Deacon's new girlfriend. Especially Deacon's new girlfriend. Rayna decides to let her kids give the mic a go during a sound check and they were amazing! Everyone cried and the wheels started turning. It probably won't be long before the young duo gets more airtime on stage.
The Scarlett and Gunnar Story
They're growing up, these two! It's exciting and young and fresh and fun. Gunnar surprises Scar with just the cutest no-reason gift — pot holders! Since she just loves being in the kitchen and cooking up a good meal for her man, it's what she needs. How thoughtful that guy is. Everything is going peachy until a new, cowboy hat-wearing, gorgeous man introduces himself as their new neighbor. What are the chances? I would have never seen this coming. Nope. The three of them chat over a nice dinner that Scar whipped up using her new pot holders and share stories. It slips that Scarlett got the offer from Rayna's team to sign on with their label, and Gunnar flips. How could she not tell him? She feels horrible about it all and decided it would be best to not sign the deal and just stick by Gunnar and wait for their time to shine together. Gunnar luckily realizes how stupid she is and tells her that is simply out of the question. This makes her love him more. They kiss and make up and everything seems perfect… but the neighbor has his eye on something now, and it doesn't seem like he's about to give up.
The Avery Story
He is literally singing on the street behind an empty guitar case begging for money. He is still the saddest.
The Juliette and Sobriety Coach Story
Leave it to Juliette to do the most inappropriate thing possible. Her mom, a recovering drug addict and alcoholic, brings her sobriety coach with her on Juliette's tour so that she can be with family. It's a shame she underestimates what her daughter is capable of. Juliette and Dante (yes, Dante) start bonding over her career. She starts listening to his advice, and begins getting what she wants. He's like her fairy godmother, only a ridiculously attractive man with the right amount of hair gel. Well, you've all seen this story before. It doesn't take long before Juliette is molesting the guy and he gives up trying to stop it. The worst part of the story: they both totally ignore her mom's counseling meeting to bone. What is that?!
RELATED: The Least Normal Things About 'The New Normal': Season Finale
The Teddy and Peggy Story
Peggy is such a cliche. It is so sad. The second Rayna and the girls leave for New York, Teddy invites his mistress over to play. She arrives in a trench coat, pearls and nothing else (gag), and says something absurd about being able to keep a secret (gag) and then strips down (gag). They play house for the days that they have alone, trying to keep it all under wraps. Now that Peggy is technically working for Teddy, sh*t could really hit the fan if anyone finds out. But of course, Lamar does find out. There are no secrets in Nashville. But he needs leverage. Luckily, Lamar gets a bit of knowledge just in time that'll help his cause. Remember those leaked photos of Teddy and Peggy during the campaign that got out? Well, Peggy was the one that leaked them. Yep. Just like that. So, Lamar trots on over to the house that he no doubt bought, and shoves them in Peggy's face. He threatens to tell Teddy the truth unless she agrees to convince him to keep the damn sports stadium alive. Like that is the major concern here. But seriously, what? She complies and all is well. For now.
The Lamar Story
After the showdown with Peggy, Lamar drives himself home and sits cozily in his big-man chair. He holds a glass of brandy or whatever and makes a cryptic phone call in a silent room. He pets his head and smirks to himself, speaks softly with deep breaths. He thrusts his chest out confidently. He owns Nashville and everything is going to plan. And then, his chest tightens. He slowly drops his arm, the glass falls, and… roll credits. Dead?
[Image Credit: ABC/Katherine Bomboy-Thornton]
Follow Anna on Twitter @thebrandedgirl 
From Our Partners


See 'Game of Thrones' as 'Mad Men' (Vulture)


Hayden Panetierre Bikinis in Miami (Celebuzz)