Is Anyone Else On Earth Watching NBC's 'Camp'?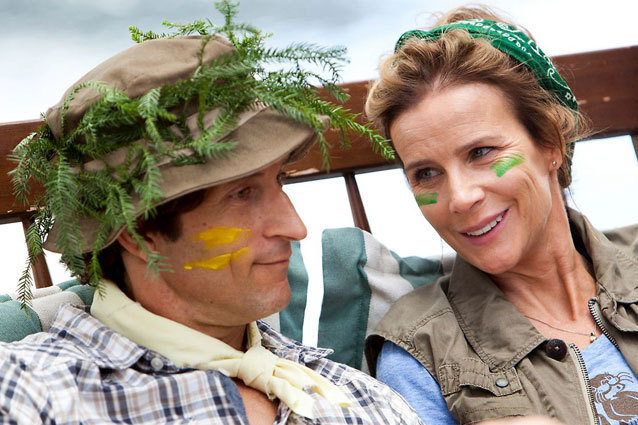 NBC
NBC's summer drama Camp has been doing well in the ratings, routinely pulling down 3.5 million viewers. Yet the chatter around the show certainly isn't setting Twitter on fire. Unlike Shonda Rhimes' political sudser Scandal, which gained viewers thanks to social media word-of-mouth, Camp seems to be popular despite social media indifference.
You'll probably never see Camp trending on Twitter; in fact there seems to be an Internet wall of silence around watching the show.
I'm going out on a limb and assuming I'm not the only person in the world watching Camp, unless this is an Orphan Black situation and there are another 3.5 million of me I'm not aware of. So why is the social media and critical chatter so demure when it comes to NBC's summer dramedy?
The show, set in a fictional "family camp" called Little Otter, features a cast headlined by Six Feet Under's Rachel Griffiths. You might be asking yourself, "What is a family camp? It it like a bootcamp where you take trouble children and have drill sergeants scream at them? Is this a tough love thing?" The answer is no, although some version of this idea is being pitched right now at the TLC network, somehow involving Honey Boo Boo Child.
Camp does not endeavor to answer basic questions like the difference between a family camp and a regular camp. The show doesn't even answer questions like how professional adults seemingly get off from work all summer to drink wine and complain about their children.
Having read this description, you might be wondering why anyone would watch Camp. But the truth is, although the show isn't reinventing the wheel, it is an hour of solid fun every week. The campground shenanigans are usually worth a chuckle and the characters have become more dimensionalized and endearing as the show plugs along.
Splitting time between the young, attractive teen camp counselors and the older generation keeping Little Otter afloat allows the show to juggle a wide variety of storylines. While Griffiths' camp director Mack tries to bounce back from her divorce with a complicated love triangle, the kids have their own relationship problems to deal with.
Tom Green's Kip gets a girlfriend who thinks his brush with leukemia makes him dark and dangerous, while power couple Robbie (Tim Pocock) and Sarah (Dena Kaplan) fall out over infidelity. And this doesn't even touch the walking sex comedy cliche that is Mack's son Buzz (Charles Grounds), desperate to lose his virginity at any cost. It's this mix of more emotionally grounded storytelling with — dare I pun– a fair amount of campy ridiculousness that makes the show a fun summer diversion.
It's too soon to tell if NBC will renew the show for a second season, but I certainly hope they do. Even if I'm the only one willing to admit watching.
More:
If You Love 'Glee' But Hate Singing, 'Camp' Is The Show For You
TV Tidbits: Rachel Griffiths Books 'Camp'
Lisa Kudrow Joins 'Scandal' For Season 3
---
From Our Partners:


40 Most Revealing SeeThrough Red Carpet Looks (Vh1)


15 Stars Share Secrets of their Sex Lives (Celebuzz)