Netflix Must-Series: 'Don't Trust The B in Apartment 23'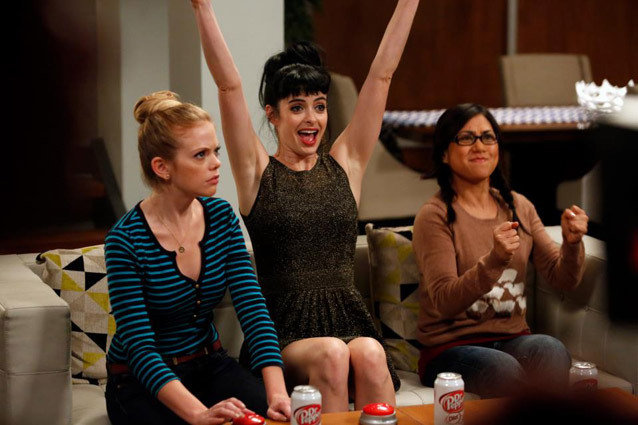 Don't Trust the B in Apt 23/Facebook
You can't afford to miss Don't Trust the B in Apartment 23. The series has all of the makings of a long-lasting television series. It has a stellar cast including TV darling Krysten Ritter (Veronica Mars, Breaking Bad). It has a groundbreaking pilot that subverts what you expect from a television sitcom. It capitalizes on the success of memes featuring James Van Der Beek and has awesome writing. The cast is comprised mostly of seemingly unlikeable characters that form an ensemble you'd die to be part of.
The series begins with June (Dreama Walker) walking in on her roommate Chloe (Ritter) having sex with her fiancé…on her birthday cake. We find out June lost her job and apartment so she meets Chloe on Craigslist. Chloe is an amazing party girl who is best friends with actor James Van Der Beek. What June doesn't know is that Chloe is a sociopath, with a stalker, Robin (Liza Lapira), a pervy next-door-neighbor named Eli (Michael Blaiklock), and a hostile relationship with James's assistant Luther (Ray Ford).
The show is downright irreverent but it still blends with reality in such a delightful way. Sure, June is obnoxious and burdened by trying to find work during a major recession. And yet, Chloe capitalizes on her ability to hustle through New York City with a magical get out of jail free card. The writing is also genius level and rivals series like 30 Rock and Community.
Once you watch this series you will see how you were robbed. There was a lot of traction on the pilot and a lot of buzz around the series. However, due to scheduling errors the series never was able to grow an audience. Also, this is a series with balls. Nothing is off limits and yet it doesn't rely on offensive humor or cheap jokes. It is just wholeheartedly funny and obscenely well-written.
Don't Trust the B in Apartment 23 is one of your all-time favorite shows…but you have to see it first. Luckily, both of the short seasons of the series are available on Netflix.