Netflix Must-Series: 'Political Animals'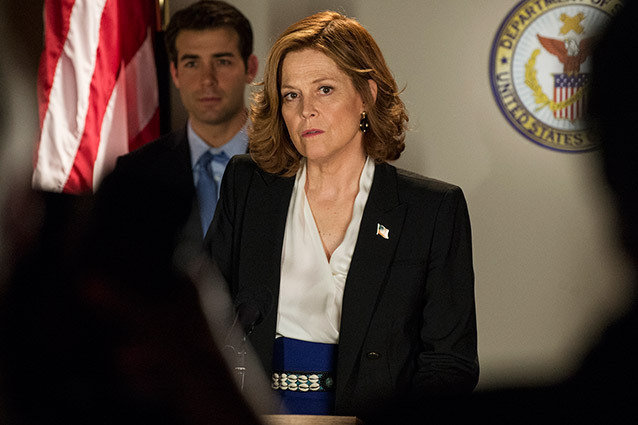 USA Network
Yes, Shonda Rhimes has successfully weaved us into her Scandal web and Veep has become an Emmy darling. And yet, in 2012, Political Animals  also premiered and promised scandal, sex, and politics. All that, plus Ellen Ripley Sigourney Weaver.
Hilary Clinton Elaine Barrish (Weaver) threw her hat into the presidential election and lost. She was former First Lady to a philandering husband, Bud Hammond (Ciarán Hinds). She is gearing up for a huge political push to run for president again. She finds an unlikely ally in Susan Berg (Carla Gugino), a journalist whose career was built trying to take her down. She must balance her political career and her eccentric family. Her Chief of Staff son, Douglas Hammond (James Wolk) is planning a huge marriage to his bulimic, perfectionist fiancé Anne Ogami (Brittany Ishibashi). Both her mother, former showgirl Margaret Barrish (Ellen Burstyn), and her openly gay son Thomas "T.J." Hammond (Sebastian Stan) are alcoholics and drug addicts. Plus, she has to get out of her husband's shadow and maneuver around current president Paul Garcetti (Adrian Pasdar).
What is so great about the series is how it portrays the multi-faceted world of politics. People have multiple agendas and even more faces. It also focuses on the pressure that politics place on the family. It delves a level deeper than Scandal, because this series focuses on the politicians themselves and the unique factors affecting their lives. It also has just as much drama and tension, with various inappropriate couplings, revelations, and political machinations.
The actors are amazing. Weaver is unstoppable and manages to be a persnickety hard-ass but also a vulnerable and loving woman. Burstyn won an Emmy for her role in the series. Wolk (who went on to greater renown as Bob Benson on Mad Men) and Stan are great as twins with two vastly different personalities and drives.
The mini-series was only six episodes and was, sadly, not optioned for a full series. Luckily, it's available on Netflix in its entirety.