'New Girl' Recap: The Return of Coach!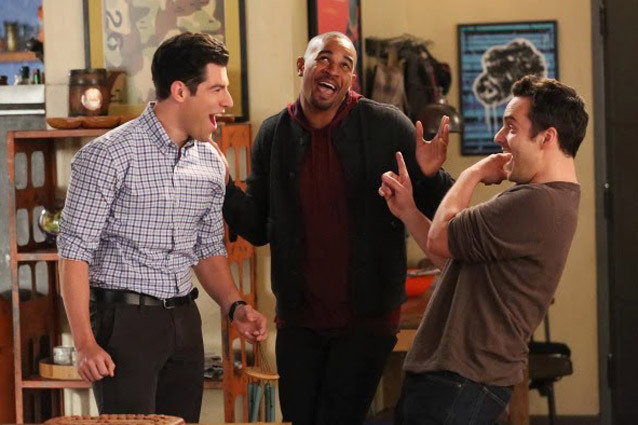 Adam Taylor/FOX
Since the second episode of the first season of New Girl, we have been waiting patiently for the return of Coach. More of a "character" in his single half-hour onscreen than Winston has managed to be in two and a half seasons, the hypermasculine, stringently monikered meathead left a gaping hole in the show when he parted ways with the loft boys to head into Chicago for his stay on Happy Endings. And yes, Damon Wayans Jr. was immaculate as the dapper, effeminate Brad Williams on the short-lived ABC sitcom, but at the cost of New Girl's thematic symmetry. When Jess entered the lives of Nick, Schmidt, and Coach back in the pilot, she did so as a unique institution of strong, substantial womanhood. Each of the three represented the downfalls of their adherence to gender norm restrictions: Nick was insistently closed off to emotional growth. Schmidt was a diabolical "womanizer." And Coach represented the abrasive, athletically-obsessed alpha male bravado as Jess' ultimate foil. But then he left, transformed into Brad, lost that show, and returned. So how was it?
Was Damon Wayans Jr.'s performance Brad-caliber?
Anyone who did tune into Happy Endings knows that this young comedian is far and away the funniest performer in his highly successful family. Although Happy Endings met a sour fate, I'm glad that Wayans spent his time on that show as opposed to on New Girl, as it gave him the chance to try out a more original character than what Coach was setting up to be, and one perfectly condusive to his talents for squeals and twirling. As Coach, Wayans is still funny… but he is inherently less funny spouting his bravado than he is eliciting tears of giddiness.
Is this the Coach we once knew?
We barely got to know the character in the first place, but we got a taste of him with one defining scene in which he admitted to Jess that he doesn't "know how to talk to women." This abject standoffishness derived from his obsession with all things manly, thus leaving him clueless in the pursuit of female attention (which, really, is probably why he went all out in being so "manly" in the first place). Although he's still nowhere close to a gentleman, Coach seems to have adopted more of a Schmidt-like persona than we might have expected. He returns to the loft after a long, highly invested romantic relationship, he "schmoozes" strippers to ease his heartbreak. He's still a jackass, but a slightly different sort of jackass.
Will he be here to stay?
Wayans doesn't have a regular gig since Happy Endings went off the air; additionally, Schmidt has moved across the hall to the vacant apartment (that was not too long ago occupied by 23-year-olds). So there's plenty of room for Wayans on New Girl. But will this be a regular ordeal, or just a one-time thing? The way the material's quality has been in decline lately, we wouldn't mind mixing up the formula with a new character.
Also, other stuff happened.
Nick acted like a jag to impress Coach. Jess got mad. Nick got mad. Nick went to a strip club. Jess flirted with Taye Diggs. They made up. Jess and Nick, not Jess and Taye Diggs. Taye Diggs got punched in the face and placed in an elevator, naked, which was a little unsettling.
But that's it.
Technically, Schmidt and Winston were in this episode.