The New TGIF: 6 Reasons to Watch 'Happy Endings' on Friday Nights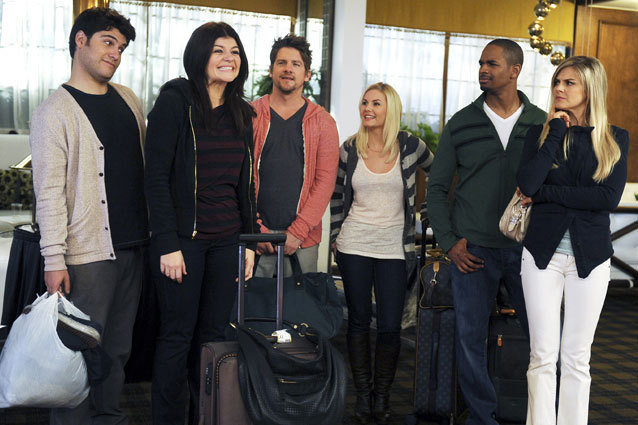 Let's all reminisce together for a moment. Think back to the glorious time you spent growing up devoted to one magical block of television: TGIF. The classics like Family Matters, Full House, and Step by Step started a revolution for the Friday night timeslot and paved the way for edgy and cool shows like Sabrina The Teenage Witch and Boy Meets World to thrive.
It was a simpler time, filled with Tamagotchis, Beanie Babies, and the allure of the perfect teen specimen known as Jonathan Taylor Thomas. Now fifteen-ish years later, we have the opportunity to relive the glory days of our tweendom and twirl with excitement knowing Friday nights are finally cool again — and we have Happy Endings to thank for that.
RELATED: 'Happy Endings' Moved To Fridays
TGIF — the oh-so cool acronym for "Thank Goodness It's Friday" — was the place to be on Friday nights. If you were going to be busy that night, you'd better pray to Salem that your mom remembered to hit record on the VCR. Now in the technologically advanced world of 2013, we have the luxury of knowing that our DVR will capture the two back-to-back episodes of Happy Endings  joy to watch at our leisure. But you shouldn't do that — and here are six reasons why:
1. It'll Make an Amahzing Pregame: Let's be real, we're all a little older, and hopefully a little wiser but anything that tugs on our '90s-loving nostalgia heartstrings takes precedence over anything else. Use the hour from 8-9 PM as a way to relive your glory days of childhood — while also getting wasted for your mid-twenties nights. "It's early enough that I feel like at 8, 8:30 you're not going out yet on a Friday night," Happy Endings creator David Caspe suggests. "You're probably going out around 10 or 10:30 so you can pregame with Happy Endings." Our favorite rules? Take a shot every time Alex is confused or Brad and Jane have an overly sexual exchange. You'll be drunk and ready for your night in no time!
2. It's Free: Star Zachary Knighton knows that going out in [insert your city here] can be expensive, so why not stay in for a night and relax with some laughs? "Instead of wasting your money at a bar, or a club, you could stay home and watch Happy Endings for free. You'll save money!" Knighton presents a perfect compromise for the loyal Happy Endings fans out there: "If you love our show and you want it to stick around, please watch on Friday night and go out Saturday night or even on Sunday night and then be really hungover at work on Monday." We're sure your boss will understand!
RELATED: 'Happy Endings' The Search for the Third Kerkovich Sister!
3. You Won't Get Rejected By That Hottie At the Bar: Staying in to watch Happy Endings on Friday night will be a huge ego boost! Not only will you avoid the embarrassment of getting shot down in front of your friends, you'll know that the entire Happy Endings cast and crew is praising you for your fine taste in Friday night entertainment. In fact, Casey Wilson wants to send you countless compliments and thank yous. "If you're watching in any capacity, God bless you," she says. "We all love you and you're a visionary and you get comedy and television and life." Aww shucks, you're welcome, girl!
4. It'll Make You Smile: Plain and simple, Happy Endings is a phenomenal thirty minutes of television and the fact that every Friday fans will be rewarded with a double dose of laughter makes it even better. If you've been living under a rock, the lovely Elisha Cuthbert has the perfect explanation as to why all you newbies need to tune in. "To the people who haven't seen it, I say just give it one episode and see what you think. I really think just one episode gets you involved and makes you understand what these amazing characters are all about," she says. "Something magical is going on here… When you get us all in a scene together it's like taking six rubber balls and throwing them in a box and it's chaotic and it's fun to watch."
5. They'll Reenact An Episode of Full House For You: The cast of Happy Endings loves you and they want you to be happy with the new TGIF, so they are willing to take on some of the most iconic Friday night characters we've ever seen: The Tanner Family. Damon Wayans Jr. called dibs on his favorites, ("I'll be the twins, I'll be the Olsen twins!") While Eliza Coupe is wiling to switch genders as the Elvis-loving Uncle Jesse. Coupe says, "Elisha should play Joey except she can't figure out the whole 'Cut it out!' thing." Coupe and Wayans automatically demoted Knighton to the geeky and cleaning-obsessed Danny Tanner, but the verdict is still out on who Pally should portray. Shout out your suggestions in the comments below!
RELATED: 'Happy Endings' Who Got Engaged?!
6. Okay Fine, At Least Just Make Sure You DVR It: Always the realist, Adam Pally explains how fans can still help out even if they're a cold-hearted, TGIF-hating person. "Let's cut the s**t and know that you don't have to watch it Friday night at eight because you won't be home if you like Happy Endings… So I will say to anyone who likes Happy Endings, DVR it." Pally reveals that unlike other shows, Happy Endings can be enjoyed anytime, anywhere, and with anyone. "Happy Endings to me is like candy or a party you can stay there as long as you want but you don't need someone to be like, 'And that's the end of the party!' Happy Endings was built and made to play whenever you want to see it. That's why it's such a fun show because you can pop it in and enjoy the jokes and enjoy the characters at any time." But seriously, try to watch it live!
Tune in tonight for a full hour of Happy Endings — aka one of the greatest shows to ever grace your television — tonight at 8 PM on ABC. And don't forget to tweet your support using the hashtag #SaveHappyEndings!
Follow Leanne on Twitter @LeanneAguilera
[Photo Credit: ABC]
---
You Might Also Like:


Topanga's Revealing Lingerie Shoot: Hello '90s!


13 Most WTF Fan Tributes