Newt Gingrich on 'Parks and Recreation': 5 NeoCon Things He Can Do in Pawnee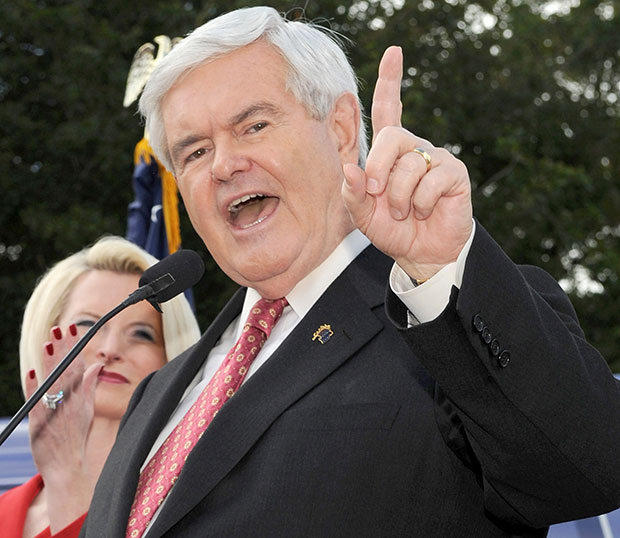 Pawnee, Indiana is becoming the Washington of the Midwest! Following on the heels of fellow pols Joe Biden and John McCain, Newt Gingrich is getting ready for his own close-up on Parks and Recreation.
The NBC comedy's cast and crew were filming a scene at St. Elmo's Steakhouse in Indianapolis yesterday, where the former Speaker of the House also happened to be dining. When they discovered he was there, the show's writers immediately scripted a scene for him to be shot on the spot. In an interview with the Indianapolis Star co-creator Mike Schur said, "It was a completely random chance. But you can't pass up an opportunity like that." Castmember Rob Lowe later tweeted, "Latest surprise drop by on set: Speaker Newt Gingrich! So we made up a scene and put him in! #AllHappeningInIndy." Now, it sounds like Gingrich's appearance is going to be no more than a cameo (the airdate is TBD), but we can certainly dream about what neo-conservative values he'd like to impart on the municipal government of Pawnee, can't we?
1. Gingrich Can Preside Over a Government Shutdown—Okay, so Gingrich doesn't have any legal authority to force a shutdown of the Pawnee government. But, hey, he also didn't have that authority when he made the federal government shutter for 28 days in the heady "Republican Revolution" of 1995-96, and that certainly didn't stop him.
2. He Can Campaign to Restructure the Pawnee Bureaucracy—The greatest irony would be if Ron Swanson finally got his wish and Newt Gingrich's invaluable political capital swayed the people of Pawnee to vote to defund the parks department. I mean, Gingrich has declared the Departments of Energy and Education, not to mention the EPA, to be all but vestigial, so why should the taxpayers of Indiana continue to support a parks department with their hard-earned tax dollars? If he succeeded, Swanson's dream of making his branch of government non-functional would come true. Because it wouldn't exist! But it would also mean he's out of a job. Unemployment should be a small price for him to finally achieve the libertarian ideal, though. I can just imagine the episode title now: "Small Government, Big Heads."
3. He Can Initiate Impeachment Proceedings—For this to have any basis in reality, he would have to launch a recall campaign rather than initiate true impeachment proceedings. Preferably pesky personal issues, instead of any substantive constitutional overreach or infringement, would make him target someone in the Pawnee bureaucracy for remanding to the unemployment line. Maybe he'd actually turn on Swanson for his tumultuous personal life—even though they both have the same number of ex-wives, and it's then revealed that Gingrich has been doing exactly the same things when his current wife wasn't looking.
4. He Can Promote Plans for His Moon Colony—Now that he's fully recovered from his failed 2012 bid for the Republican presidential nomination, he can revisit one of the headier ideas from his campaign: a lunar colony! Since the very idea of NASA is antithetical to small government, maybe Gingrich will have come to embrace commercial space exploration instead and is looking for possible investors among the more deep-pocketed dinner patrons at the St. Elmo Steakhouse. The name for his colony: Newt-opia. Or he could just be continuing his campaign for dinosaur-based education.
5. He Can Campaign Against Government-Mandated Healthcare—Basically I won't be happy with this episode unless we hear the phrase "Knopecare."
What are you hoping to see when Gingrich makes his Parks and Recreation debut?
Follow Christian Blauvelt on Twitter @Ctblauvelt
[Photo Credit: WENN]
More:
'Parks and Recreation' Recap: Down With Eagleton!
'Parks and Recreation' Surprise Ending: Did It Work?

Kate Middleton Pregnant: Could Her Royal Baby Be Crowned Queen Diana? (EXCLUSIVE GUEST BLOG)

Taylor Swift, Harry Styles Sing Karaoke, Hold Hands in New York City (PHOTOS)