Nicki Minaj Recording Album No. 3 in July, Won't Confirm 'Idol' Departure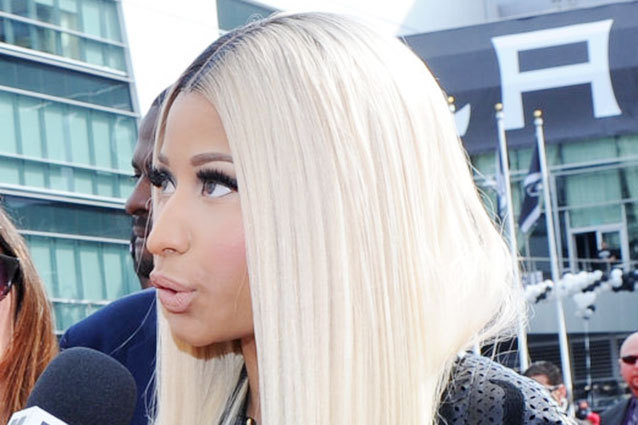 Although it's been rumored that Nicki Minaj is stepping down from the American Idol judges' panel after one season, the rapper remained mum when Hollywood.com asked her about her plans following the Season 12 finale, which saw Candice Glover take the title.
Minaj successfully dodged reporters' questions about whether she'd return to the show, but she did explain why she's the only judge who didn't perform this year — she's under contract for the Billboard Music Awards. Since the ceremony is just days away, she wasn't allowed to perform on another TV show.
We could've seen some of her work on a previous episode, but the Idol powers that be didn't allow it. Minaj was going to debut her video for "High School" on Idol, "but they said it was too risque," she says.
If you want to hear more of Minaj's music, just wait a few months. "I'm working on new music for my Barbs," she says. "I have tons of features about to come out and then in July I'm working on my official third album."
As for the finale, Minaj couldn't be happier with the outcome. "I predicted that she would win so someone owes me money," she jokes. "I think Candice is like the real – I hate using Cinderella story, but it kind of feels like that since we saw the video of her last week going home and we saw her family and her community."
Glover's talent, though, is what won her the title. "Her voice has always surpassed everyone…every night and so I'm happy that America got it right and did this based on true talent," Minaj says. "To be completely honest, I think all five of our girls … are going to have big careers if they want it, but Candice deserved to win."
More:
Nicki Minaj is Probably Leaving 'Idol' Too
And the 'American Idol' Season 12 Winner Is…
Kree and Candice on their Potential Singles
Follow Jean on Twitter @hijean
---
From Our Partners:


Watch Justin Bieber Attacked in Dubai (Celebuzz)


33 Child Stars: Where Are They Now? (Celebuzz)