'Nikita': Devon Sawa on Owen in Love, Zombie Percy, and the Opposite of a Bromance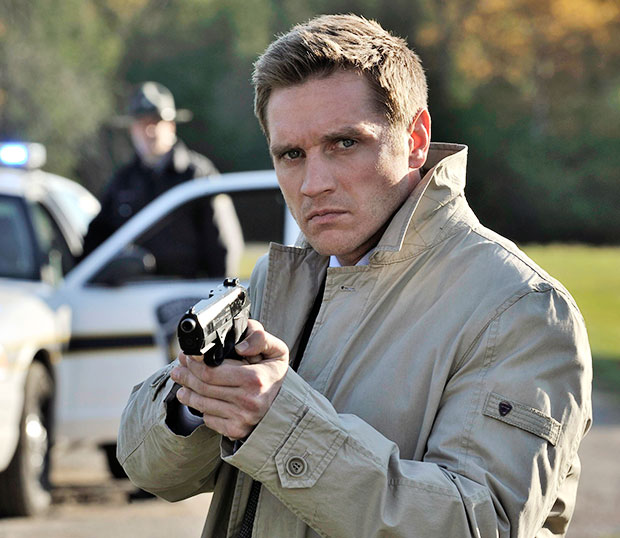 Get ready, Nikita fans: The CW has been keeping the return of a beloved character under wraps — until now. Devon Sawa tells Hollywood.com that the Friday, Feb. 1 episode, "Survival Instincts," will have you screaming, "I didn't know Percy was coming back from the dead as a zombie! What?!"
Okay, fine, that was a joke. "That doesn't happen," Sawa clarifies. "But it could! You never know."
Here's what will happen on this week's episode, which sees Owen and Nikita (Maggie Q) team up in the field once again, now that Michael's (Shane West) hand injury (understatement, yes) has forced him to take an operational role once again: "Owen is in a new world," Sawa says. "He's used to working solo. He's used to doing things brutish and thuggish, and he's now learning to be a team player. Michael's kind of coaching him through it. The first scene in this episode is in an art gallery, and Owen would never be in an art gallery. This is Michael's world. Michael's the guy that knows what drink to order at the bar, and what to say to the ladies, and how to be undercover. Owen's trying to listen to him; he's trying to figure it out. Michael is trying to coach him."
But yes, there is a little bit of tension in the air now that Michael and Nikita are having some relationship problems. "There's some tension going on because of course Michael doesn't want his fiancée off on missions with this guy," he says. But in Sawa's opinion, there's nothing going on between Owen and Nikita. "Owen has a lot of respect for Nikita. They have a past; they come from the same world; they're both trying to figure out this Division thing. I'm far ahead and in my opinion, there's really no romance going on. They're just partners and friends."
Well, what about Alex (Lyndsy Fonseca)? Sawa says that in an upcoming episode, she and Owen will finally get a chance to bond. "That's their first time kind of out in the field, and they're two really strong characters. We're stuck in a car and we're getting to know each other. That's kind of fun. There's going to be a couple more missions with Nikita, and there's some big Ari stuff coming up."
In the Alex episode, the ever-serious Owen might even let down his guard a little bit. "Alex is one character Owen doesn't know very well. The episode that we're going to do, they have some laughs, they go out, and he's beginning to get to know her. He loosens up. Alex and Owen have a conversation where Owen kind of attempts a joke, and it's funny only because it was awkward. It's a cool little car ride. What makes it interesting is that Sean is listening to the whole thing from his head set, so he starts getting a little bit concerned about Owen as well. So Michael and Sean are concerned at different times."
Frankly, Sawa thinks Owen has better things to think about than romance. "The main thing on Owen's mind is trying to find Amanda so he can figure out his past," he says. "I don't know whether he's looking for love. He doesn't know who he was. The woman on the top of his list is Amanda. That's who he wants to find because he's got questions for her. I think that Michael and Nikita are pretty safe in the next few episodes. I don't know what's going to happen in the future. I think they just throw Owen in there to create a whole bunch of ruckus. It's all coming from a good place, I think. He's not trying to destroy. He's not Susie Homewrecker or anything."
As for male friendships, Owen and Sean (Dillon Casey) will have their very first encounter in tonight's episode. "It's the first time Sean and Owen ever meet. They meet in a very awkward place. There's all this stuff going on but they both pick a moment to look at each other, size each other up, feel each other out. We have some exchanges along the way that are a little bit tense and heated because we're both thuggish dudes. It's the opposite of a bromance."
Nikita airs Fridays at 8 p.m. on The CW.
Follow Jean on Twitter @hijean
[PHOTO CREDIT: Ben Mark Holzberg/The CW]
More:
You're Going to Need Tissues for Tonight's 'Nikita'
The Best and Worst TV Deaths and Resurrections of 2012
2013 Renewal Odds for The CW's Shows
---
You Might Also Like:

Biden? Ford? Surprisingly Hot Young Pics of Politicians

Who Wore This Crazy Hat?

Stars Who Changed Their Look After Love