Nina Dobrev Schools Conan in 'Sexy Vampire Face' — VIDEO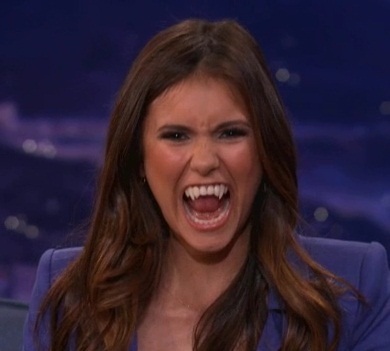 Let's get the obligatory Interview with the Vampire joke out of the way: on Wednesday night, May 9, Conan O'Brien had an interview with a vampire. Quick and painless, now on with the story.
Nina Dobrev, who stars as both a vampire and her mortal Doppelganger on The Vampire Diaries, paid a visit to Conan to give the talk show host a quick lesson on one of the key aspects of the undead trade: the Sexy Vampire Face, an SFV, if you will.
Dobrev and Conan analyzed the necessary components of the very distinct expression. There's an element to viciousness that must be balanced with an air of seduction… all while drinking a disgusting fake blood concoction.
Eventually, Dobrev got right down to brass tacks and showed Conan just how to pull off the SVF in question. Although hers was unsurprisingly impressive, Conan's take on the look was… you can call it an alternative interpretation.
More:
Kellan Lutz, Nina Dobrev Join Kid Cannabis: Is It Vampires Only?
Vampire Diaires Stars Nina Dobrev, Ian Somerhalder, & Paul Wesley Get Sexy on EW Cover