No Malarkey: Vice President Joe Biden Will Appear On 'Parks and Recreation'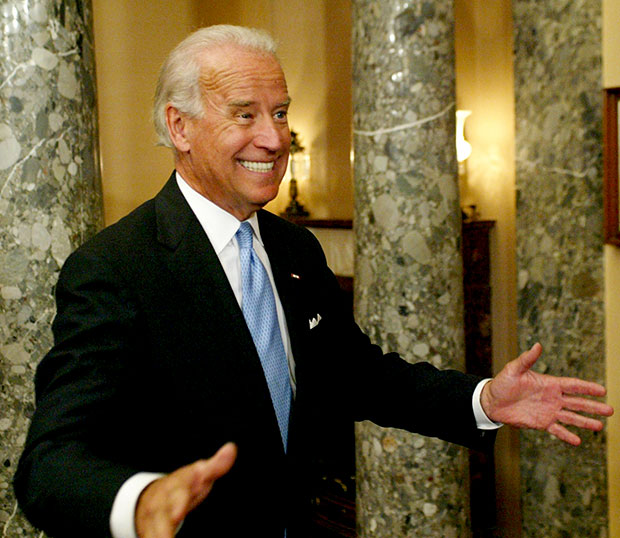 All of Leslie Knope's wishes and dreams are coming true. (And we'll be damned if there's a character on television that doesn't deserve happiness more than her!) Over the past few months not only has Pawnee's — and, okay, the world's — greatest person been elected to City Council, but she became engaged to her adorably dorky campaign manager, sexy elf king Ben Wyatt. Now she's getting a cherry on top of her whipped-cream happiness waffle: she'll get to meet her other dream man, Vice President Joe Biden, who's not having such a bad time himself lately. 
Just one day after he and
President Barack Obama
were re-elected,
Entertainment Weekly
reported that Biden would be making a guest star appearance on the November 15 episode of
Parks and Recreation
. According to
EW
, "His cameo occurs at the beginning of the episode, in which former Congressional campaign manager Ben (
Adam Scott
) takes Leslie (
Amy Poehler
), to the White House to meet him." (NBC confirmed the cameo to Hollywood.com.)
Biden filmed the cameo back in July, but as
Parks and Rec
executive producer
Michael Schur
explained, "The hardest part was keeping it secret for so long because there's all these FEC rules and equal-time rules. We couldn't air it before the election because it was the equivalent of a campaign contribution to advertise for one candidate." What wasn't tough, however? Getting Biden to agree to do it. The VP, much like the President, is apparently a fan of the beloved NBC comedy. 
Schur also notes, "He was very nice and charming. He was clearly a big fan of Amy. It was the day the Emmy nominations came out, and when he walked through the door he congratulated her on her Emmy nomination. He said some very nice things about the show and talked about how the pro-public service message was meaningful." Okay, we might have a crush now, too. 
Schur assures that the Biden meeting that takes place in the Vice President's Ceremonial Office in the Eisenhower Executive Office Building, a gift from Ben (awwwwww), is a very Leslie Knope moment. He tells EW, "They have a conversation where she does what you would imagine Leslie Knope would do when meeting Joe Biden, which is she loses control of herself a little bit. She gets really giggly and goofy around him." 
NBC has released a teaser of the historic Parks and Rec moment. Watch and squee right along with Leslie, future President of the United States in 2024:
Of course, while the meme-tastic Biden (who more recently flexed his comedy muscles on Late Show With David Letterman) and his upcoming guest stint is a particularly exciting one for Parks and Rec, he's not the only politician to rub elbow's with Pawnee's elite. This year's Season 5 premiere featured inspired cameos from Senators John McCain, Olympia Snowe, and Barbara Boxer. Everything's coming up Knope!
[Photo credit: Carrie Devorah / WENN.com]
More: 
Parks and Recreation Surprise Ending: Did It Work?

Lady Gaga Dons Strapless Bikini Top, Waves to Fans in Brazil (PHOTOS)
(Celebuzz)

(Moviefone)