WATCH: Norman Reedus Surprise Everyone on 'SNL'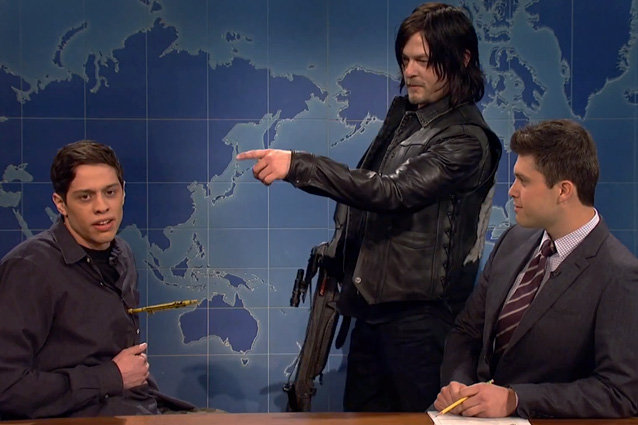 NBC
This weekend Michael Keaton hosted Saturday Night Live with musical guest Carly Rae Jepsen, and while the episode was obviously a great one (can Keaton do wrong?) the best moment was it's surprise guest – Norman Reedus, AKA Daryl Dixon.
NBC/tumblr.com
The Walking Dead star appeared (for his first time) during "Weekend Update", while Pete Davidson was giving his Resident Young Person take on the season finale of The Walking Dead. Pete gets really into his spoiler-free version of the episode, in which he explains how realistic a zombie apocalypse is and what would happen to him if it did. As Pete explains his serious fears to Colin Jost, our favorite special guest ever shows up, with his crossbow in tow.
Watch the full video here and see it all for yourself:
Did you also mistake Pete Davidson as a walker? Whatever mistake was made, it seems Pete and Norman are now going to be besties and we want in on that friendship.
What was your favorite part? Chat with us on Twitter!