NYCC 2011: 'Good Vibes', DC Animation, 'Robot Chicken' and 'South Park'

NYCC offered a premiere of the pilot episode of MTV's Good Vibes, a "new kid in town/fish out of water" story created by David Gordon Green (Pineapple Express) about a chubby, nerdy New Jersey teenager moving to the model-ridden beaches of California. The pilot delivered a steady dose of witty dialogue (often vulgar, but usually clever) from its silly but likable characters. Although risqué, the series is never mean-spirited, and seems to value and care about its characters and their journeys to find themselves.
Along with the pilot came a panel that included Green, executive producers Tom Brady, Mike Clements and Brad Ableson, and voice actors Josh Gadd, Adam Brody, Alan Tudyk, Debi Mazer, and Olivia Thirlby.
Green opened the conversation by discussing his inspiration for the show: his desire was to tell a story about the "honesty of being a teenager and having a messed up social circle," combining absurdity with heart. Brady elaborated that, in order to achieve this goal, they went on to acquire a team of writers that "had twisted, painful childhoods [and were] willing to write about them."
The presentation premiered the pilot (watch it below), which revolves around awkward New Jersey teenager Mondo Brando's (Gadd) attempts to find his place in his new town in beachside California. The panel also discussed future episodes, including one wherein Mondo and his best friend Woodie (Brody) dress in drag to sneak into a Mammogram truck.
One of Friday's big attractions at NYCC was a panel dedicated to DC animation. The focal point of discussion at this panel—led by director Andrea Romano and animator/writer/producter Bruce Timm, with surprise appearances by Kevin Conway and Eliza Dushku—was the upcoming animated film Batman: Year One.
Attendees also got to watch the short film, Catwoman, with Dushku as the titular character as she takes down a lecherous mob boss after his hired goons are caught attempting to murder a cat for mysterious reasons. Timm called this short "ten minutes of sex and violence we didn't get to do in Batman: Year One."
Discussing their inspiration for making a film based on the Year One comic book, Timm said that it was "about [his] favorite comic book of all time," due to its unprecedented "level of reality."
Another fun aspect of the panel was a clip from the in-development Justice League: Doom short film, adapted from the "Power of Babel" comic by Mark Waid. The story surrounds Batman's attempts to create a dossier that would serve as a useful means of taking down the Justice League were they ever to become corrupt. However, the dossier falls into the wrong hands, and as Timm puts it, "wackiness ensues."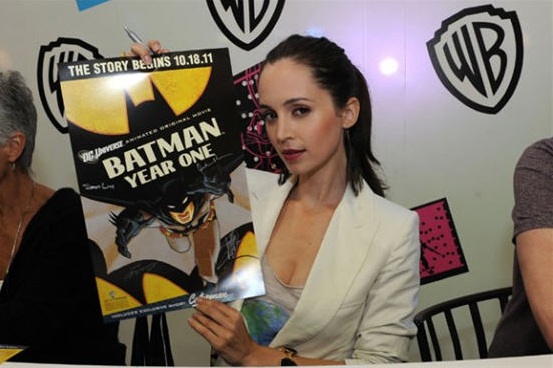 NYCC presented a Robot Chicken panel, hosted by creator and star Seth Green, co-creator Matt Senreich, writers Kevin Shinick, Douglas Goldstein, contributor and DC comics writer/producer Geoff Johns, and voice actors Clare Grant (Green's wife) and—the most awesome surprise—Macaulay Culkin.
The panel was expectedly informal—the group denoted it the Silly Hat Club; each member was dressed accordingly. They discussed the upcoming DVD release on Oct. 25, which will "somehow" (as Seth put it) contain episodes not yet aired—those that will comprise the fifth season, which will premiere in Jan. 2012. The audience was treated to clip of the series' 100th episode (it's on the DVD and part of the new season), which featured the titular chicken breaking free from the clutches of the demonic mad scientist in the opening credits and wreaking deadly havoc on a mass of unfortunate characters.
The panel also discussed two projects in the works: an animated Star Wars feature film, and DC comics homage episode on Robot Chicken.
But the real highlights of the panel were when things went a little "off book." Provoked by an audience member to strike a "sexy pose," Seth and Macaulay formed a pyramid of machismo around Seth's poor wife. It all culminated when Macaulay took things one step further and gave Seth a long, slow, sensuous lick on his face. Macaulay Culkin, people. A man who (as Seth puts it) "can spend the next three years alone, never leaving his house, and still remain more relevant than anyone in this room."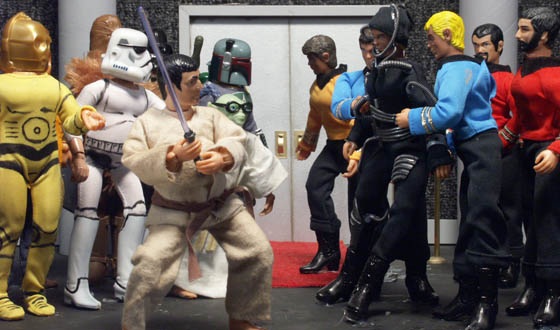 Finally, NYCC hosted a Comedy Central panel to celebrate the fifteenth season of South Park, dubbed "Year of the Fan."
The presentation was filled with a lot of South Park fun, including outtakes from the recent special documentary 6 Days to Air, which illustrates the process behind the development of a South Park episode, as well as a South Park trivia competition and a raffle.
However, discussion of a feature film about the behind-the-scenes world of South Park was possibly the highlight of the event. The film will give fans insight into how creators Trey Parker and Matt Stone deal with their controversial series. Subject matter will include how they decide what to keep in and what to leave out, as well as how their decisions affect them and their show.
One of the big topics that will be looked at in the film is the issue surrounding their infamous "Muhammad" episodes—audience members will recall Parker's and Stone's choice to include a visual representation of the Islam deity in their episode "Super Best Friends." A later group of episodes, "Cartoon Wars," surrounded the controversy over depicting Muhammad in a visual medium. According to the panel, all of this will be discussed by Parker and Stone in the film.