20 Rarely Seen 'Once Upon A Time' Guest Characters Ranked
Several interesting characters have wandered through Storybrooke and the Enchanted Forest on Once Upon A Time. While we will always love Emma Swan, Snow White and Prince Charming, let's take some time to recognize the show's rarely seen guest actors. To qualify for this list, a OUAT guest star had to appear in 15 episodes or fewer.
20. Nova/Astrid (Amy Acker)

ABC/Tumblr
Oh Astrid/Nova, we hardly knew you. Amy Acker made her first and only appearance in episode 1.14 as a love interest for Leroy/Grumpy. Even though it was only for one episode, Astrid/Nova allowed us to see a softer side to the dwarf formerly known as "Dreamy." We like to think they're still together even if Acker isn't necessarily seen on-screen.
19. Ursula (Merrin Dungey)

ABC/disney.wikia.com
The Once Upon A Time version of Ursula may have been drastically different from her Disney movie counterpart but Merrin Dungey brought a fresh take to the role. As the daughter of Poseidon who gets her beautiful singing voice stolen, Ursula turned out to be a more sympathetic version of the classic villain.
18. Prince Phillip (Julian Morris)

ABC/Blogger
We haven't officially seen Prince Phillip since Zelena turned him into a winged monkey. It's safe to assume Aurora's prince was turned back into a human, right? Julian Morris's Phillip made countless sacrifices for true love. We would love to see him return to the show even if it is for a possible love triangle (see #8).
17. Kristoff (Scott Michael Foster)

ABC/onceuponatime.wikia.com
The Frozen arc could have been a shameless publicity stunt to get more viewers but the performances of the actors — such as Scott Michael Foster as Kristoff — and the entertaining storyline made it an intriguing adventure.  We got to see Kristoff interact not only with his future bride, Anna, but also with his future sister-in-law, Elsa. This introduced new dynamics for the popular Disney characters.
16. Dr. Whale/Dr. Victor Frankenstein (David Anders)

ABC/onceuponatime.wikia.com
We did not expect to see Mary Shelley's classic character come to life in the Once Upon A Time universe but David Anders brought a heartfelt portrayal as Dr. Whale and Victor Frankenstein. This story may not have been popular with fans but it was still sad to see womanizing Dr. Whale's tragic past in the Land Without Color.
15. Ariel (JoAnna Garcia Swisher)

ABC/Tumblr
JoAnna Garcia Swisher portrayed Ariel with more attitude than her Disney counterpart. While skeptics say the original Ariel was obsessive and sacrificed everything for a man, this version of the Little Mermaid put her friendships first when she saved Snow over being with Eric.
14. Tinker Bell (Rose McIver)

ABC/disney.wikia.com/
Rose McIver may be too busy with iZombie at the moment but Once Upon A Time fans originally knew her as the classic fairy. McIver portrayed Tinker Bell as a kind-hearted individual with a sassy attitude. She tried to introduce Regina to true love with Robin Hood and it would be great to see her play matchmaker once again. Perhaps she can be the reason why Aurora and Mulan finally get together!
13. Ashley Boyd/Cinderella (Jessy Schram)

ABC/Tumblr
The only criticism Cinderella gets is that the show introduced her too early. Since there were so many story lines going on at the same time in the first season, Jessy Schram's performance as Cinderella and Ashley Boyd in the fourth episode is often forgotten. We would love to see how she's doing since she started running a Mommy and Me class.
12. Anton/Tiny (Jorge Garcia)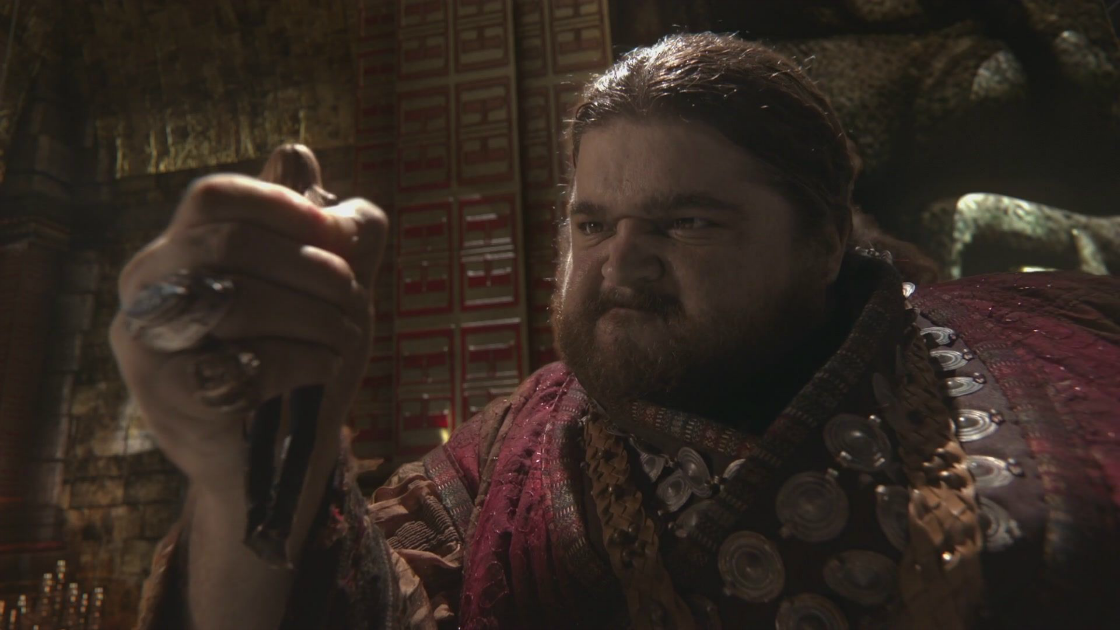 ABC/Blogger
As the giant from Jack in the Beanstalk ironically named "Tiny," Jorge Garcia brought a neat portrayal to the classic villain. We haven't seen Anton since he officially became a member of the dwarfs and Garcia's performance makes us want to see more of him.
11. Sheriff Graham/The Huntsman (Jamie Dornan)

ABC/Tumblr
Before he was Christian Grey, Jamie Dornan was the first to steal Emma Swan's heart, at least on-screen. As Sheriff Graham and the Huntsman, Dornan brought the first ounce of hope for the first curse to be broken only for his death to rip that out from under us. Hopefully the writers will find a way to utilize Dornan's rising star in more flashbacks.
10. Jefferson/Mad Hatter (Sebastian Stan)

ABC/Tumblr
Sebastian Stan may be Bucky Barnes in the Captain America films but his portrayal as the Mad Hatter and Jefferson left an impression on us forever. Emma and Mary Margaret's kidnapping may have been one of the show's darkest moments but we still rooted for him. We couldn't help but smile when Jefferson finally reunited with his daughter. Hopefully the writers will find ways to incorporate him in future stories.
9. Ingrid/Snow Queen (Elizabeth Mitchell)

ABC/Disney.wikia.com
Advertising for the Frozen arc may have focused on Anna and Elsa but Elizabeth Mitchell was a worthwhile competitor. Her performance as Ingrid and the Snow Queen made it hard to decide whether you hated her or sympathized with her. This made her a neat villain for the popular story arc.
8. Young Cora Mills (Rose McGowan)

ABC/Tumblr
No one can match Barbara Hershey's performance as Cora better than Rose McGowan as a younger Cora. McGowan brought a softer approach to the Evil Queen's future mother without losing sight of her vindictive ways. Even if present-day Cora is dead, we would be perfectly content with this version of her in flashbacks.
7. Anna (Elizabeth Lail)

ABC/Tumblr
Not only did she look the part but Elizabeth Lail embodied Anna in personality and charm. Lail portrayed Anna as the funny, optimistic individual we know and love. However, when she fell under the Snow Queen's Spell of Shattered Sight, we got to see Anna's darker thoughts and feelings, bringing a fresh take to the usually positive princess of Arendelle.
6. Elsa (Georgina Haig)

ABC/Tumblr
There's a reason why Georgina Haig's Elsa scores higher than the rest of the Frozen characters. Elsa spent most of her time interacting with Emma in what turned out to be a believable and beautiful friendship. The two of them had so much chemistry, that it inspired dozens of slash fan fiction for years to come.
5. Mulan (Jamie Chung)

ABC/Disney.wikia.com
We haven't seen Mulan since she went off to join Robin Hood's Merry Men but now that Robin Hood is back in Storybrooke, what happened to our favorite warrior? Jamie Chung portrayed Mulan with breathtaking honesty and is currently the only gay character on the show. When she almost confessed her feelings for Aurora, it broke our hearts and we are still anxiously awaiting her return to the series.
4. Peter Pan/Henry Mills (Robbie Kay)

ABC/Tumblr
The Neverland arc is the third season may have been a hit or miss at times but Robbie Kay's Peter Pan was always on point. Kay accomplished more with a single facial expression than most actors can achieve with several lines of dialogue. While he was malicious as Pan, his brief portayal as Henry when they switched bodies showcased Kay's multi-faceted acting skills.
3. Cruella De Vil (Victoria Smurfit)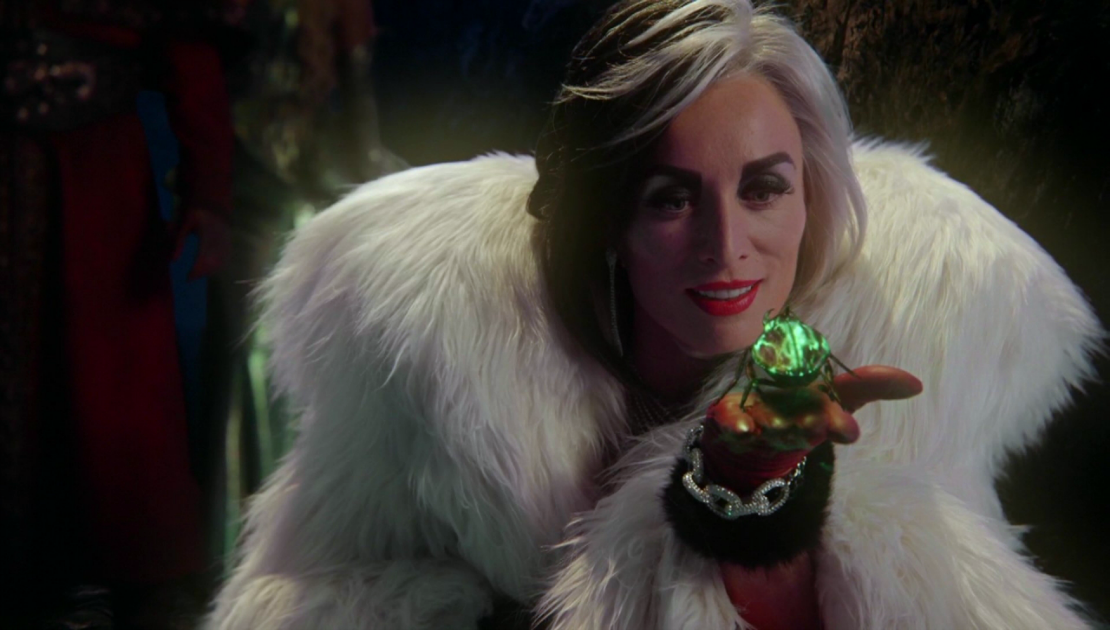 ABC/Onceuponatimeabc.wikia.com
We have to admit it was weird to see the 101 Dalmatians villain interact with Maleficent and Ursula. After all, Cruella De Vil never had magic! However, Victoria Smurfit's performance as the classic villain was quirky, yet fabulous. Her untimely death planted the seeds for the Dark Swan storyline in the fifth season proving Cruella will have a huge impact in future episodes.
2. Maleficent (Kristin Bauer van Straten)

ABC/Hero.wikia.com
It's only fitting that the leader of the Queens of Darkness would score higher than the others! Kristin Bauer van Straten's version of Maleficent combined her villainy from Sleeping Beauty with her compassion from the Angelina Jolie movie without feeling awkward. It has not been announced yet if Straten (or her on-screen daughter) will appear in the upcoming season but the unresolved mother-daughter storyline is sure to keep us intrigued.
1. Cora Mills (Barbara Hershey)

ABC/Tumblr
No one can compete with the Evil Queen better than her mother and that is why Cora deserves the top spot! The more vindictive Cora was, the more we fell in love with Barbara Hershey's performance. Her connections to the original Rumplestiltskin tale and as the Queen of Hearts from Alice in Wonderland gave her a richer mythology than most series regulars. This made it all the more painful when we had to see her get killed off in the second season. May Cora live forever in the show's flashbacks!