Everything You Need to Know About 'Once Upon a Time in Wonderland'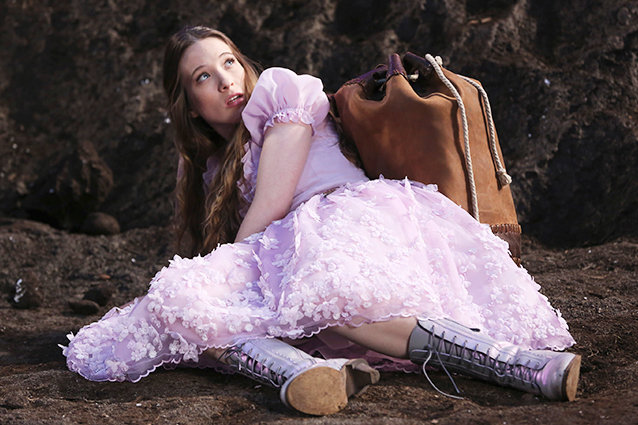 It must be your unbirthday because Hollywood.com has a very special gift for you. In anticipation of the fall's most magical new series, we've gathered up everything you need to know about the new Once Upon a Time spin-off centered in the mystical and thrilling realm of Wonderland. A very merry unbirthday to you, indeed!
We sat down with the creative masterminds behind this exciting new series, Edward Kitsis and Adam Horowitz, to gather up all the details about the new ABC series, Once Upon a Time in Wonderland. "Wonderland touches Once Upon a Time, but is intended to exist as its own thing," Horowitz explains. "We touched on the world of Wonderland a few times in [Once] and were really excited about the possibilities of it, but we don't want to overwhelm this show and shoehorn in Alice."
Sophie Lowe stars as Alice, a girl who finds herself in a strange and wondrous land after falling through a rabbit hole. However, after losing her one true love — a genie named Cyrus (Peter Gadiot) — Alice returns to Victorian England with a broken heart and new set of problems. No one believes Alice's tales of invisible cats, hookah-smoking caterpillars, or a murderous Red Queen, and she is then locked away in a spirit-crushing insane asylum.
Just when it looks like Alice's fate has been sealed, the Knave of Hearts (Michael Socha) and the White Rabbit (John Lithgow) arrive just in time to save our heroine. After discovering that the love of her life is actually alive, Alice and her friends travel back through the rabbit hole to face the dark and captivating evils of Wonderland.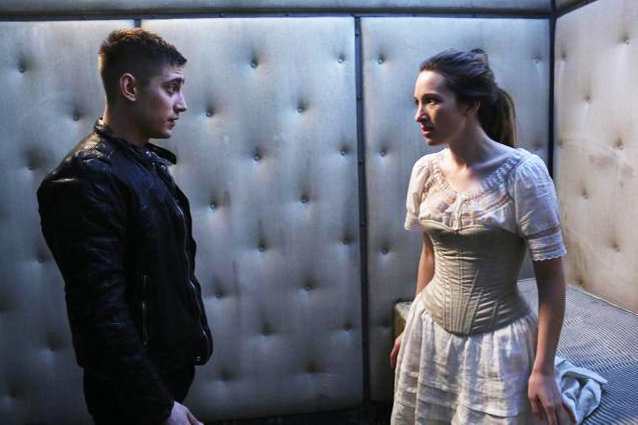 Originally set to air during the winter hiatus, Wonderland will now run concurrently with Once this fall. The creators want to assure viewers that even though Wonderland will have ties to Once Upon a Time, that does not mean that you will need to follow both series in order to know what is going on in each plot. (That said, you definitely should!)
"There's been weird things written here and there, but I can tell you the truth: Wonderland takes place post-curse [of Once Upon a Time]," Kitsis says. "So the pilot of Wonderland actually starts when magic comes and the wraith happens, and then it runs concurrent." Further clarifying the timeline Kistis explains, "So we are in Wonderland, post-Queen of Hearts. And like we saw in the Enchanted Forest, there were pockets that were saved. And then we will flashback during the show to… how did Alice get there."
As for Sebastian Stan, the Mad Hatter that fans have already come to know and love in Once, Kitsis says that infamous role in Wonderland all depends on the actor's busy schedule. "If Sebastian has a week, we'll take it," Kitsis says, adding, "[But] he could be free when Wonderland wraps. We'd love to have him back." There is one other Once character that the creators are definitely hoping to bring in to the spinoff: The Queen of Hearts — also known as Cora. "Assuming that the show goes forward, and assuming she says yes, yes [Cora will appear]," Horowitz notes. 
Now before you scream, "Off with their heads!" for bringing this evil queen back to life, keep in mind that just Barbara Hershey's wicked character met her demise in Storybrooke doesn't mean that she can't appear in the flashbacks of Wonderland. "I still feel there are more Cora stories to be told, both young and old," Kitsis says. "I don't think that's the last time Rumple saw young Cora, and I definitely think there are some other adventures to be had. Even though she's dead, she's very much alive in our hearts."
Ready for even more spell-binding details? Take a look at the trailer, which debuted at the ABC upfronts on Tuesday, below to enjoy your first sneak peek into the world of Wonderland and meet all the enchanting new characters.
Don't be late for a very important date: Once Upon a Time in Wonderland will air this fall on Thursdays at 8 PM on ABC!
Follow Leanne on Twitter @LeanneAguilera
More:
'Once Upon A Time' Creators Tease 'American Horror Story' Meets Wonderland Spin-off
'Once Upon A Time' Winter Finale Recap: Wonderland, Whirlpools, And Welcomes
'Once Upon A Time' Scoop: Neverland, Sheriff Graham, Season 2 Finale, And More From Paleyfest
---
From Our Partners:


Zoe Saldana Strips Down For Magazine (Celebuzz)


33 Child Stars: Where Are They Now? (Celebuzz)