'Once Upon a Time' Scoop: Jennifer Morrison & Co. Spill Winter Finale Secrets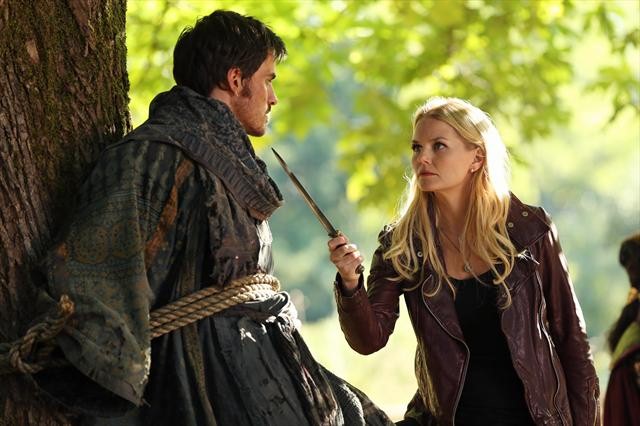 The first eight episodes of Once Upon a Time Season 2 have been a whirlwind of adventure: From soul-sucking demons to bean stalk giants, our favorite Fairytale Land characters have persevered in their quest to be reunited with their Storybrooke-bound loved ones. The ABC drama's mid-season finale, "Queen of Hearts" (airing at 8 p.m. ET on Sunday, Dec. 2) follows our heroines on the newest leg of their journey — traveling to Rumpelstiltskin's (Robert Carlyle) jail cell to retrieve a powerfully paralyzing tool to help stop the most heartless villain we've ever seen: Cora (Barbara Hershey).
Hollywood.com traveled to Once Upon a Time's Vancouver, Canada for scoop on what, exactly, happens in the heart-stopping winter finale. Read on for all the magical details.
After narrowly escaping Cora's evil clutches more than once, Emma and Snow have another battle brewing. "I think Cora is terrifying." Jennifer Morrison reveals to the small room of reporters on set. "I mean, to me she is the most terrifying villain we've had, only because she's so sweet and so charming and she's easy to believe and then is just completely cold-blooded and without any sort of remorse for her actions."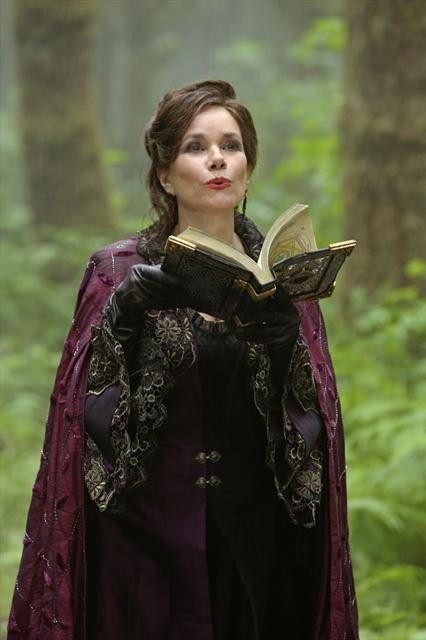 Morrison explains that although Regina (Lana Parrilla) has similar evil tendencies, Cora takes the term "wicked" to a whole other level. "She's so one-tracked about what she wants and how she wants it and how things are going to be, and that is usually at the destruction of everything and everyone around her."
New addition to the cast — and total heartthrob — Colin O'Donoghue shares Morrison's shudders regarding the villainess, but reveals that Hook knows how to deal with Cora's craziness. "I think he's a very smart man. He's very clever. He'll use her until he doesn't have to any more. That's the type of guy he is with everybody, and I think Cora's the same. Like, Cora could easily kill Hook if she wanted to, but there's also a kind of respect for each other's kind of evil. I like the way this chick operates."
Hook and Emma have not crossed paths since she decided to chain him up at the tippy top of a beanstalk, but that will change Sunday night. "They come face to face…I think it's very honest." Morrison explains, "Emma is put in a situation where she now needs something and he has the upper hand, so there's a constant ping pong back and forth of the power shift with them. It's like, he needs something and uses her, and then she needs something and uses him, and then they're always trying to rely on their abilities to charm and manipulate to get each other to do things."
There's no denying that there's some serious sexual tension between these two gorgeous individuals. When asked about their chemistry, Morrison smiles. "They're definitely kindred spirits," she says. "They're both thieves and they've come from troubled pasts and they've both lost a true love, so I think that there's a lot that they recognize in each other. So there's that camaraderie and also the combativeness of that, right away."
O'Donoghue seems to feel similarly, "I mean, yes, I guess I think they are kind of kindred spirits… I think what he sees in Emma is a kind of respect for her. He respects her. She's a very strong sort of character; a very strong person who's not afraid to say what she wants and I think they're the type of women that Hook responds to. People who are willing to play the game back with him."
So could this connection possibly turn into something more passionate? "Well, I mean, I'm hoping that Emma has some romance in her life. It's been a while," Morrison says with a laugh.
Although the two remain tight-lipped about whether or not there is a kiss Sunday night's episode, one person is not excited at this possible inter-realm relationship: Emma's dad. Josh Dallas— a.k.a. the living Prince Charming — says he is not on board for this potential paring. "We haven't filmed anything — this is all speculation, so I have no idea whether they get together or they don't get together. I don't know anything about that, but I just know that David will not have a good reaction to this man for sure." Yikes! Better watch out Hook, there could be an awkward 'what are your intentions with my daughter?" talk for you in the future.
Plus check out our special sneak peek into "Queen of Hearts." What will Emma and Snow find in Rumple's cell? Watch the first look video below to find out!
Make sure to tune into the winter finale of Once Upon a Time Sunday at 8 PM on ABC!
Follow Leanne on Twitter @LeanneAguilera
[Photo Credit: ABC]
MORE:
'Once Upon a Time' Recap: Heated Arguments and Hot Reunions
'Once Upon a Time' Recap: There's a She-Wolf in Your Freezer
'Once Upon a Time' Recap: Betrayals and Beanstalks

'Friday Night Lights' Movie Not Likely, Says Zach Gilford — EXCLUSIVE

'Les Mis,' 'Dark Knight,' and More: The Best Trailers of 2012