'Once Upon a Time' Post Mortem: The Cast Reacts to [Spoiler!]'s Murder — How Dark Will Storybrooke Go?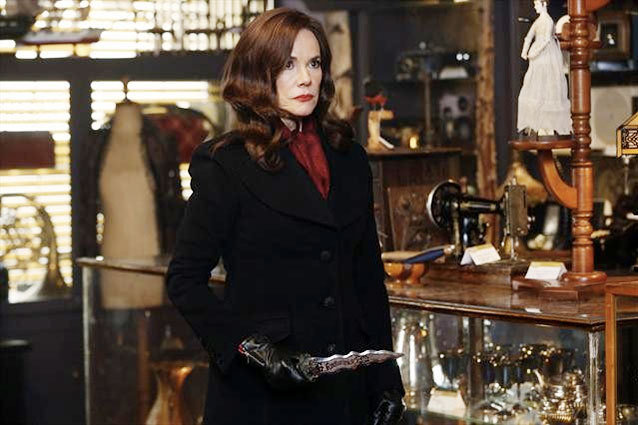 If you thought fairytales were just a bunch of singing animals and happy endings, then you clearly have not been watching ABC's hit drama Once Upon a Time. This Sunday's episode, "The Miller's Daughter" was a truly enchanting hour of television that left audiences absolutely shocked — not just by who died, but by the twists and turns that led up to this out-of-character murder.
Hollywood.com met up with the cast of Once Upon a Time at last week's PaleyFest panel to find out how this dark death will affect our Storybrooke citizens — and to learn just how wicked some characters will go. Read on for all the spell-binding secrets below!
RELATED: 'Once Upon a Time' The Most Horible Death-Filled Birthday Ever
WARNING: There are MAJOR spoilers from Sunday's episode of Once Upon a Time  ahead. Read on at your own risk.
In Sunday night's episode, fans watched as the fairest of them all — Snow White — used a candle filled with dark magic to save Rumplestilskin's life. However, as we know all too well, all magic comes with a price. In order to save Rumple from the kiss of death and protect her family from impending evil, Snow used the candle to curse Cora's heart instead. According to actress Ginnifer Goodwin, her decision will have lasting consequences.
"Snow White is forced to face a part of herself that she did not know existed, and it will really color her confidence in a very dark way." Goodwin says. "It shakes her very identity and her self-definition."
Snow used her kind face and sweet words as a façade to trick Regina into placing the secretly cursed heart back into her mother's body. At the very last second, Snow's guilty conscience caught up with her and she tried to stop Regina, but it was too late — Cora is dead, Regina is furious, and Snow has made her first kill.
Once Upon a Time creators Adam Horowitz and Edward Kitsis said that their decision to have Snow inadvertently murder Cora was something that they've been planning for a long time. Kitsis explains, "When Regina sat down with Snow and said, 'What did good get me? Dinner with a bunch of people who will never forgive me?' Snow then starts to think, 'Had I killed her, had I not given her so many chances, maybe my dad would be alive — maybe I would have seen my daughter grow up. I'm tired of being good.'"
RELATED: 'Once Upon a Time' Spin-Off
Of course, for someone as pure as Snow, a turn to the dark side won't sit easy. "Now it becomes, what are the ramifications?" Kitsis says. "In a lot of ways Snow and Regina have the same arc this season. They're both trying to put their family back together and they're both trying to heal their hearts."
And now it looks like Snow will need to heal her relationship as well. Charming was adamant against Snow's desire to take someone's life, and fans will see that her actions cause repercussions for the couple. Goodwin explains, "No matter what, when that happens that affects your romantic relationships."
Prince Charming himself, Josh Dallas, agrees. "It puts a slight strain on [their relationship] because of course he wants the best for everyone — including his wife," he says. "If she's in a bad way, then he wants to do whatever he can to fix it — to try to get her out of it, or try to do anything he can because that's his love."
Unfortunately for Charming, Snow's off-screen counterpart is looking forward to embracing her inner evil. Goodwin says that she loved seeing a different side to the classic fairytale heroine. "I really hope that I get to explore more and more of that dark sides of Snow White," she says.
RELATED: 'Once Upon a Time' at PaleyFest
While the Charmings work on mending their relationship, they'll also need to need to sleep with one eye open —because this is not something that Regina will forgive or forget anytime soon.
The producers stress that whatever progress Regina had made earlier this season is completely thrown aside after the murder. "The gloves are off and she's on the warpath," Horowitz says. Kitsis agrees. "If you thought that her attitude toward the secret was bad, imagine being conned into killing your own mom."
The evil queen herself, Lana Parilla, revealed that Regina will stop at nothing to avenge her mother's murder. "[She'll go] as far as she can possibly go," she says. "She's a warrior, she'll slay dragons if she has to." Better watch out Stroybrooke, hell hath no fury like an evil queen scorned!
What did you think of the twists and turns in "The Miller's Daughter"? Do you think Snow is going to fully embrace her dark side? How do you think Regina will enact her revenge? Cast your spell in the comments below!
Follow Leanne on Twitter @LeanneAguilera
[Photo Credit: ABC]
---
From Our Partners:


Kim Kardashian's Maternity Style: So Wrong? (Vh1)


60 Celebrity Bikini Bodies: Guess Who! (Celebuzz)