One on One: Chris Parnell Talks 'Prep & Landing' and 'Archer'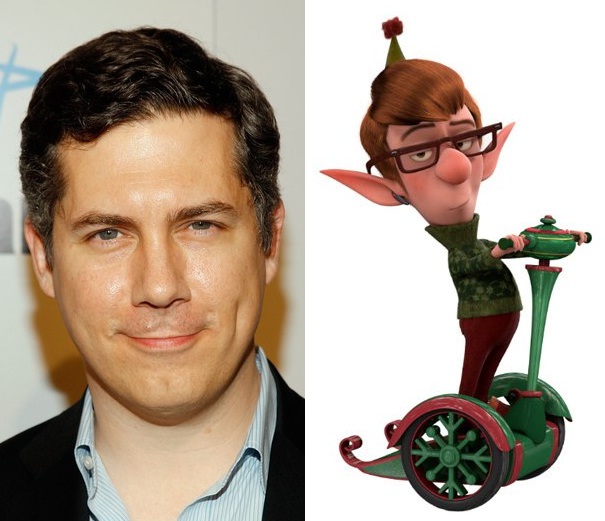 Chris Parnell should work at the Ringling Bros. Circus, because the man is a master juggler at all things funny. The former Saturday Night Live star has prominent roles on Archer, Suburgatory and his latest offering, Prep & Landing: Naughty vs. Nice, which airs tonight at 8:30 p.m. EST on ABC. Walt Disney Animation Studios has put together an eclectic cast that in addition to Parnell includes Dave Foley and Rob Riggle in a story of two elves frantically rushing to reset the order of things after someone has hacked into their system (probably Mark Zuckerberg) and changed who is considered naughty and who is nice. I guess Lindsay Lohan might be getting a gift after all from Santa. Check out what Parnell had to say in this exclusive interview about the show.
Tell us a little about Prep & Landing.
It's a sequel to the original Prep & Landing. It has some of the same characters, and there is a bit of a crisis when a naughty child steals what's called "the fruitcake calculator," and manages to rewire it in a way that changes the Naughty vs. Nice list.
Your character is Mr. Thistleton. What does he do in the show?
He runs what's called the Database Tree Farm. What's kept there is the information on what children have been naughty and which ones have been nice. Of course, that is integral in Santa knowing what to deliver to whom around the world. So, when this thing gets stolen, Wayne and Lanny, two of the elves, are tasked with going to recover it.
Seeing at the end of the taping the finished product was pretty awesome. [Thistleton's] kind of a cocky, little full of himself, character. Takes himself pretty seriously. Definitely human, too. We see different sides to him. He's kind of an impressive guy. He runs this massive server farm. The writing was fantastic, and I got to say a lot of ridiculous things.
What were some of the ridiculous things you got to say?
Oh boy. "Kringlebytes" was one of his expressions of consternation.
What attracted you to the project?
It's a Disney animation project, and that right there does it. Getting to see the first one, how well that was done and how good the animation looks, then finding out what this character was and how well drawn he was. What's not to love?
How is it different working with voiceovers, including Archer and this, instead of a live show? Do you act out the scene in the booth?
I get very animated in the booth! It's part of what I enjoy about it, you don't have to worry about what you're doing physically or what you look like. You are focusing all your acting energy through your voice. It's a different way of expressing yourself and of acting. You're not limited at all by what you look like in real life—they can make you look like anything.
Whether it's Archer or here with Naughty vs. Nice, they are so good at capturing these nuances of expression. To be honest, the animators add so much to the performance … it's like, wow, I am part of something that is really freaking incredible.
You have a recurring role on Suburgatory. Where is your character heading on that show?
Only two of my episodes have aired, but I've shot seven or eight so far … It's with Ana Gasteyer, who I've known for I don't know how many years. We worked together at the Groundlings ages ago, and Saturday Night Live, and we've been playing different versions of this uptight suburban couple since we were in our twenties. So it just feels really comfortable and fun. There's a couple of episodes where my story and Ana's are featured more heavily, and we get to learn more about Fred and Sheila. They are kind of weirdoes and hopefully lovable, and it's a blast.
What can we look forward to on Archer this season? What else is coming from you?
Archer is coming back in January. We've already recorded quite a few of those. Adam Reed, who writes it, just keeps getting better and better. There's one episode featuring the voice talents of Mr. Burt Reynolds that is fantastic.
I also did a little part in the movie 21 Jump Street which is coming out next year. I just shot another 30 Rock episode, hopefully more of those. Oh, and I did a thing for MTV called I Just Want My Pants Back coming out in January…It follows the adventures of this young man, this twenty-something guy in New York, not me surprisingly…I play a casting director, who is kind of a creepy, not cool casting director, but hopefully funny. He literally spends the night with a woman, she takes his pants, and he is trying to get them back.
You can find Michael Rothman on Twitter at @TheRealRothman.