Oprah to Talk to Lance Armstrong. What Are Her 10 Most Awkward Interviews Ever?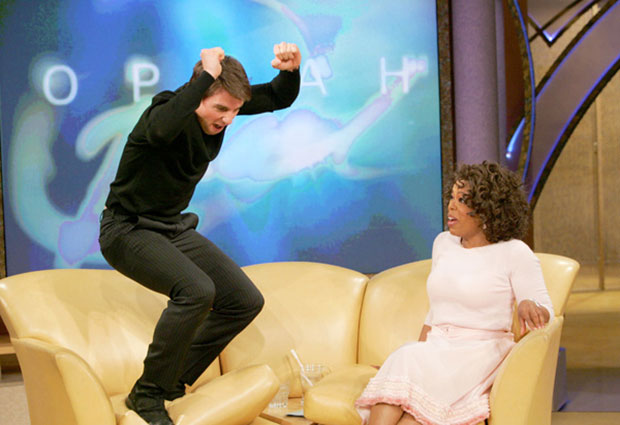 When celebrities have something to say they talk to Oprah. And it sounds like Lance Armstrong has something to say. The disgraced cycling hero, who last year was stripped of his seven Tour de France titles and banned from cycling after a report documented in detail his alleged use of performance-enhancing drugs (a charge he's repeatedly denied), is going to appear on Oprah's Next Chapter on January 17 on OWN. This comes after a report in The New York Times last week cited an anonymous source who said that Armstrong was considering revealing a history of doping. And the description of Armstrong's appearance on the Next Chapter website says, "Armstrong will address the alleged doping scandal, years of accusations of cheating, and charges of lying about the use of performance-enhancing drugs throughout his storied cycling career."
We have no idea what Armstrong will say, but we are certain that he will face some pretty tough questions. Still, it'll take a lot for his sitdown to rank among our picks for Oprah's 10 Most Awkward Interviews Ever. This is a list full of ugly crying, couch jumping, mic painting, and not one but two appearances from Elizabeth Taylor.
10. Mary Tyler Moore (1997)
It's putting it very mildly to say that Oprah Winfrey is a fan of Mary Tyler Moore. Actually, in a surprise 1997 interview with the comedy pioneer, she revealed that she'd pretty much patterned her life on that of Mary Richards, MTM's alter ego on The Mary Tyler Moore Show. It's impressive that Oprah was able to recover from the following tear-soaked hysterics upon first seeing Moore to even speak coherently.
9. Barbra Streisand (2003)
Mind you, Streisand's interview didn't have to be awkward. But it very quickly became just that after Oprah realized that Babs had spray-painted one of Harpo's microphones white so that it could match her ensemble. The stuff Kathy Griffin parodies are made of.
8. Mackenzie Phillips (2009)
In which the American Graffiti star reveals she had a years-long incestuous relationship with her father, Mamas and the Papas' singer John Phillips.
NEXT: Oprah stages a public reconciliation with an author who refused her Book Club and the interview she called "the hardest of my career" 7. Jonathan Franzen (2010)
In 2001, Oprah extended an offer to author Jonathan Franzen to appear on her Book Club to promote his National Book Award-winning novel, The Corrections. What happened next is still unclear: Franzen appeared to refuse the honor. So Oprah withdrew her invitation. Nine years later, Franzen and Winfrey publicly made up on-air during the final season of her show. 
6. Whitney Houston (2009)
Everyone talks about Houston's infamous "Crack is Whack" interview with Diane Sawyer in 2002. But even more disturbing was her 2009 chat with Oprah, in which she put on a none-too-convincing facade of normalcy. Though Houston spoke candidly about her struggle with addiction, she blamed her history of drug abuse on her marriage to Bobby Brown and acted like she was completely sober. Seen in hindsight through the prism of her tragic death, her last major interview is a portrait of the point when addiction becomes its most dangerous: when its hidden.
5. Elizabeth Taylor (1988)
In a segment on her 25th anniversary DVD box set, Oprah says Liz told her right before the start of the interview that she would not answer any questions about her personal life and, instead, only wished to discuss her perfume line, White Diamonds. No wonder Oprah herself called it "the hardest interview of my career." However, it wouldn't be the last time she would cross paths with Taylor…
4. Michael Jackson (1993)
Oprah didn't hold back when she sat down with the King of Pop at the Neverland Ranch. After questions about his changing appearance and lightening skin tone, she asked, "Are you a virgin?" MJ replied, "How can you ask me that? I'm a gentleman!" To make things even more uncomfortable, Oprah's "hardest interview ever," Elizabeth Taylor, popped up unexpectedly, ambushed the interview, and deflected some of the more difficult questions on Jackson's behalf.
NEXT: The hardest-hitting interview Oprah ever conducted is also her most awkward. 3. Jay Leno (2010)
If it weren't for the No. 1 pick on this list, we'd say Oprah's one-on-one with Jay Leno, following his return to The Tonight Show in 2010 after Conan O'Brien's ouster, is the hardest-hitting interview she's ever conducted. (The interview subject in the No. 2 slot brought about the awkwardness entirely on his own.) She point-blank asked Leno if he thought he'd been selfish ("I've asked myself that," he said) and if he thought he'd "robbed Conan of his dream." It was all the more awkward because in every previous encounter on her show, Oprah and Jay came across like best buds — he even wheeled out her birthday cake during her 50th birthday celebration! The most squirm-inducing moment, however, came when Oprah revealed the results of an oprah.com poll in which 98% said Leno was at fault for the failure of Conan's Tonight Show.
2.Tom Cruise (2005)
It was the couch-jump seen across the world. Tom Cruise so could not contain his newfound love for Katie Holmes that he played a grown-up version of Jack B. Nimble on nationwide television.
1. James Frey (2006)
This wasn't an interview. This was a massacre. After it was revealed that Frey's memoir A Million Little Pieces wasn't a memoir at all, and that Frey had fictionalized key episodes in the supposedly confessional account of his struggle with substance abuse, Oprah brought the Book Club author back on her show for a brutal Round 2. She said she felt "betrayed," then proceeded to rip him a new one for the next hour. When it was all said and done, it was our frayed nerves that were in a million little pieces.
You got an opinion! You got an opinion! Everybody's got an opinion! Sound off about our picks in the comments below.
Follow Christian Blauvelt on Twitter @Ctblauvelt
[Photo Credit: Harpo]
More:
Oprah's Favorite Things Special: Everyday I'm Trufflin'
David Letterman to Oprah: 'Jay Leno is Funniest Yet Most Insecure Person I've Ever Known'

Megan Fox's 12 Hottest Moments (Moviefone)

Ryan Gosling's 'Airbrushed' Abs: Plus 19 More Reasons We Love the Actor (Moviefone)