Oprah Winfrey's OWN Network On the Rebound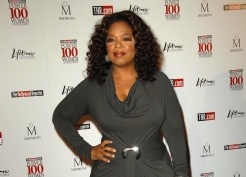 It looks like reports of the OWN Network's imminent demise were greatly exaggerated. The past few weeks have been difficult for Oprah Winfrey's cable channel, with a round of layoffs, the cancelation of Rosie O'Donnell's talk show, and a study that suggested the network is losing $149 million per year. However, OWN has received some much-needed good news: In the first quarter of 2012, the network saw a 21 percent increase in total daily viewers. "We are pleased with our start for 2012, viewers are responding and connecting with our programming," said OWN president Erik Logan.
Much of the ratings increase is attributed to Winfrey herself. Her Oprah's Next Chapter interview series debuted in January, and it's among the network's highest-rated shows along with Oprah Presents Master Class. Her interview with Whitney Houston's family members shortly after the singer's death drew 3.5 million viewers, the same number that watched the Mad Men season five premiere, and 800,000 people saw her recent talk with Lady Gaga.
While the news is certainly promising, the network may still be in trouble. It's only attracting 180,000 viewers, and while the ratings bump proves that people will tune in to see the Queen of Daytime, that isn't news to anyone. Winfrey can't be on the network 24/7, so she has to find a big ratings draw to help OWN's signature programs. In the past she has turned Dr. Phil, Suze Orman, and Dr. Oz into household names, but they already have established shows on other networks. Rosie O'Donnell's talk show was a flop, and the network hasn't been successful in its effort to court Maria Shriver. And reality shows featuring the Judds, Sarah Ferguson, and Shania Twain weren't runaway hits either.
OWN's bigger problem may be that its message is too preachy. At times Winfrey's daytime show felt like an hour-long national therapy session, but every single episode didn't feature tips from Maya Angelou on how to "live your best life." While Winfrey approached every story with class, plenty of shows focused on more titillating topics like celebrity gossip and crime stories. For better or for worse, networks like TLC and Discovery Channel became successful by dropping some high-brow educational shows to make way for fun reality programming. While Winfrey shouldn't have to pack OWN's schedule with shows about ice road truckers with sextuplets, finding programming that strikes a better balance between entertaining and uplifting is key to the network's success.