'Parks and Recreation' Recap: Emotional Guardian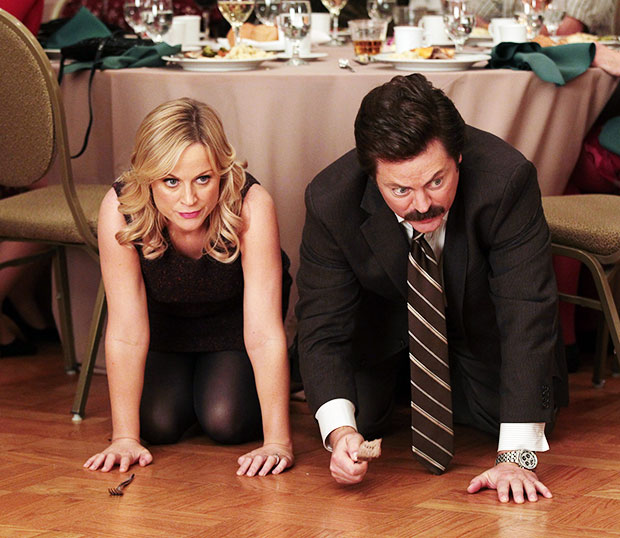 Woodworking awards, a holiday party thrown by Jerry, the return of Tammy 2 (and maybe another much-beloved character, hint hint) — the Parks and Recreation mid-season finale has everything I could ever want (and maybe a little bit more). No more waiting, let's get to it!
Jingle Bells, Jingle Yay, Jingle Good For You
Ron has been nominated for an Indiana Fine Woodworking Award! While you might not be able to tell from his stoic expression and relaxed posture, Ron is very excited. Good thing Leslie is full of enough outward enthusiasm for the both of them — and, like, a whole busload of kindergardeners on a sugar high. And Leslie can't wait to celebrate with Ron at the awards ceremony, whether Ron wants her there or not (which he doesn't).
You see, things are going well with Ron and Diane (Lucy Lawless), and he can't wait to share what may end up being the best night of his life with his new warrior princess — er, I mean, leading lady. For Ron, this will be a night filled with the smell of cedar, the taste of good whiskey, and, perhaps, the sound of applause, as he is recognized for a craft of which he is actually proud. There's only one thing that could screw this up. To be continued…
Jerry Dinner
Every time Jerry does something stupid and someone in the Parks Department laughs, they put a dollar in a box. At the end of the year, they take the money and go out to dinner. I present to you: The Jerry Dinner. It's mean, but also brilliant. This year, Tom, April, Andy, and Donna have raised $516 $517 $518, and they're ready to feast. Until, that is, Anne points out that what they are doing is deplorable.
With Ann's scolding words, a seed of doubt takes root in Donna's mind, one that sprouts as the gang-o-bullies makes their way to Jerry Dinner. Finally, unable to stomach one more Jerry Story ("My favorite was when he ate a bowl of glue," says April) and overcome with guilt, Donna decides to turn her car around and pick up Jerry. He will be the guest of honor at this year's Jerry Dinner.
But as the gang's car rounds the bend to Jerry's house, what to their wandering eyes should appear but a driveway full of cars and a home full of cheer. Jerry Gergich is hosting a Christmas party! And a bustling one at that. Chris, Ben, Ann, and tons of friends we couldn't even imagine Jerry having are sipping eggnog and munching on hors d'oeuvres under the mistletoe. The crew, now hungry for lack of Jerry Dinner, wants in. But ho! Not so fast. Ann is guarding the door like a righteous, angry troll and she requires a hefty toll to partake in A Very Gergich Christmas. The meanies must win back their good favor in the eyes of God and men by doing something nice for Jerry. Donna, who ended Jerry Dinner, can go inside. Everyone else is left out in the cold to think about what they've done.
Leslie Knope: Emotional Guardian
Tammy 2! Tammy 2 could screw up Ron's perfect night! Even as Ron prances and dances — no exaggeration here — giddily around the ballroom, a bone-rattling chill sweeps in and the smell of decaying library books grows thick in the air. Tammy 2 (Megan Mullally), clad in a low-cut red dress with nothing underneath (thanks pixelated screen!), has arrived to chip, chip, chip away at the ideal night Ron has built for himself. Leslie Knope, self-proclaimed Emotional Guardian of one, Ron Swanson and newfound appreciator of Diane, is on the case. She won't let a horny librarian get in the way of Ron's happiness!
Unfortunately, in tagging along to the awards ceremony and standing up to Tammy 2, Leslie shows just how close she is with Ron, and it's making Diane nervous. Diane can handle an aging harlot like Tammy, but she worries about Leslie's intimacy with Ron. After all, Leslie knows that Ron, "secretly loves artichokes and plums." While Ron is off hiding from Tammy, Diane slips away from the ceremony.
You're Jerry's Beautiful Wife… And You Look Like That
Inside the Gergich abode, merriment abounds. Jerry and his shockingly beautiful wife (Christie Brinkley) sing carols with their gorgeous daughters — seriously, what is in the Gergich ladies' water? — while Ben marvels at Chris' new positive outlook on life. Chris, now seeing his therapist 15 times a week, is able to handle such crippling blows as accidentally drinking non-non-fat eggnog and running into ex-girlfriend Millie Gergich, new fiancé in tow, without batting an eye. Way to go, champ! Keep up the good work.
Outside in Loserland, the irrational Jerry haters are coming to their senses. They discover that, thanks to their "Jerry Filter," they have missed years of nice emails from Jerry — including an invitation to his annual Christmas party. Tom, April, and Andy reach down deep inside their hearts to find the small pocket of goodwill they feel towards Jerry, and decide to donate their Jerry Dinner money to the Jerry Fart Attack fund. Welcome to the party, kids. 
Ladies and Gentleman, But Especially Ladies
While Leslie staves off the wild, feral beast that is Tammy 2, Ron seeks out Diane. He takes her to Cozy's Bar, where he explains that, while he values Leslie as a dear friend, he would rather go to Europe than have a romantic relationship with her. He would, however, go to Europe if Diane wanted to — but not France. He draws the line at France. To prove to Diane that he is invested in their relationship, he decides to share with her something even Leslie doesn't know.
Everyone, help welcome Duke Silver to the stage.
Best line of the night: "Smart, funny, independent, and sexy? Diane Lewis? More like Diane Sawyer!"
Follow Abbey Stone on Twitter @abbeystone
[Photo Credit: NBC]
More:
'Parks and Recreation' Recap: Down with Eagleton!
'Parks and Recreation' Recap: Every Dog Has Its Day
'Parks and Recreation' Recap: One Quilt to Rule Them All

Kate Middleton Pregnant: A Look Back at Famous Royal Baby Portraits (PHOTOS)

Pregnant Kate Middleton Leaves Hospital After Four-Day Stay