'Parks and Recreation' Recap: One Quilt to Rule Them All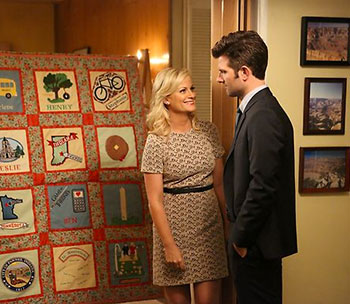 When we last left Ben Wyatt and Leslie Knope, in that lovely wood paneled home in Pawnee, Indiana, the two were smooching and proclaiming their love for one another — and we were crying on the couch. A Wyatt/Knope wedding is in our future, and oh my goodness, isn't it a beautiful thing? But before the happy couple can get to the 'I do's," they have to muddle through the parties, showers, obligatory toasts, wedding registries, the choosing of the napkins, and oh so many tiny details. It's enough to make one's head spin.
Luckily for Leslie and Ben, they have BFFs surrounding them to help dull the migraine — and luckily for Parks and Recreation fans, weddings mean more family members, which means more characters, which means the arrival of Jonathan Banks and Glenne Headly as Ben's parents. Breaking Bad watchers (like me) are thrilled to see Mike Ehrmantraut in Pawnee. Just don't get on his bad side…
Of All My Metaphorical Art Projects, This Is By Far the Coziest.
First comes a proposal, then comes the engagement party. And Leslie has invited the whole gang to her impeccably planned shindig — with the addition of Ben's parents. Ben is not thrilled. "My parents are crazy! My parents hate each other! I want Twizzlers!" Ben hoots and hollers (I'm paraphrasing, but that's the gist).
Hold up just a second there, Benny. Leslie has a (comfy, snuggly, cozy) plan. She has created the Knope/Wyatt Unity Quilt, perfectly engineered to bring two families together as one. Said fluffy peacemaker features a block for each member of the family, and elicits warm memories of cuddling in front of a fire on a brisk Indiana night. What cold-hearted, villainous soul can resist the loving appeal of toasty stitched linens? Ben's parents, that's who.
The vitriol begins spewing from Ben's mom's mouth even before Mike Ben's dad arrives. And when he does, with his girlfriend Ulani on his arm, ooh boy does s**t go down. Not even Leslie's Unity Quilt of Unification is enough to bring these two to niceties. As Mrs. Wyatt takes a pair of scissor's to Leslie's diplomatic masterpiece, Leslie hightails it to the escape taxi Ben has waiting.
Unfortunately, no amount of frenetic backseat making out can make the Wyatt situation brewing in the house go away, so Ben decides to grow a pair and confront his parents. "Stop fighting! Be people! Come to our wedding!" he says (paraphrasing again.) "Okay," says Mrs. Wyatt. "Okay," says Mr. Wyatt. "Mumble mumble snark okay," says Ulani. And so it is decided. The grownups will all act like grownups and merry soon-to-be-wedded life will go on.
I'm So Happy, and So Sad. It's Like the Perfect Storm of Emotions.
Meanwhile, Chris Traeger is a whole mess of emotions. If not exactly working, therapy seems to be doing something to our favorite bundle of energy. He is laughing, he is crying, he is looking a little like a psychopath. So who better to get Chris under control than stoic stalwart of support April Ludgate?
Beautiful ox of a woman Ann Perkins corrals April and Andy into the bedroom, where we find Chris lying supine on the bed with an empty box of tissues. Ann beckons for the Ludgate-Dwyers to cheer up our sad friend, and they get to work doing their best. Andy talks about happy things, like laughter and pizza and Dave Matthews Band, while April mentions dark things like slugs coming out of your mouth and Dave Matthews Band. The Andy/April binary of emotions seems to level Chris out. He muscles up a speck of dignity from somewhere deep within him and finally stops blubbering.
Sometimes You've Gotta Work a Little, So You Can Ball a Lot.
In other news, Tom Haverford is trying to jumpstart his brilliant Rent-a-Swag business he cooked up during Jerry's Fart Attack Tag Sale by getting Ron Swanson to invest in the venture. And a new business means… Jean-Ralphio! But could it be that Tom's fast-talking, high-haired sidekick isn't quite as invested in Rent-a-Swag than Tom is? Does Jean-Ralphio perhaps find clubbing more important than preparing boring 8:00 AM pitch presentations?
Yes, those things are true. So J-R leaves Tom hunched over his laptop to return to the Knope/Wyatt Unity Party, where — as luck may have it — he runs into Ron Swanson. "Yo, Tommy boy is so serious, yo," J-R tells Ron Swanson (or something along those lines). At this, Ron's ears perk up and his eyes begin to sparkle with pride. For if there's one thing (in addition to dark-haired ladies and breakfast foods) that Ron Swanson likes, it's a serious business man.
Ron arrives at Tom Haverford's condo — I'm assuming it's a condo, because a condo seems like something Tom would have — promptly at 8:00 the next morning. Tom is raring to go, ready to give his light show- and music-less presentation. But with one raised hand and a slight shake of his head, Ron silences the young whippersnapper. He has already made up his mind. He wants to invest in Rent-a-Swag. Turns out Jean-Ralphio must not be such a bad business partner after all.
Best Line of the Night: "Sure, in a wrestling match Kirk would win, but overall, who would you rather have at the helm of your Sovereign-class starship? Jean-Luc Picard." (Ben again, FTW!)
Follow Abbey Stone on Twitter @abbeystone
[Photo Credit: NBC]
More:
'Parks and Recreation' Recap: It's Better Than Strawberry Jell-O Night
'Parks and Recreation' Recap: Sexytimes at Pawnee Senior Center
'Parks and Recreation' Recap: It's Pronounced 'Anchovies'

Ariel Winter's Mom Claims She Found Daughter in Bed With 18-Year-Old Boyfriend, Police Report Reveals (EXCLUSIVE)
(Celebuzz)