'Parks and Recreation' Recap: Rules and Regulations for Achieving Gender Equality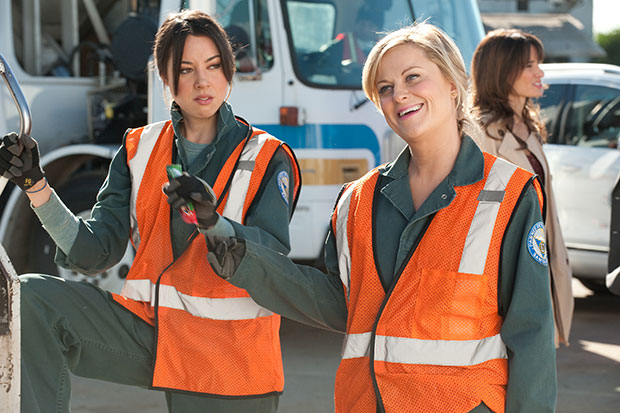 Welcome to Pawnee, Indiana. We are located 90 miles from Indianapolis and we are the state's seventh-largest city. We are a city of kind citizens, green places, and a deep love and respect for the land. For the care and protection of these public outdoor spaces, we turn to the Parks and Recreation Department, headed by the honorable Ronald Ulysses Swanson. In order to ensure that the parks, pools, and public spaces of Pawnee remain in their tip top condition and able to provide good, clean fun for the citizens of Pawnee and their guests, the Parks and Recreation Department asks you to follow the following pertinent rules and regulations. Please and thank you, rest in peace L'il Sebastian.
10 Rules and Regulations for Achieving Gender Equality
1. The first and only rule is that men are better than women. Men provide for women and women must obey the men because they are women's masters. Women must always walk behind the men.*  
2. Form a Commission on Gender Equality. Invite two delegates from each department of Pawnee's municipal government to attend. Then, the men and women in attendance will be able to work out a plan. What do you mean there are no women? Are we really so backwards that no women hold positions of power in the Pawnee government in the year 2013? In that case, tell the men to put away the calendars they use to chart your menstrual cycle and start hiring more women.
3. Be prepared to strong-arm the Sanitation Department, they believe women to be too delicate to do a little grunt work. Grab a jumpsuit, hop on a truck, and prove them wrong. Women can get down and dirty just as well as men can — wait, that sounds wrong. What I mean is… Oh just take out some trash.  
4. Remember, gender equality is a two-way street, so encourage the men to engage in "womanly" duties such as childcare. Even steak-eating, wood-carving, Scotch-drinking libertarian men are capable of finding the stickers and doing arts and crafts with the under-10 set. 
5. Teach gender equality from a young age. Playtime for your young girls need not always be princess dress-up time. Encourage your little ones to discover other interests, such as the medical profession. Introduce your girls to reflex hammers and stethoscopes; tell them they can be anything they want to be when they grow up. But please, use common sense. Do not let your lofty ideals shadow responsible childcare practices. For instance, do not leave your children unsupervised with scissors — hack-job haircuts may result. 
6. Maintain an open communication between the sexes. This is as important in personal settings as professional ones. If you are straightforward with your intentions, labels become unimportant. (Take note, Chris Traeger, this one's for you. Just chill with Shauna Malwae-Tweep, she'll make you her boyfriend soon enough.)
7. Seek creative solutions for problems presented by your gender. Don't misunderstand me, I don't mean to say that being the weaker sex is an issue… Oh no, I don't really mean that women are weaker… Oh God, no, being a women isn't a problem… I just…. It's not only the canaries who are unable to move refrigerators, big strong garbage men can't move them either. So when a refrigerator stands in your way, call the soup kitchen. No, that's not a metaphor.
8. Explore interests outside your comfort zone. Just because you love cashmere and the Kardashians doesn't mean you can't learn about basketball. Who knows what doors may open when you learn something new? Discovering a post-game press conference may be just what you need to take your business to the next level — what 14-year-old doesn't want to look like a hipster chic NBA player, a la Dwyane Wade? And if YOU are a 14-year-old who WANTS to look like Dwyane Wade, head on over to Rent-A-Swag! Tommy Haverford will hook you up.  
9. Wear goggles while playing basketball in the Pawnee High gymnasium. Safety first, always. 
10. Never be afraid to say what you feel. Yes, stoic Ron Swanson loves Diane "Xena Warrior Princess" Lewis. Yes, she loves him back. And yes (times a million) it is magical when they say these words aloud for the first time. 
*The city of Pawnee would like to apologize for its outdated guidelines. Kindly ignore April Ludgate and disregard Rule No. 1.
Follow Abbey Stone on Twitter @abbeystone
[Photo Credit: Colleen Hayes/NBC]
More:
'Parks and Recreation' Recap: Rules and Regulations for Throwing a Bachelor Party
'Parks and Recreation': Gather Your Waffles and Prepare for the New Episodes!
'Parks and Recreation' Recap: Emotional Guardian

Celebs as Kids: Guess Who? (Celebuzz)