'Parks and Recreation' Recap: The Big Leslie and Ben Wedding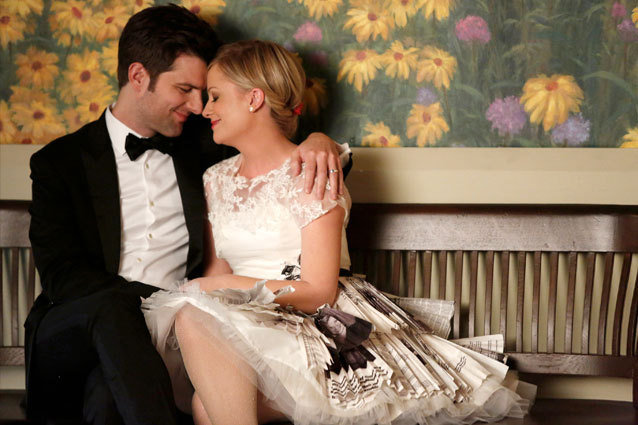 Well, that was perfect. I hoped — heck, I envisioned — I would be able to write those words as soon as it was made clear at the end of last week's cliffhanger episode that Leslie (Amy Poehler) and Ben's (Adam Scott) impending wedding would be moved up three months to that very night. And so, thank goodness that after the vows have been said, the champagne has been toasted, and DJ Roomba has made his final sweep, they still ring true. For Leslie and Ben, for all of Pawnee, and for Parks and Recreation fans everywhere, the wedding was perfect.
The question that has always lurked just beneath the surface on Parks and Rec is whether Leslie Knope can truly have it all. An ambitious career woman who puts all her heart and soul into her work – by God she will see her pit project all the way through to Pawnee Commons' completion if it kills her! — Leslie has not always been lucky in love. From her early awkward flirtations with Mark Brendanawicz (Paul Schneider) to her emotional breakup with Officer Dave (Louis C.K.), Leslie's romances have never measured up to her impeccably high standards. But that was okay. Because, for Leslie, her dreams of sitting on the Pawnee City Council trumped all else. 
Until, that is, Ben Wyatt arrived in Pawnee, clipboard in hand, to slash the Parks Department's budget and find a place in Leslie's heart. It became clear to viewers even before Leslie and Ben figured it out for themselves that Ben was a man worthy of our Leslie's affections. Here was a man who would be a partner to Leslie, who would encourage her and support, who would seek her guidance and look to her for encouragement and support in return (and, it's worth adding, has a nice butt). So then, there we were: it was Season 4 and Leslie had found love — but could she win the election? Yes. Then, it was Season 5 and Leslie was engaged — but could she find a way to get Pawnee Commons made? At the end of last week's episode we learned she would. 
RELATED: 'Parks and Recreation' Recap: Rules And Regulations for Responding to an Emergency
For five seasons now we have danced around the question (only occasionally did the career vs. romance battle bubble to the surface explicitly), and now, on the night of Leslie's enormous professional victory, we are surprised to discover that Leslie feels that her happiness can only be increased by marrying — literally — her personal with her professional life. I couldn't help but ask, would the wedding, threatening to shadow her professional achievement, prove to be one giant step backwards for working women, or one giant step forward for Leslie Knope, Career Career Woman? 
The wedding episode answers this question in the opening minutes in the most Parks and Rec way possible: with a joke. Before they rush to the altar, Ben needs to make sure it's okay with Leslie that she take his last name. It's kind of a dealbreaker for him, he says, that she become Councilwoman Mrs. Ben Wyatt. As Leslie's face falls and we watch her struggle to find words to express her dissatisfaction with the idea, it dawns on her that Ben is joking. Of course. Ben knows, just as we know, that Leslie would never stand for that — and that he would never ask it of her. This is Leslie we are talking about here, a woman who keeps framed photos of Hillary Rodham Clinton and Ruth Bader Ginsburg next to one of her own mother in her office. Ben's joke serves not only to make us laugh, but to remind us that this will be a very Knope wedding. It will not be normal or calm or hide any sort of anti-feminist agenda — it will simply allow Leslie to be the happiest she has ever been. It will be, like Leslie, exceptional. 
And so, we're off. What's an event in Pawnee without more than its fair share of crazy hijinks? Leslie needs a dress and the couple needs rings, a marriage license, and an officiant. And they need to find them in an hour, after all the stores and city offices are closed. Good thing Leslie's gang is a resourceful bunch. Ron makes rings from a sconce in Ann's house, Andy and April wake up a city hall employee to sign the marriage certificate (and adopt a grandma in the process), Jerry — it turns out — is already ordained, and Ann fashions Leslie a dress from clippings and documents of all of Leslie's proudest accomplishments. So, like the best screwball comedies, everything comes together in time (as we all knew it would). 
RELATED: 'Parks and Recreation' Recap: Rules and Regulations for Choosing a Sperm Donor
Except, we are only fifteen minutes into the episode and things are coming together too quickly. Leave it to a drunk Councilman Jamm (Jon Glaser) with a megaphone to bring things to a screeching halt. "Boo parks! Boo Leslie!" he yells from the back of the aisle, parodying the old witch from The Princess Bride. Ron steps in to keep the peace but ends up socking Jamm in the teeth, landing them both behind bars.  
Leslie, still dressed in her wedding finery, bails Ron out of jail and brings him, at his urging, back to City Hall for some time to unwind. They walk the half-lit, empty corridor side-by-side, the sound of Leslie's heels reverberating in the silence, until they arrive at the Parks Department. "You are a wonderful person, your friendship means a lot to me, and you look very beautiful," Ron says. As what is about to happen dawns on Leslie, Ron takes her arm and steers her into her wedding. 
Surrounded by their best friends, Leslie and Ben recite their vows. A black-and-white montage — which is completely cheesy but at this point I'm almost crying and don't care — reminds us of some of their landmark moments: their first kiss, their breakup from their breakup in the smallest park in Indiana, and Ben's surprise proposal. "I love you and I like you," Leslie says. "I love you and I like you," Ben responds. "I love you and I like you both!" I yell at the TV. 
To summarize her feeling that all is right the world, Leslie tells the camera, "I love my husband, I love my job, and I love my friends." In this moment, Leslie Knope has it all. 
RELATED: 'Parks and Recreation' Recap: Rules and Regulations for Achieving Gender Equality
And then… 
You realize NBC lied to you. Thursday's wedding was no "one hour Parks and Rec wedding," as advertised in the promos and on the NBC website, it was a fantastic, magical episode stuck together with a sub-par one like peanut butter on stale bread. Hot on the heels of "Leslie and Ben," how could "Correspondent's Dinner" be anything but a letdown. How do you go from perfect self-actualization to honeymoon gifts and petty feuds with only a commercial break in between?
"Correspondent's Dinner" pits Leslie against the Pawnee Sun, the local paper who makes it its mission to roast Leslie in its pages. When Leslie realizes someone at the Sun has hacked her email account in order to dig up what little dirt there is to be found on Leslie, she sets out to expose them. Or course, she succeeds. 
While Leslie's story gets first billing and monopolizes most of the episode's time, Andy and Ann's B an C plots are actually of much greater consequence. After learning that he failed the police exam, Andy has decided "Life is pointless and nothing matters and I'm always tired." It's heartbreaking to see Andy "sad and sweaty" when he's usually "happy and sweaty," as April puts it. Andy is far and away the most likable character on the show, and we want to see him succeed. We can't help but wonder along with depressed Andy, what will he do if he can't become a cop? 
After enlisting April and Andy's help to find a new charity for the Sweetums Foundation (of which Ben is now President) to support, Ben realizes that Andy has a knack for problem-solving and a keen eye for charity work. In the closing moments of the episode, Ben asks Andy to work for him at the Foundation as a part-time assistant, an "idea mean," if you will. By way of acceptance, Andy embraces Ben in a bear hug. I'm happy for Andy's happiness, but am skeptical of whether this will prove to satisfy Andy's newfound ambition. 
The final, and potentially most poignant, element of "Correspondent's Dinner" is Ann's continued search for a sperm donor. At the end of "Leslie and Ben," Ann decides Chris would make the perfect father — uh, duh — and in "Correspondent's Dinner" she works up the courage to ask him to artificially inseminate her. He needs some time to think on it. Uh, duh. While I'm still not completely sold on the idea of Ann having a baby, the storyline does allow us to see new depths of Ann. For the first time in the series, Ann's plot has higher stakes than Leslie's. As Leslie basks in her marital bliss and professional fulfillment, we turn to Ann for emotional conflict. Will she find what she's looking for in Chris, in her hypothetical baby? Only time will tell. 
Follow Abbey on Twitter @AbbeyStone
[Photo Credit: Tyler Golden/NBC]
---
From Our Partners:


25 Forgotten Celebrity Crushes of the '90s (Vh1)


30 Stars Who Have Gone Topless (Celebuzz)