'Parks and Rec' Recap: Twittergate! — Don't Recall Leslie Knope (Season 6, Episode 4)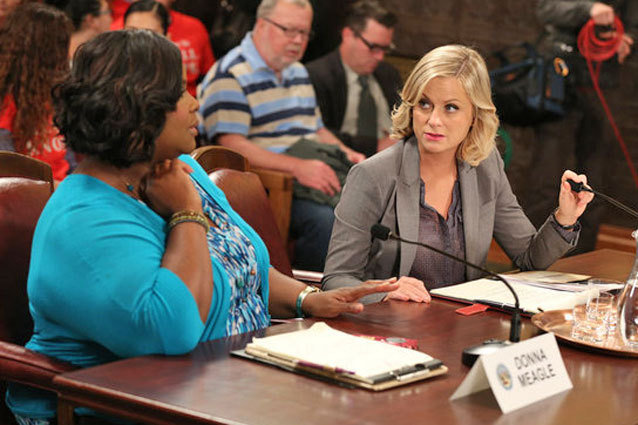 NBC
Parks and Recreation has settled back into its familiar groove, with Leslie's (Amy Poehler) struggle to keep her council seat serving as a nice framing device that informs the stories around the office. But no real forward momentum is achieved, primarily because the petty Councilman Jamm (Jon Glaser) ties her up in an obviously manufactured trial about an inappropriate tweet sent from the Parks Dept. Twitter.
For all the talk, we never get to see the offending picture… but it's not a full-on Anthony Weiner, just a racy snapshot of a pair of lips and an eggplant and the caption "See you tonight. Hope you like tongue baths, you big nasty fireman," which, as far as inappropriate tweets go, seems pretty tame. However, it didn't stop Leslie from being railroaded at every opportunity for her negligence by Jamm. Surprisingly, we get Donna (Retta) in a main plot this week, as she proved to be the offending tweet-er, and the trial uncovers some rude things she wrote about Leslie on her personal page. However, for some reason, the conflict between Leslie and Donna clears up through Chris (Rob Lowe), not via a confrontation between Leslie Donna. It would have been nice to see a little bit more of Leslie and Donna alone, since the season (and the show) has been a little Donna-starved, and Donna's frustration at Leslie being "annoying" was solved a bit too simply.

It also continues its parade of guest stars, with the appearance of Tatiana Maslany as Nadia, a doctor from Indianapolis looking to book a park with Tom (Aziz Ansari) and April (Aubrey Plaza). You'd think Tom would have more game after dating Jama Williamson, Natalie Morales, Rashida Jones, and even Jenny Slate as the crazy Mona-Lisa. But, instead, at the sight of Maslany he panics and immediately begins faking a British accent. Maslany is of course best known for her lingual flexibility on Orphan Black, so to see her baffled by Tom's attempt at being dapper (and then, of course, being forced to drop it) feels like a nice reference to that show while still grounding it in character. From there, Tom attempts bribery, stalling, and eventually, outright lying in hopes of charming Nadia, but in the end what wins her over is April's blunt assessment of why she should give him a chance: "You're way out of his league. There's literally no risk for you at all."
The ensemble feels a little light this week, but that may just be due to the lack of Ann and Andy, as almost every other character appears and had something to do. Ron (Nick Offerman) and Ben (Adam Scott) tackle the thrilling subject of estate planning, as we find out that Ron's will is a single sentance he wrote when he was eight (of course it is) and he now has an outrageous amount of money (of course he does). Eventually, Ben must convince Ron to file a real will in order to protect his children. While Ron's reluctant transformation into a family man is sweet, it's also becoming somewhat one-note already, and could be time to switch it up for the character. But if they keep adding great bits like the ongoing accountant/lawyer rivalry between Ben and his attorney, I'll still be laughing. Who knew lawyers hated puns so much?
Questions, Comments, and Concerns:
-Ron, on making his first joke: "I don't care for it."
-Tom's burgundy suit was pretty fly. Looks like now that Rent-A-Swag is defunct he's got all of those clothes to himself again. 
-The Anti-Leslie "Committee to Recall Leslie Knope" farting Knope dolls is kind of lame for a show that's this funny.
-Leslie's idea to add question mark stickers to "Recall Knope" signs backfires when April gets ahold of them, making every sign around the town read like a hypothetical. Also great: she creates a question mark plastered fascinator in the shape of an exploding firework. 
-#BitchBoss is obviously an insult, while #BossBitch is a total compliment. #PsychoBoss probably most accurately describes Leslie.
-Ron is confident that he will not die at the hand of an accountant, lawyer, or wild boar.
-DJ Roomba lives!