The Pawnee Parks Dept. Causes Conflict in London in New 'Parks and Rec' Clips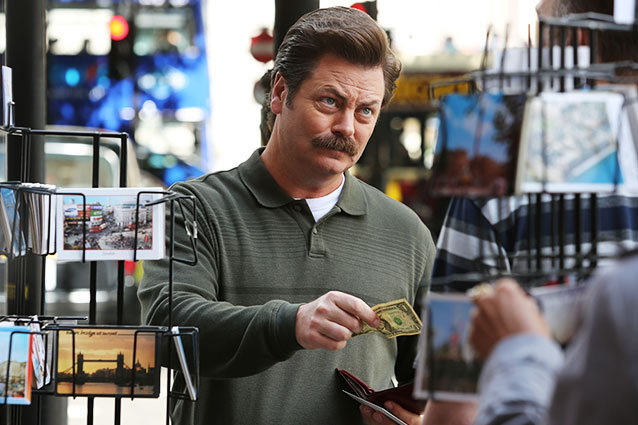 Tim Whitby/NBC
It may be Amy Poehler's birthday today, but it's Parks and Recreation fans who are getting a gift – specifically, three new clips from the Sept. 26 season premiere. The show is continuing its tradition of starting the season away from Pawnee, by having the Parks Department travel all the way to London.  And nobody is happier than Leslie Knope (Poehler), who has a whole day of rom-com themed bus tours planned. Ron (Nick Offerman), however, is less impressed, and his behavior proves that you can take the man out of America, but you can't take America out of the man. 
Meanwhile, Ben (Adam Scott) and Andy (Chris Pratt) are having a much better go of things when they meet with Lord Covington (Peter Serafinowicz) to discuss their music charity. The best part of the clip, however, isn't Andy's terrible British accent, but rather the casual acknowledgement of his dramatic weight loss at the very beginning. (Apparently, he just stopped drinking beer and dropped 50 pounds.) Pratt went through a major physical transformation to play Star Lord in the upcoming Guardians of the Galaxy film, and creator Mike Shur said that although the show would mention the dramatic difference in the character's appearance, "I don't think beyond a little joke about it that we'll end up doing anything significant. We're not going to suddenly say that Andy became a fitness nut because that doesn't ring true."
Across the pond, however, things aren't looking so good for Tom (Aziz Ansari). After his mysterious investor – who is definitely not Diddy – decided to open his own clothing rental business across the street, Rent-A-Swag is in trouble. Luckily, Tom's best friend Jean Ralphio (Ben Schwartz) is there to offer some of his sagest wisdom: "When life gives you lemons, you sell your grandmother's jewlery and you go clubbin'." Oh, Jean Ralphio. How did we ever live before you were there to guide us? 
 More: 
'Parks and Rec' Season 5 Gag Reel – The Best Bits
How to Write Off Ann Perkins and Chris Traeger
Rashida Jones and Rob Lowe are Leaving 'Parks and Rec'
---
From Our Partners
From Our Partners:


A Complete History Of Twerking (1993-2013) (Vh1)


20 Grisliest TV Deaths of 2012-2013 (Vulture)