Paula Deen and Trayvon Martin Combined Into One Bizarre 'Law & Order: SVU' Episode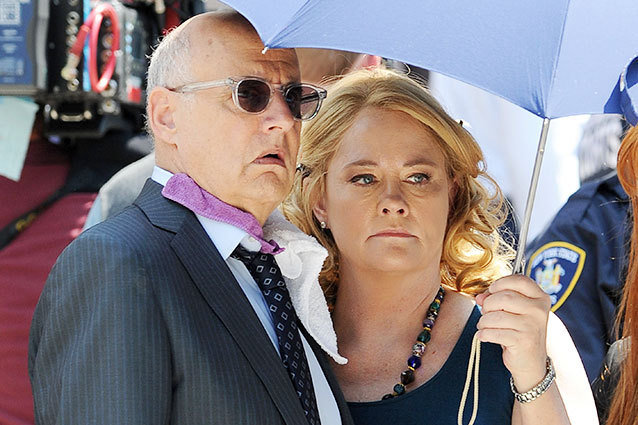 The Law & order franchise is known for rooting through headlines to find fuel for its upcoming episodes. We've seen high profile cases from Mel Gibson's drunk driving incident/anti-Semitic rant to Gov. Eliot Spitzer's sex scandal take form in Dick Wolf's gritty little world. But the NBC mainstay seems to be getting a little ambitious in its old age. Maybe the recent years have provided too many public controversies for law & Order to cover one by one, or maybe Det. John Munch has stepped behind the scenes as showrunner, instituting creative progress with some of his famed conspiracy theories inspiring the choices. But whatever the reason, SVU is doubling up on crimes for a forthcoming episode: EW reports that Season 15, which premieres in September, will feature a single episode that combines Paula Deen's highly publicized scandal with the events surrounding Trayvon Martin's killing. Something tells us this one was a late night in the writers room.
law & order: sVU executive producer Warren Leight explains the conflation of the controversial topics: "[Jeffrey] Tambor is a defense attorney representing a very high-profile celebrity woman chef [played by Cybill Shepherd] who thought she was being pursued by a rapist and turned around it was a teenager. And she shot him … There's a lot of stop and frisk elements to that as well." So, add that into the mix.
Perhaps it is by necessity that Law & Order is weaving together the cases of Deen and Martin. Although Deen's story might have chucked in the celebrity chef's previous allegations of sexual harrasshment, SVU might have had to forgo inclusion of the Trayvon Martin for lack of any sexual component to the young man's story. Still, you have to wonder why, exactly, producers didn't opt to fictionalize elements about each case independently, rather than gluing them together via a fabricated plot device. And then you have to wonder if they'll continue on this path.
After all, we've got plenty of controversies to draw on from the past year. Could Anthony Wiener send a picture of his junk to Amanda Bynes, prompting her to throw a bong out of her high rise apartment window? Could we find Bradley (now Chelsea) Manning on trial for trading classified information with Edward Snowden, who leaves the Moscow Airport in protest of Russia's persecution of homosexuals and hides out in a rehab facility with Lindsay Lohan? What about Robin Thicke — that video must count as at least a misdemeanor, right? Where does he fit into all of this?!
Follow Michael Arbeiter on Twitter @MichaelArbeiter
More:
Chris Brown and Rihanna Get the 'SVU' Treatment
'Law & Order' Takes on 'Legitimate Rape' Controversy
Meet Lady Mary's New 'Downton Abbey' Men
---
From Our Partners


Battle of the Bikini Bodies (Celebuzz)


Fangbanging: Complete Guide to All of 'True Blood's Sex Scenes (Vh1)