'Penny Dreadful' Recap: It's Getting Oscar Wilde Up in Here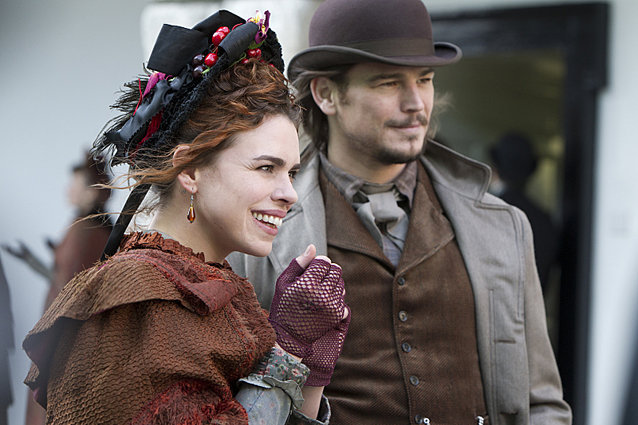 Showtime
The premiere of Penny Dreadful was a little all over the place, but this week's episode has enough "Oh s**t!" moments to match wits with Sunday must-see shows like Game of Thrones and Mad Men. This episode introduces Doctor Who alum Billie Piper as Brona Croft. She's like Lora Croft: Tomb Raider, if her powers included a thick Irish accent and consumption. Dorian Gray (Reeve Carney), of the classic Oscar Wilde story, also joins the mix. The show is also establishing characters better and creating the right blend of mystery and the occult, though there still is a little too much pageantry when they introduce a literary figure
The Cold (Literally) Opening
This episode begins with a woman alone in a park in the freezing cold. She may or may not be a prostitute, and one with a taste for apples that have been wrapped with the front pages of newspapers. We catch glimpse of a headline about Jack the Ripper. Then, boom — she gets killed. It looks like each episode might begin with a murder. It also looks like Jack the Ripper may be supernatural and part of the show.
"I Never f**ked a Dying Creature Before…"
Brona Croft meets a drunken Ethan Chandler at the bar. He's drunk because he just witnessed the fact that there's an entire world of man-eating creatures that exist. She lives above the bar and charms him with her anti-industrial take on the world. After he buys her breakfast, she leaves in search of money. Where does that take her? She heads right into the lair of Dorian Gray. He's taking photos of her for no clear reason. But he does have an affliction of a portrait that keeps him young and beautiful but is his only weakness. He seduces Brona out of her clothes and then they have sex…but he finds out she has consumption. Then he says, "I never f**ked a dying creature before…" Classy! Brona resumes being bosom buddies with Ethan Chandler and they seem to be becoming fast friends. Meanwhile, Ethan gets a letter from a mysterious father. So he must be rich and in Penny Dreadful, England to escape something major that happened in the States.
What Did She Just Séance?
Sir Malcolm Murray and Vanessa Ives are still trying to solve the mystery of his missing daughter Mina and what the hell is the creature they killed last episode. Sir Malcolm stops by to help the police with a set of brutal murders but only secures a chance to peek at the next crime scene. Sir Malcolm and Vanessa attend a séance held by their friend Ferdinand Lyle, the Egyptian expert who looks like he belongs in The Hunger Games. Vanessa and Dorian Gray strike up a conversation and he flashes his love of rings. The medium Madame Kali (Helen McRory) bears a striking resemblance to Narcissa Malfoy. She doesn't seem too connected to the spirit realm but really does connect with a spirit. And then, that spirit seems to possess Vanessa. She starts spilling major secrets about Sir Malcolm. It's unclear if its Mina or if Malcolm lost another child. She also drops the C-word a good seven or eight times. Then she runs from the party and uses the strangest pick up line ever. She rubs blood on a guy's face and they have sex. Stranger things have worked, and lets face it, she's Eva Green. Ferdinand does make some headway in the hieroglyphs and realizes that this creature is an undead creature that feeds on others and it may be after Vanessa.
Of Mice and Reanimated Men
Victor Frankenstein and his new reanimated friend start bonding. He is teaching him how to live again and even helps him pick a name. They scroll through Shakespeare classics and choose Proteus. It's really sweet watching them bond and its unclear whether Victor reanimated him to be his lover, friend, or if he's part of his family. Over the course of the episode Proteus starts singing and resembling a real person. A really scarred person. Their relationship is really sweet and so Victor takes him out. They happen upon Ethan and Brona. They arrive home and really connect in their friendship…until a hand rips through Proteus. Is it because he used undead parts? Nope. The huge reveal is Victor Frankenstein's first monster is back and he's pissed.
Things are getting juicy. What is Ethan hiding and will he date Brona? What's Dorian Gray's role in this story? What happened to Frankenstein's first monster? What the hell is Vanessa Ives?