Prepare for Your 'Mad Men' Viewing Party with These Cocktail Recipes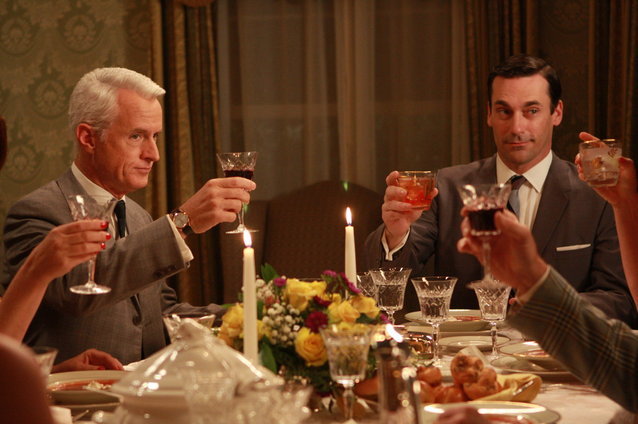 AMC
As Mad Men's long-awaited Season 7 premiere inches ever closer, it's time to start planning that last minute Sunday night viewing soiree. Gather your ultra-fabulous vintage wear (the two Mrs. Drapers offer great inspiration), your je-ne-sais-quoi-infused cigarettes, and perhaps most importantly of all? Some really delicious cocktails – no Mad Men party is really quite complete without some classy alcohol, is it? (Though, be wary not to overindulge Don Draper style – you don't want to wake up in the local drunk tank).
And speaking of Don, we all know he's an old fashioned man, in more ways than one (har-har). Here's a recipe for an old fashioned of which Don would whole-heartedly approve:
Don's Old Fashioned
*Created by Bobby "G" Gleason, Beam's Master Mixologist
Ingredients:
-2 parts Jim Beam Bourbon
-2 dashes of aromatic bitters
-1 cherry stem
-1 half moon orange slice
-1 – 3 sugar cubes
Preparation: In an old-fashioned glass, place sugar and 2 dashes bitters dissolved in water. Fill with ice. Pour 1-1/2 parts Jim Beam® Bourbon; add cherry, orange slice and lemon wedge.
What about the rest of Sterling Cooper & Partners? Well the mad men of Manhattan would surely be unable to resist the charms of this cocktail:
The Mad Man Manhattan
*Created by Bobby "G" Gleason, Beam's Master Mixologist
Ingredients:
-1-1/2 parts Jim Beam Devil's Cut™
-Dash of bitters
-3/4 part dry vermouth
-1 cherry stem
-Ice
Preparation:
Combine and stir Jim Beam Devil's Cut™, dry vermouth, bitters and ice. Strain and pour into a cocktail glass. Garnish with a cherry.
And how about our silver fox friend, Roger Sterling? When he's not drinking vodka and milk (the milk helps his ulcer, okay?), his drink of choice is a good ol' smooth and sour. Here are the (delectable) ingredients for a drink that even Roger would be unable to scoff at:
Sterling's Smooth & Sour
*Created by Bobby "G" Gleason, Beam's Master Mixologist
Ingredients
-2 parts Jim Beam Black Bourbon
-1 part amaretto liqueur
-1 part triple sec
-2 parts sour mix
-2 parts lemon-lime soda
Preparation:  Serve shaken in a tall glass with cracked ice. Garnish with a squeeze of lemon.
Whether shaken or stirred, you've got the makings for a Mad Men celebration that would do party planning mastermind Megan Draper proud. So grab your drink of choice, pull up a chair, and buckle your metaphorical seatbelts for the premiere of Mad Men's seventh season.