Prepare Yourself for the 'Grey's Anatomy' Season 9 Premiere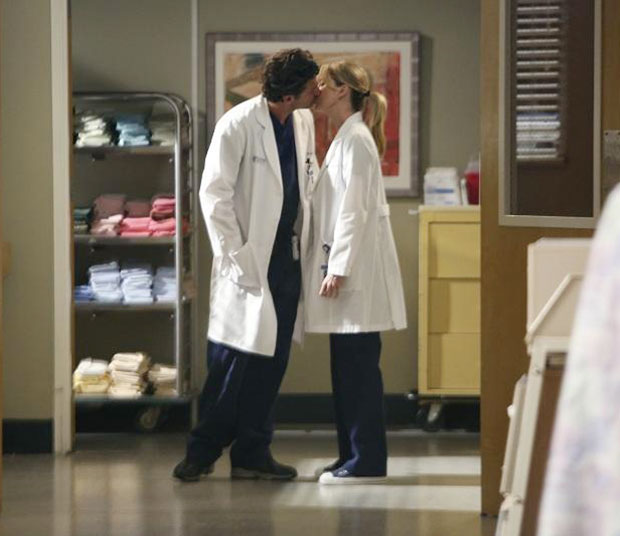 Over the next few months, we'll see new series soar, old series sour, and so much Jersey Shore madness, we'll want to shower. Let's face it: The Fall TV season is intimidating. With dozens of new and returning shows hitting our small screens, we know we have some big choices to make. So, to help you determine what to watch, we're digging deep into the most notable series premiering this season. Where did each show leave off? Where is it headed? And who should you watch it with? Next up is ABC's returning melodrama Grey's Anatomy, which is somehow still on the air and pulling in dedicated viewers even though it has jumped every shark (and tiger) known to mankind. 
Returning Series: Grey's Anatomy
Premiere Date: Thursday, Sept. 27 at 9pm ET
Number of Seasons On the Air: This will be the ninth season for Grey's. 
You'd Like It If…: You've watched it from the beginning and are fully committed to the cause — no amount of bombings and shootings and gigantic sink holes can keep you away from Meredith and the Seattle Grace gang. Also, if you love smokin' hot (even if they're aging) doctors and cheesy catchphrases. If you have a "person."
You'd Hate It If…: You prefer your medical dramas to be realistic of if you think that it's impossible to come back from the dead; once you drown, that's it. 
Grey's Anatomy's Formula: (General Hospital + ER – George Clooney) tequila 
Ratings: Eleven million viewers tuned in for the Season 8 finale, so we can most likely count on big numbers for the premiere. Eveyone's gotta know who will survive the crash! 
Where Grey's Anatomy Left Off: In last season's penultimate episode, Dr.s Meredith Grey (Ellen Pompeo), Cristina Yang (Sandra Oh), Derek Shepherd (Patrick Dempsey), Lexie Grey (Chyler Leigh), Mark Sloan (Eric Dane), and Arizona Robbins (Jessica Capshaw) boarded a plane bound for Boise, Idaho, where they would perform surgery to separate conjoined twins. The plane crashes, leaving everyone gravely injured. In the finale, Lexie dies immediately after Mark professes his love to her. Just before the credits roll, we learn that Mark is bleeding internally and may be on the brink of death as well. Other, less dire (and yet somehow equally dramatic) loose ends include whether Cristina and her husband Owen Hunt (Kevin McKidd) will be able to work things out following his affair, and if April Kepner (Sarah Drew) will be able to find a job after failing her surgical board exams.
Where Grey's Is Headed: Before the crash, our gang was about to go their separate ways for new job opportunities. Meredith and Derek were off to Harvard, Alex Karev (Justin Chambers) had just snagged a dream job at Johns Hopkins, and Cristina plans to leave for Mayo Clinic. But could the crash wind up keeping everyone in Seattle? And will their injuries — I'm most worried about Derek's mangled hand — even allow them to continue working as surgeons? Whatever happens, the show's main characters (with the exception of Eric Dane, spurring rumors that he doesn't make it through the premiere) have all signed on for two more seasons. 
Accolades: Lots. Grey's and its actors has been nominated for 38 Primetime Emmy Awards since its inception, but has only walked away the victor four times: Casting Directors Linda Lowy & John Brace snagged Outstanding Casting in a Drama Series in 2006, Katherine Heigl walked away with Outstanding Supporting Actress in a Drama in 2007, the show won for Outstanding Makeup in 2010, and Loretta Devine received a trophy for Outstanding Guest Actress in a Drama in 2011.
Who To Watch It With: You college BFFs (for old times' sake) or your cat.
Who Not to Watch It With: Someone who works in the medical profession. 
Things you're bound to hear: "You're my person." "Seriously?!" "Mc[Insert Word Here]." 
Appropriate Wine and Cheese Pairing: Drown your Seattle Grace woes with a nice bottle — one bottle per viewer — of blood red Pinot Noir and some sharp, but slightly aged, cheddar. But if that's not doing it for you, grab some tequila and drink it right out of the bottle, preferably while dancing on your coffee table. 
What You're Most Likely to Yell at the Screen: "That would never happen!" "Kiss her/him already!" "Take the job!" "Is that even a real disease?!" "Ewwwww!" 
Follow Abbey Stone on Twitter @abbeystone
[Photo Credit: ABC]
More:
'Grey's Anatomy' Season 9 Promo: Who Lives? Who Dies?
Did Patrick Dempsey Just Spoil McSteamy's 'Grey's Anatomy' Exit? — PICS