Following Prince's Lead: Other Music Artists Who Should Do TV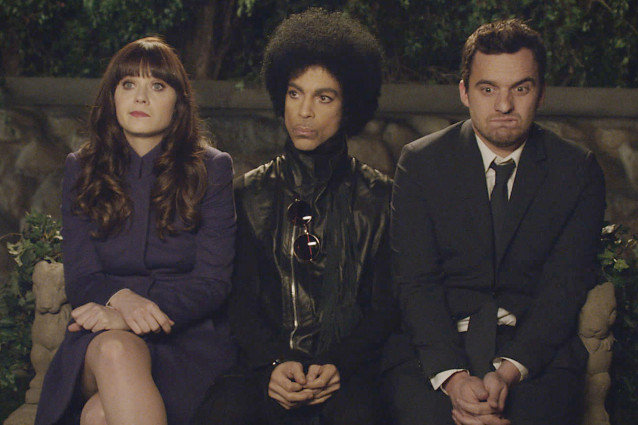 In a nice bit of stunt casting, Prince appeared on the post-Super Bowl episode of New Girl. The story saw The Purple One invitings Zooey Deschanel's Jess and Hannah Simone's Cece to a party at his mansion. According to the show's producers, Prince is such a fan of the show that he contacted them about being included in an episode.
He's certainly not the first music industry icon to show up on a scripted television show, but he might be one of the most unexpected. Having someone of Prince's stature cast himself in a guest spot on a sitcom opens the doors for other legends to jump into parts on the small screen. Here's our wish list pairing other musical royalty with the TV show that we'd like to see them pop up on.
Bruce Springsteen, The Good Wife
The show featured some of The Boss' new music on its January 12 episode in an effort to promote Springsteen's latest release. Know what works even better to promote your music? A real live appearance. Springsteen has been goofing off with Jimmy Fallon recently, so he's not as averse to putting himself out there as he used to be. Springsteen could easily show up in a story line protesting Chris Noth's Peter Florrick's policies as governor… and maybe share a moment with Julianna Margulies' Alicia.
Beyoncé, Scandal
Kerry Washington's Olivia Pope doesn't have many female friends — or really friends at all — as she manages one crisis or another for her D.C. clientele, so it might be nice to have one of her childhood friends drop in on her. Bey has acted before, most notably in Austin Powers in Goldmember, so we know that she can handle more than just a quick walk-on. Give Mrs. Carter and Washington some ample screen time together and it might be the most glamorous match-up since Dynasty went off the air.
Bono, Parks and Recreation
Granted, this might not have been on this list before Amy Poehler decided to make out with the U2 front man after winning her Golden Globe… but now that we've seen that, how can you not want more? Plus, just the idea of Bono being stuck in Indiana is funny. Have his limo break down in Pawnee, let Poehler's Leslie Knope try to recruit him for some cause, and if they happen to end up making out, well, there's nothing wrong with that.
Lady Gaga, Glee
She's hosted Saturday Night Live and joined the Muppets for a holiday special, so Lady Gaga has done her fair share of small screen work. Glee co-creator Ryan Murphy has repeatedly shown how much of a fan of her music he is. With ratings declining for the show, it would be a boon to have Gaga appear as a rival glee club coach and torment Matthew Morrison's Will Schuester.
The kid needs to change his image, that part cannot be denied. When Britney Spears needed some good pub, she did an appearance on How I Met Your Mother. When Miley Cyrus was transitioning to her sexed-up adulthood, she did a stint on Two and a Half Men. Biebs needs to be seen making fun of his image and his missteps. There are worse ways to start the repair work than by taking a tongue lashing from Kat Dennings' Max.