15 Quotes From 'Girls' To Use On Your Crush
Having a new crush is scary, exciting and fun. There are ups and downs, second guessing and moments of being totally tongue-tied. In times of awkward silence or a particularly emotional situation, it's always good to have a one liner in your back pocket to use in case of a mental block emergency. Thankfully, HBO's Girls has tons of amazing last minute lines to get you through any conversation with your crush!
1. When your crush asks what you're "looking for."


HBO/Tumblr
2. The first time your crush does something shady.


HBO/IMG Soup
3. When your crush is having a pity party for themselves.


HBO/Gallery 4 Share
4. It's your turn to plan date night.


HBO/Buzzfeed
5. To prove you are forever cool, confident, and comfortable with who you are.


HBO/Bustle
6. When you're not in "the mood" and have to explain why you're dating in the first place.


HBO/Giphy
7. After you have your first fight and you're desperate to keep your crush from breaking things off.


HBO/Rebloggy
8. When you want your crush to think they might lose your interest.


HBO/Tumblr
9. After the honeymoon phase has worn thin and you have to get real about the relationship.


HBO/Giphy
10. When your crush wants to know why you aren't responding to their texts.


HBO/Pic List
11. The moment you find out your crush is still dating other people and it's killing you.


HBO/ImgBuddy
12. When your crush says something sweet, but you're too moody to believe it.


HBO/GifWave
13. How you let your crush know how important they are to you.


HBO/ImgArcade
14. When you want to tell your crush they look hot as hell in a classy way.


HBO/Tumblr
15. If your crush ever tries to break up with you.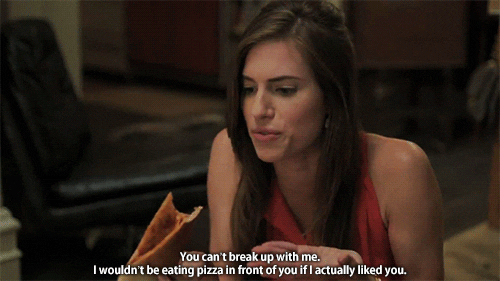 HBO/Giphy