R.I.P. 'Emily Owens, MD': A Tribute to a Show Canceled Too Soon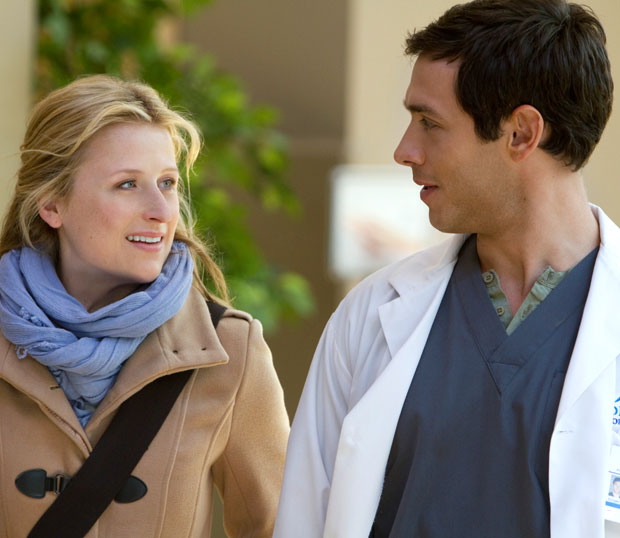 Last night, fans of The CW's freshman dramedy charmer Emily Owens, M.D. were dealt a devastating blow when news of its cancelation exploded all over the Internet. This action wasn't a surprise by any means ratings-wise, seeing as how the show has been losing Hart of Dixie's lead in all season and had only 1 million viewers with a 0.3 rating among adults 18-49 on Tuesday night. And we were already expecting a less-than-celebratory announcement after The CW had already granted full-season orders to its two other freshman dramas Arrow and Beauty and the Beast.
The cancelation is bittersweet. We will still get to see all the episodes from the original order (13 in total), but that's it. We'll be left to wonder what would have become of the awkward, brilliant, talented, and charming Emily Owens had the show been given a chance to grow. There were so many undeveloped plotlines and characters that seemed so promising, but that were squandered before they got their chance to shine.
I have taken no effort to hide my fandom of this show. Even with its glaring similarities to another well-known veteran hospital drama, it offered something new that wasn't on TV this season: realism. This show took tried and contrived drama mainstays and injected reality into the situations. The end result was a breath of fresh air.
A lot of this can be attributed to the cast. First of all, we have Mamie Gummer, the talented offspring of Meryl Streep. The emotions and heart she brought to Emily made her character all the more truthful, and I wanted to be best friends with this girl. She was just so good and sweet, but instead of being infuriatingly perfect, she was flawed. You just couldn't help but want to get to know her better, and meet her for a coffee on your break.
Then there's the gorgeous, uber-hot Justin Hartley. Fresh off his Smallville stint as the resident archer Green Arrow, Hartley was able to flex his romantic, dramatic, and comedic muscles without having to flex his physical ones. This role was the complete opposite of his action-packed superhero character and showed that he had much more to offer than a hot bod and a pretty face (which they tried to hide behind glasses on Emily Owens, MD, but it's going to take a lot more than that to de-hot this guy). Maybe now that he's got some free time he can take a trip back to Bluebell as Wade Kinsella's brother on Hart of Dixie!
And last but not least is Michael Rady. Sweet, sweet Michael Rady. His resident Micah was adorable. He was sweet, he was funny, he was intelligent, he was just starting to develop feelings for Emily. Their relationship was being set up to be epic, filled with drama, and they could have been the most amazing couple. But alas, their chance at love was stripped away too soon. And where are we going to get our weekly fix of Rady now? I guess there's always reruns of Greek, or we could pop in the DVD of Sisterhood of the Traveling Pants. Get this man on a new TV show, stat!
I understand – when viewed from a ratings perspective – that Emily Owens, MD was not a success. However, the show deserved at least one full season before facing judge, jury, and executioner. The story, cast, and characters had the potential to bring to TV something new in a world filled with reboots, sequels, and spin-offs. This series had promise, and I think its cancelation was a mistake.
So bottom line: don't talk to me for the next few days. I'm in mourning.
Follow Sydney on Twitter @SydneyBucksbaum
[Photo Credit: Michael Courtney/The CW]
More:
'Emily Owens, M.D.' Is Just Like 'Grey's Anatomy'… And That's A Good Thing
'Emily Owens, MD' Canceled By The CW
TV Tidbits: Good News for 'Last Man Standing' and 'Malibu Country', Sorry, 'Inbetweeners'
You Might Also Like:

Cory and Topanga Are In! Big 'Boy Meets World' Spinoff News