Ranking Last Night's 23 Grammy Performances
The 57th Annual Grammy Awards took place last night, and while we don't really remember very many awards being distributed, there were a ton of performances. Some were absolutely incredible, some were snooze-inducing, and others were absolutely terrifying and amazing all at once (see: Pharrell). Below are the 23 performances, ranked from worst to best:
23. Lady Gaga & Tony Bennett – "Cheek to Cheek"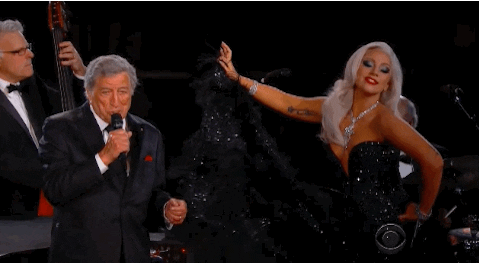 GIPHY
A song we love. A performance we loathed. Girl was obfuckingnoxious.
22. Usher & Stevie Wonder – "If It's Magic"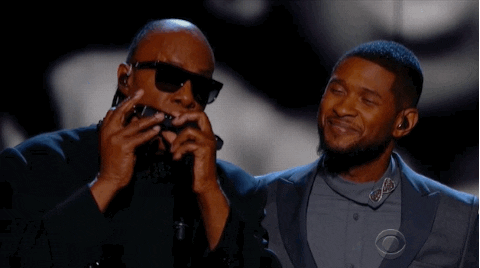 GIPHY
Come on, Usher! Between the number of slow jams we heard tonight, the options of Stevie songs you could have sang, you decided to walk around the stage with just a harp? Thank goodness Stevie came out and played the harmonica to save the day. 
21. Ariana Grande – "Just a Little Bit of Your Heart"
GIPHY
We have no idea what she said. Enunciate, girl. 
20. Kanye West – "Only One"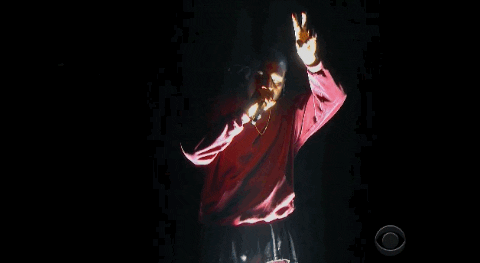 GIPHY
We feel like we've seen this minimalist sort of mother-oriented performance from West before. We were just expecting him to push the boundaries a little more after such a long Grammy hiatus. 
19. Brandy Clark & Dwight Yoakam – "Hold My Hand"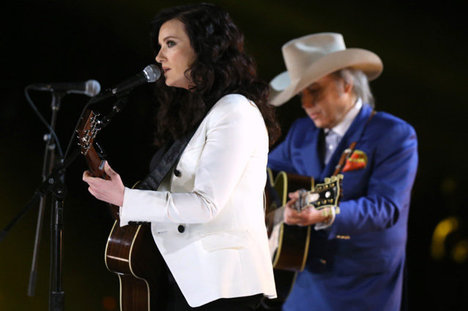 Getty Images/Michael Tran
This song was sweet. It reminded us of old Taylor Swift. It wasn't the most exciting, but it wasn't the worst either. 
18. Eric Church – "Give Me Back My Hometown"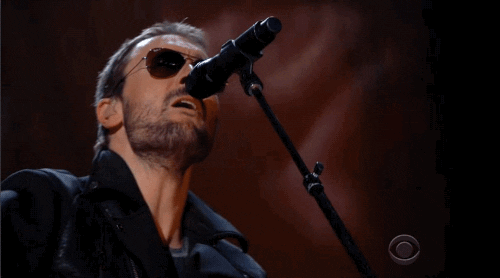 GIPHY
We don't know much about country music, but we were really into the banjo here. Why wasn't there more banjo at this show?
17. Katy Perry – "By the Grace of God"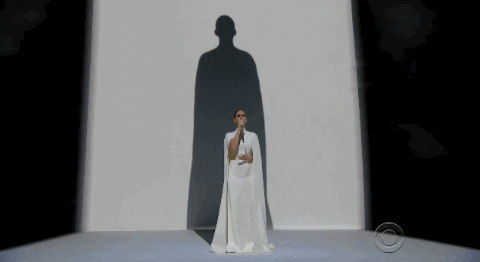 GIPHY
We LOVED the message behind this. It was a really clear message, thanks to President Barack Obama and a survivor of domestic abuse. Message aside, the performance itself certainly didn't wow us. 
16. AC/DC – "Rock or Bust" & "Highway to Hell"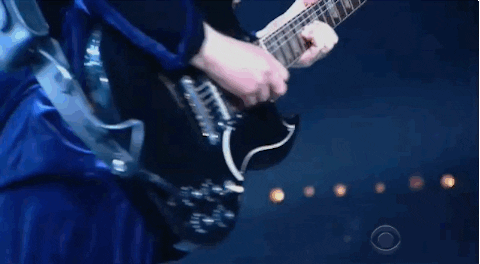 GIPHY
We've never been a big AC/DC fan, but they sounded great! We just wonder why this was the opening of the show. And we weren't alone, Jamie Foxx's daughter seemed a bit confused, too.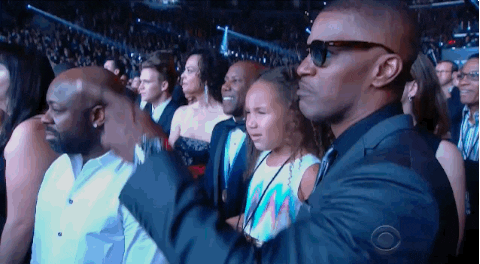 GIPHY
15. Jessie J & Tom Jones – "You've Lost That Lovin' Feelin"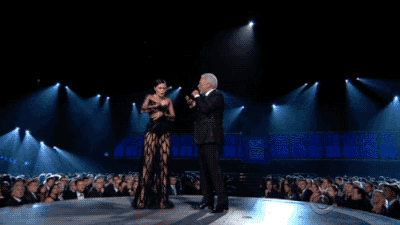 GIPHY
This was just lovely. So simple, so nice. And those voices! Jessie J killed it. 
14. Juanes – "Juntos"
dailydot.tumblr.com
In a night of mostly slow songs, the Colombian musician made our hips move before we even knew it. For that, we're so thankful. 
13. John Legend & Common – "Glory"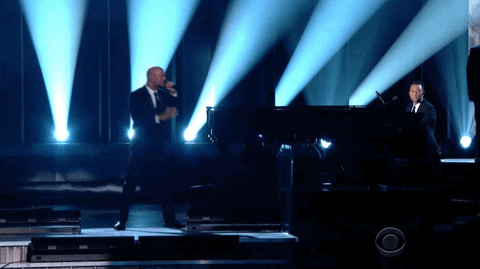 GIPHY
This Golden Globe-winning, Academy-Award winning, show-closing performance was everything you'd expect from these two megastars. It wasn't the most exciting, but it was beautiful nonetheless. 
12. Gwen Stefani & Adam Levine – "My Heart Is Open"
GIPHY
We'll watch Gwen Stefani and Adam Levine do anything. In fact, we're not even sure they sang a song, but they looked damn good. 
11. Beyoncé – "Take My Hand, Precious Lord"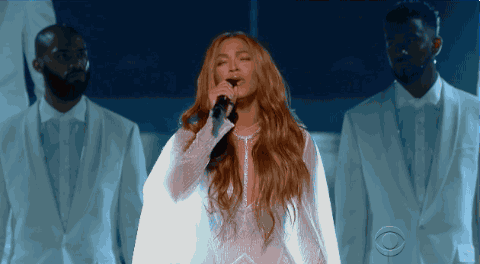 GIPHY
We were getting sleepy, and a slow gospel song certainly wasn't going to help that, but Beyoncé's voice woke us up and she slaaaayed.
10. Rihanna, Sir Paul McCartney & Kanye West – "FourFiveSeconds"
We REALLY like this song; don't get us wrong. But Kanye and RiRi jumped around in those suits (with Rihanna's just a little big on her) in front of that white screen that mysteriously just floated to the sky mid-performance for no apparent reason, and we were like, "Milli Vanilli?! What are you doing on stage with Paul McCartney?!"
9. Ed Sheeran, John Mayer, Herbie Hancock, & Questlove – "Thinking Out Loud"
mtv.tumblr.com
To quote a friend of ours, "I wish his voice were a scented candle." Yeah. Who would argue with that?
8. Beck & Chris Martin – "Heart is a Drum"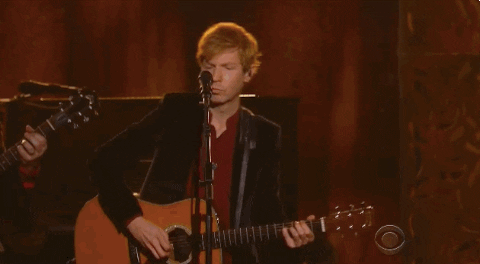 GIPHY
We weirdly love Beck, and like most humans, we're really big fans of Chris Martin. Obviously this was a good time. 
7. ELO & Ed Sheeran – "Evil Woman" & "Mr. Blue Sky"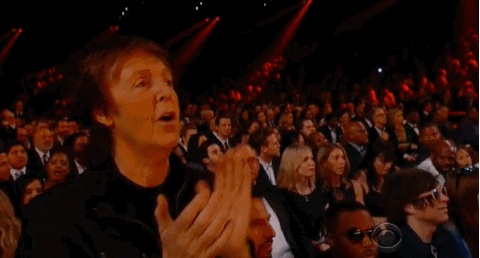 GIPHY
Just look at how much Paul McCartney was enjoying this performance (until he realizes the camera is on him). Need we say more?
6. Miranda Lambert – "Little Red Wagon"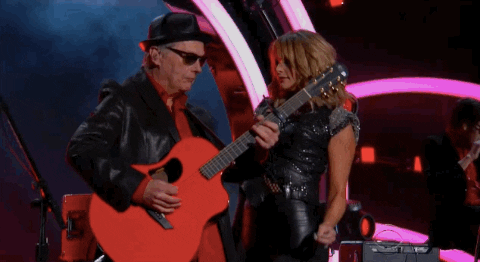 GIPHY
We're not a huge country fan, but this girl brought. it. This was one of the more fun moments. 
5. Madonna – "Living For Love"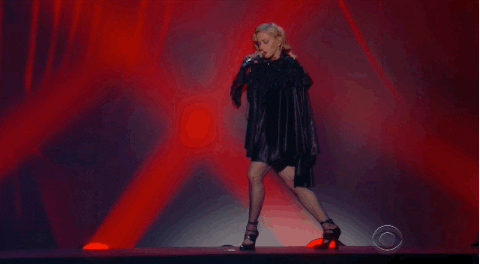 GIPHY
She may have exerted herself a bit, but we thoroughly appreciated the burst of energy she gave the show. Probably the most high energy performance of the night, and at times, we were even reminded of the old Madge we all know and love.
4. Sam Smith & Mary J. Blige – "Stay With Me"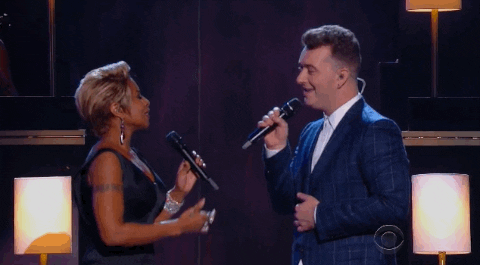 GIPHY
Sometimes, "Grammy Moments" can be a bit forced; that was not the case here. Mary J's voice was perfectly suited for this song, and the ending where they sang to each other was picture perfect. 
3. Hozier & Annie Lennox – "Take Me To Church" & "I Put A Spell On You"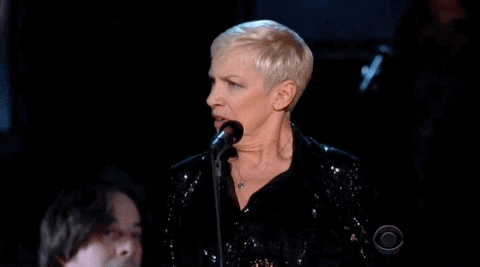 GIPHY
We really like this Hozier song, and we have a pretty healthy obsession with Annie Lennox, but this performance brought things to a whole new level. It stole the show, in terms of the amount of talent presented. And also, Annie Lennox. At one point, she played an imaginary harmonica. Like, it wasn't even there, she just made noises and pretended it was. Bow down.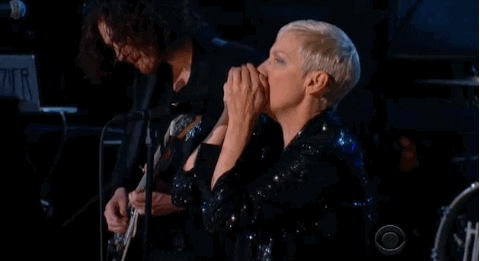 GIPHY
2. Pharrell – "Happy"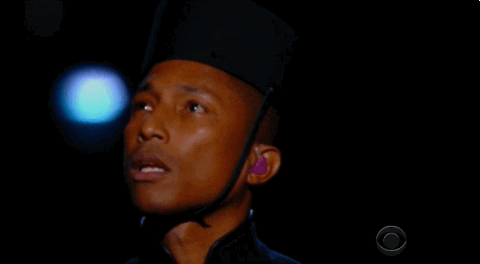 GIPHY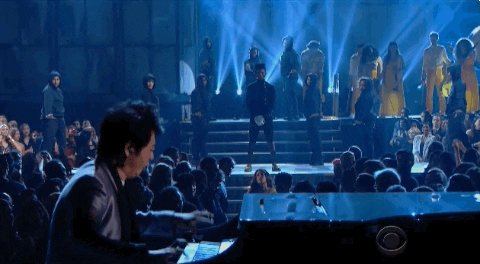 GIPHY
We didn't think any performance could get better than this (or any performer could be higher…on this list); this was the weirdest thing we've ever experienced. We couldn't stop laughing. It certainly made us "happy." 
1. Sia (feat. Maddie Ziegler & Kristen Wiig) – "Chandelier"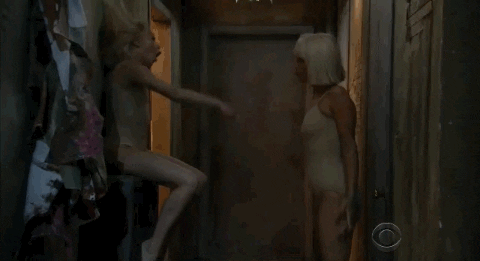 GIPHY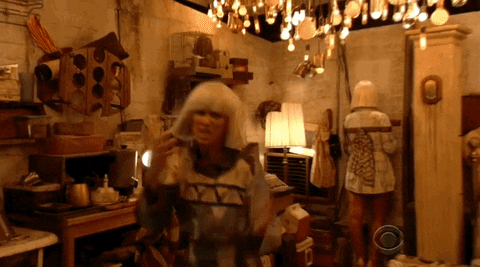 GIPHY
We're still mesmerized by this song and its video. Adding the incredible Kristen Wiig was the perfect twist to make us love it even more.