Ranking the 'Dancing with the Stars' Semi-Finalists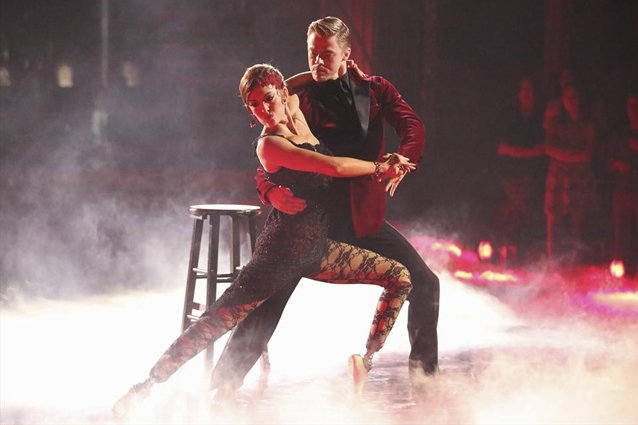 ABC Television Network
At this point in the Dancing with the Stars competition, everyone has the dancing skills to win: each remaining pair has scored high since Episode 1. As such, there's no real "dark horse" in this bunch – so when it comes down to it, it's going to be a tight race. As such, without further ado, here's how we'd rank the semi-finalists:
5. James Maslow/Peta Murgatroyd
Like the rest of the bunch, James is an adept dancer. His so-called chemistry with Peta might give him an edge, but they have considerably less sizzle than competitors Meryl and Maks. There's also the fact that he's routinely labeled as the "eye candy" of the show, but is that enough to take home the trophy?
Secret weapon: Shirtlessness
4. Candace Cameron-Bure
Candace might be the closest thing to a dark horse champion that the competition has at this point: she started the season off with excellent scores, then faltered after a bout with anxiety. Anyway, she's now the sort of "comeback kid" – plus, her close connection with her family makes her more accessible and easy to root for.
Secret weapon: Her relatability
3. Charlie White/Sharna Burgess
Some argued that Charlie's recent gold medal as an ice dancer was an unfair advantage (Olympic athletes have tended to do especially well in past seasons). Sure, Charlie's got discipline and talent to spare, but his golden ticket may lie with his charisma: he has a certain effervescence that might just make up the difference between runner-up and champion.
Secret weapon:The "aww!" factor
2. Meryl Davis/Maksim Chmerkovskiy
Like Charlie, Meryl's also got some extra experience with dance (as noted in the premiere, her spins are off the charts), but it might just be her chemistry with Maks that wins the day. Yes, on a show that runneth over with fauxmance, her relationship with Maks looks almost – dare I say it – genuine.
Secret weapon: The "aww!" factor, but in a different way
1. Amy Purdy/Derek Hough
This duo has everything it needs to win: flawless dancing, an athletic background (another Olympian!), and perhaps most importantly, an inspirational backstory. And let's forget that Derek's won the Mirror Ball Trophy five times, more times than any other pro on the show…
Secret weapon: She's inspirational times a thousand
Who do you think's got what it takes?  Let us know in the comments!